Five questions with Lillian Kay Petersen, the 1st place winner of the 2020 Regeneron Science Talent Search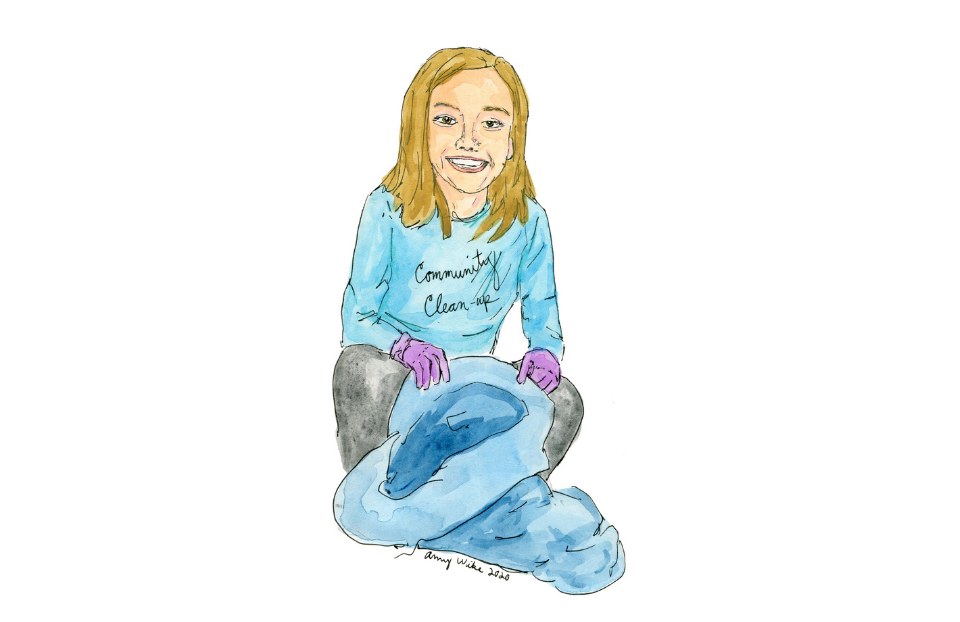 Since winning 1st place and a $250,000 award in the virtual Regeneron Science Talent Search a few months ago, Lillian Kay Petersen, 17, has been on the move. The Los Alamos, New Mexico-bred young scientist kicked off her collegiate career in Cambridge, Massachusetts at Harvard University this fall.
While she's off pursuing new research projects and delving into her studies, Lillian encourages young people learning from home to pursue science research remotely and enter science competitions. She says, "Science fairs are really fun, help you meet kids from all around the world with similar interests and give you a goal to work towards."
In her research project, recently featured in Bloomberg, Lillian built a simple tool to investigate how well harvests would do in the next season. Studying satellite images and data from the Descartes Labs, Lillian successfully forecasted 2020 crop yields for every country within Africa. Besides highlighting how remote sensing is an effective way to fill the gaps in the agriculture industry during COVID-19, especially when farmers and scouts cannot be on the ground to measure local crop environments, Lillian's project also stands to reassure the next generation of young scientists that research doesn't always have to be done in a lab, but can be done from home. "Today's availability of open-source tutorials, software and datasets opens the doors for anyone to learn at their own pace." Lilian worked on her project at her own desk and says others can do the same. Let's hear more from Lillian below.
Which sci-fi advancement are you upset we don't have by now?
We have all had more virtual experiences the last six months than most of us would want to have in a lifetime. Why is virtual so different? Why do the connections feel false? I think it is because everyone is a flat face on your computer ─ you have no 3D vision; no touch and you are in different spaces. What we need is realistic virtual reality. We should be able to put on a VR headset and a full body suit and then be able to interact with people as if they were in the same room.
Which scientist – alive or deceased – would you want to solve scientific mysteries with and why?
I would want to solve scientific mysteries with Leohard Euler, one of the best mathematicians to have ever lived. Euler was the most prolific writer of mathematics of all time and made groundbreaking discoveries in the fields of math, optics, astronomy, fluid dynamics and even music theory. He even discovered the number e ─ Euler's number! On top of that, Euler had a positive outlook on life, and no challenge was ever too big for him to beat. When he went blind later in life, he simply remarked that he would have fewer distractions.
What would you like to be most renowned for?
I would like to advance a scientific discipline through a discovery or invention. I am going to pursue computational molecular biology because I believe that these fields have the greatest potential for lifesaving drugs and therapies. These technologies could have the power to stop disease, hunger, deforestation and climate change, and I can't wait to be at the leading edge.
What was the most surprising part of having STS be a virtual event?
For me, the most surprising part of virtual STS is how we still made friendships despite being physically distanced. When an event is remote, everyone has to put in so much more effort to connect with each other because friendships don't readily form. But from active group chats to regular zoom calls to Eva Xie's portrait of all of us, we put in the effort to form a community and life-long friends.
What was your most favorite or memorable experience from virtual STS? And why?
I loved listening to the other finalists' show-and-tells and learning about all of the incredible things they did. Brendan Crotty fascinated us all with his manufacturing skills and ingenuity, and Brian Wu showed us how to launch and land a SpaceX rocket. I was able to tell my new friends about my town's unique history. It was fun to learn all of these cool things and learn more about each other.
Share your research for a chance to win incredible prizes and meet like-minded young leaders in science, just like Lillian, by applying to the Regeneron Science Talent Search 2021! Application now open for the Class of 2021 through November 12, 2020.