Five questions with ISEF 2019 Best of Category in Chemical Energy winner, Shicheng Hu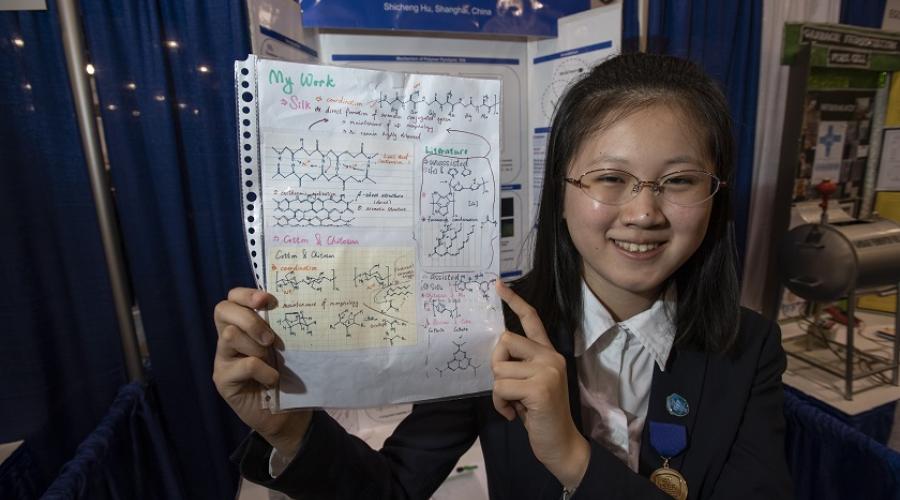 This post is part of a series profiling the top 22 Best of Category award winners of the Intel International Science and Engineering Fair (ISEF) 2019. ISEF is the largest pre-college, international STEM competition in the world. This year's competition included participants from 80 countries, regions and territories. Every year, the brightest young scientists from all over the world come together to participate in this incredible fair.
Excessive human reliance on fossil fuels have contributed to the harmful accumulation of carbon dioxide in the atmosphere, leading to the current energy and environmental crisis in which we find ourselves. In this year's competition, the best of category winner in Chemical Energy, Shicheng Hu of Shanghai, China, sought to develop an efficient way to extract fuel from CO2 while concurrently lessening environmental pollution. Shicheng's concern for the environment led to her interest in artificial carbon fixation, also known as artificial photosynthesis, which can remove excess CO2 from the atmosphere and convert it to useful greenhouse gases. In this project, she investigated silk's efficacy as a catalyst in that process.
Here is our conversation with Shicheng.
What was your experience like at Intel ISEF?
ISEF was my most exciting high school experience. I met teenagers from 80 different countries and regions that are passionate about science, and communicated with prestigious scientists. I loved sharing my research with fellow finalists and judges, and hearing about the interesting research other finalists were doing. ISEF is the only place where I have had that opportunity, and thus it was extremely memorable.
What's the biggest lesson you've learned so far in your scientific career?
Chemistry is an experimental science. Through my participation in Chemistry Olympiads, I had a solid foundation in theoretical college-level chemistry; I had the impression that we learn and develop chemical science by reading books and literature. However, it was only when I started conducting my own research experiments that I learned that research results do not always align with our expectations. I learned that experiments are an inescapably important part of chemistry research.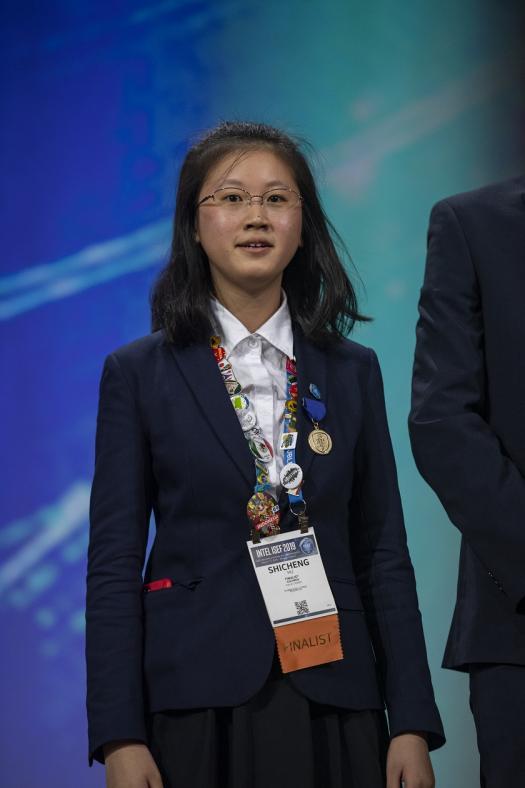 How do you deal with setbacks?
When I first began my project, I couldn't understand all of the relevant literature or fully grasp the advanced lab techniques required for each experiment. Many of my ideas failed. Fortunately, I always had more ideas, and my passion for chemistry and help from fellow researchers kept me trying and working. Eventually, I had the opportunity to present my research at ISEF.
Unfortunately, on the floor at the Public Exhibition of Projects, I realized my project title wasn't understandable for everyone, including some judges. The phrase 'Electrochemical CO2 reduction' in the title was confusing. I listened to my gut and started asking whoever walked by if they were interested in artificial photosynthesis, which I thought people might be more familiar with. Finally, I got 15 grand award judges to interview me and gained their recognition and understanding.
What is something you don't understand currently that you hope to understand in the future?
I want to understand how organic chemistry functions in nature and affects human beings. I want to know what enzymes nature uses for carbon or nitrogen fixation, which is knowledge that I believe can be of great value to our design of catalysts. I also want to learn how mental diseases emerge in human beings on a molecular level so we can think of ways to treat them.
How do you unwind when you are not doing research?
Last summer, I completed the majority of the work for my project; it was the most memorable of all summers. Every morning, I went to Fudan University at 7 a.m. and came home at midnight. My favorite thing for relaxation was walking around campus, looking out at the beautiful lake or napping under the trees with some cats on the grass. Nature calms my mind and inspires ideas.