Five Questions with Elizabeth Shen, winner of the $10,000 Marconi/Samueli Award for Innovation
Elizabeth Shen, an exceptional 14-year-old student from Cary, N.C., earned the esteemed $10,000 Marconi/Samueli Award for Innovation in the Broadcom MASTERS last year, now known as the Thermo Fisher Scientific Junior Innovators Challenge.
Elizabeth's winning project centers around extending the lifespan of computer memory through the innovative application of the golden ratio, drawing inspiration from nature's design of flower petal growth. Elizabeth suggests that computer memory could last up to fifty times longer using her distinctive approach. Through her passion for scientific exploration, Elizabeth has demonstrated exceptional problem-solving skills and a deep understanding of complex concepts.
As she continues her journey as a young innovator, Elizabeth serves as an inspiration to aspiring young scientists, showcasing the power of curiosity, determination and creative thinking.
Let's hear more from Elizabeth below!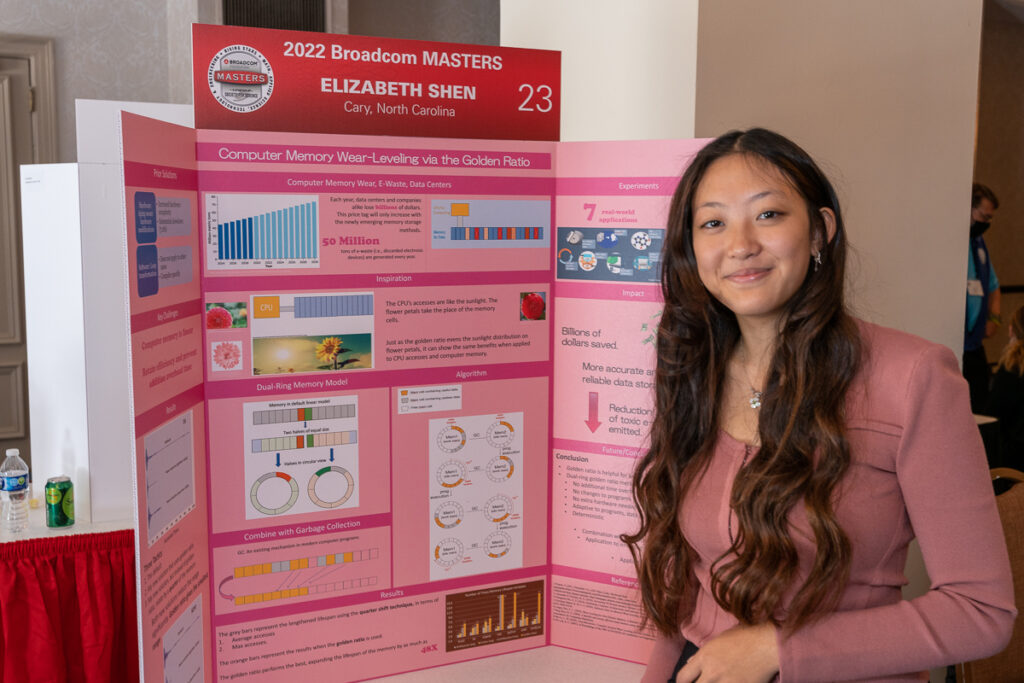 Which sci-fi advancement do you wish we had by now?
I wish teleportation was a scientific achievement. The convenience and possibilities it would offer are incredible to imagine.
Which scientist – alive or deceased – would you want to solve scientific mysteries with and why?
I would love to work with Elon Musk. His unique approach to idea development and execution is inspiring, and I believe I could learn a great deal from him in solving mysteries or problems.
What would you say in order to inspire the next generation of scientists?
To the next generation of scientists, I encourage you not to limit yourself. You have the power to be your greatest asset, and it's important to never underestimate your potential.
What about your experience at the competition surprised you the most?
The most surprising aspect of the competition was how much fun I had. I formed friendships with people I wouldn't have otherwise met, and even months later, they are the ones who never fail to make me laugh.
What was your most favorite memorable experience from the competition this year?
One of my most memorable experiences from the competition was when my friend and I stood in the rain, waiting for our bus after completing the final challenge and judging. The mixture of nerves, adrenaline, and relief caused us to burst into uncontrollable laughter. It was a moment of pure joy and laughter that I hadn't experienced in a long time.
The application for the 2023 Thermo Fisher Scientific Junior Innovators Challenge (JIC) is now open! The deadline is June 14, 2023 at 8p.m. ET. Learn more here. The Thermo Fisher JIC (formerly known as the Broadcom MASTERS) is Society for Science's national STEM competition for middle school students, sponsored by Thermo Fisher Scientific. Nominees are chosen among the top 10% of the 6th, 7th, and 8th-grade competitors at Society-affiliated science and engineering fairs in the United States.