Five questions with Anaiah Thomas, 5th place winner of the 2020 Regeneron Science Talent Search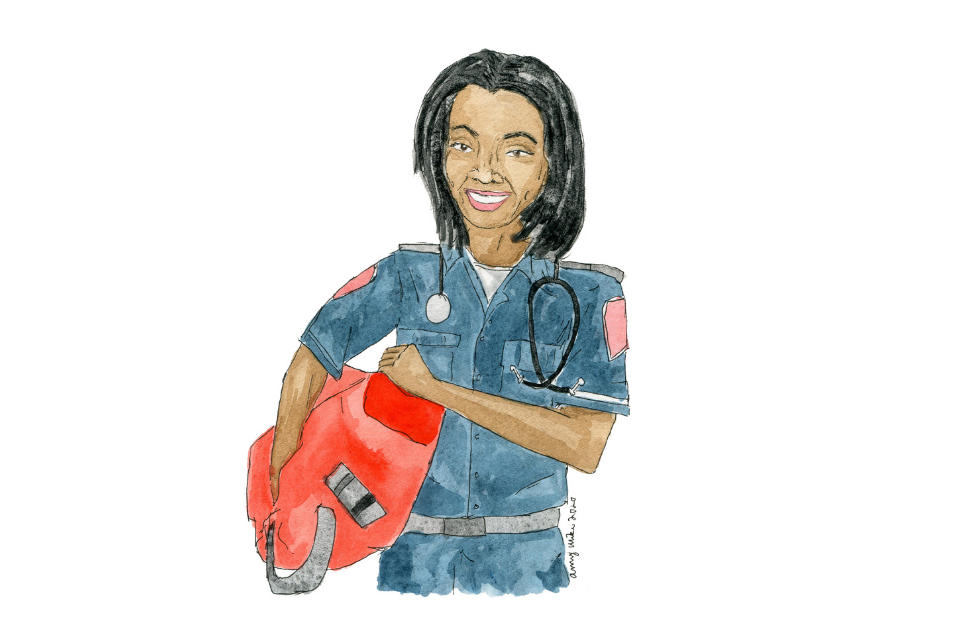 Anaiah Thomas took home fifth place and a $90,000 award in this year's virtual STS for her research project on the origins of CD56bright and CD56dim, natural killer cells which play a critical role in the body's defense against infection. The Harvard freshman found that these cell types can switch from one type to another type based on their microenvironment. She hopes that her work may one day improve our understanding of autoimmune diseases. Anaiah also points out that this area of research has great implications on current worldwide health, since the immunocompromised are more susceptible to COVID-19 and less likely to recover.
Anaiah tells the Society that in the future she would like to be best known for her "work on projects that are practical and help the masses rather than an incredible feat that would cost millions of dollars to only serve the economic elite." It is perhaps her family's personal escape from a hurricane-ravaged Jamaica and first-hand struggles as refugees that have developed Anaiah's empathy, leadership skills and interest in climate science.
With a compassionate lens on how science can be used to further equity and understanding, Anaiah has raised nearly $500,000 for Zero Hour, a climate justice organization, and has spoken about the importance of climate action on Capitol Hill. She encourages her peers to get involved. "There is so much to do; so incredibly much left to create and develop; so much that we have yet to fine-tune. That's why the next generation needs to start now, regardless of age or naivety. With the state of our climate and politics today, there may not be much time later." Let's hear more from Anaiah below:
Which sci-fi advancement are you upset we don't have by now?

When you think of science fiction, one usually is referring to flying cars or space societies. However, there are all types of science technologies that we have yet to put into practical use. The science of purifying water, enhancing photosynthesis and carbon storage, emission-free transportation and cities powered by the sun ─ those are the things that I am upset that we don't have now. These are the technologies that I hope we see in the next ten years.
Which scientist – alive or deceased – would you want to solve scientific mysteries with and why?
There is no single scientist that I would especially honor and want to solve scientific mysteries. Scientific mysteries are not solved by any single researcher; every finding is built on previous work. However, when I do think about the many scientists (past or present) that I wish had a chance to solve today's challenges with, it is the science of those who had to fight for their voices. To think of where we would be today had society been welcoming to potential women, people of color and queer individuals as researchers. I would love for these millions of people with different perspectives and outlooks on the world to be able to develop new technologies and uncover new findings.
What would you invent if you had all the resources in the world?

The thing I'd most want to invent would be a way to enhance our time usage. I am always, always, always in a race against the clock and it is quite exhausting. At 3 a.m., when there is so much to do and not enough hours to do it, there is nothing more that I want than a way to defeat sleep. If I could, I would invent something that would enable me to safely do away with sleep altogether. Sometimes it's funny to imagine a world without sleep and what night activities would society adopt.
What was the most surprising part of having STS be a virtual event?

Having virtual STS events was definitely a different experience than that of previous years. I was pleasantly surprised to find out that there were still some fun ways to connect with other students through activities like virtual dance parties and community geocaching in your local towns. I had a lot of fun connecting with other students and hearing from some amazing panelists.
What was your most favorite or memorable experience from virtual STS? And why?
My favorite activity was definitely the one-on-one call I had with an STS alum during the Public Day event. We talked for two hours about everything from video games to public policy to teaching in schools, all while answering questions from guests during Public Day. All in all, I had a great experience.
Share your research for a chance to win incredible prizes and meet like-minded young leaders in science, just like Anaiah, by applying to the Regeneron Science Talent Search 2021! Application now open for the Class of 2021 through November 12, 2020.