Expect failure in science, learn from the challenging moments, say Regeneron scientists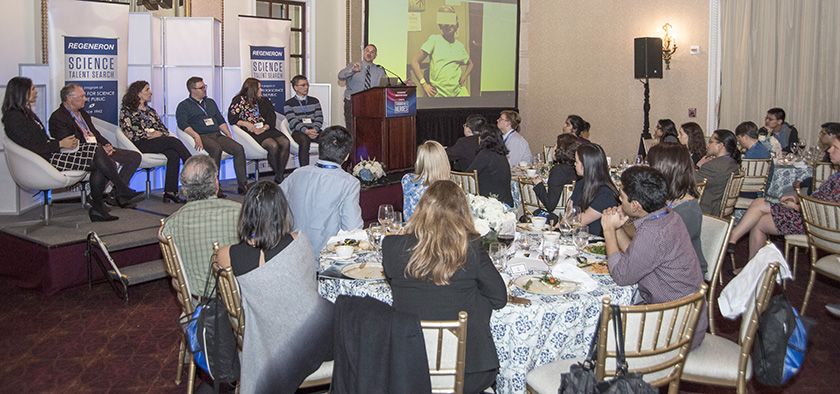 Failure is a constant and should be expected in science. It may even be where you learn the most. That's what Regeneron scientists told the Regeneron STS 2018 finalists Monday night at the Innovation Dinner.
George Yancopoulos, the President and Chief Scientific Officer at Regeneron, summed up the spirit of science at his company. "At Regeneron, we wanted to focus on the science and come up with new medicines — working on them from the beginning stages to the end — all within the same company," he said. "We already have six FDA-approved medicines that are really game-changing drugs."
"At Regeneron, we believe in science that can be translated to make improvements in people's lives," George said. "The pact we make with patients is so important. It's your responsibility now to use your talents to improve the world."
For the first part of the evening, the finalists met with several scientists who work on various projects at Regeneron. They put on VR headsets to see how macular degeneration and other eye diseases can affect vision. They discussed internships and opportunities. And they saw firsthand the successful science Regeneron has put out in the world.
During the evening, there was also a panel discussion with five Regeneron scientists from various backgrounds. The panelists discussed the often timely process of moving a drug through testing, trials, human trials, and then approval. Many medicines never come out of that pipeline. "I'm a very optimistic person, or else I couldn't do this. I wasn't surprised when we failed," said Neil Stahl, the Executive Vice President of Research and Development at Regeneron. During his tenure with Regeneron, he spearheaded the invention and development of Trap Technology, which provided the basis of Regeneron's first three approved drugs, and built the pre-clinical development team.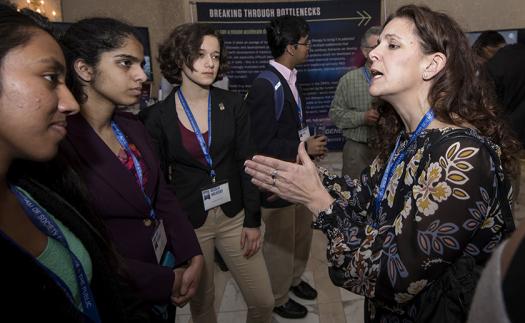 Lori Morton, Regeneron's Senior Director of Cardiovascular Research and Fibrosis Research, agreed: "Science failures happen all the time. And it's data — you can't be angry at the data. Just ask a new question." Personal failure, however, happen as well. In graduate school, she was the victim of a colleague falsifying data. She had just joined Regeneron when the previous deception was revealed to her, and she had to write a retraction for Science. But she learned from the experience, instead of giving up and thinking her career was over.
"In academia, there's so much pressure to publish," she explained. "If it's a compelling story, it may be publishable, even if the story does not hold up over time. But if you want to make a drug that works and helps people, the only thing that matters is the truth."
The scientists explained that the reason they do all of their work, and keep pushing through all of the failures, is for the patients.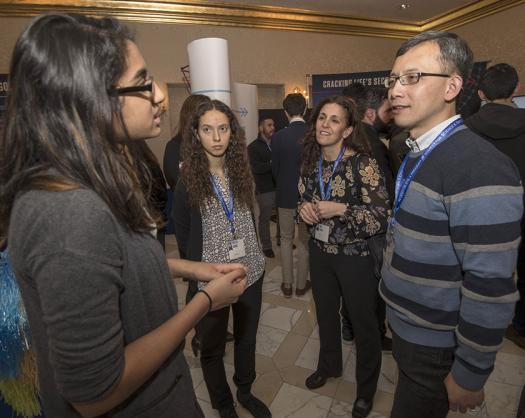 Several of the Regeneron scientists made the transition from academia to industry in their careers. They touted industry's culture of discovery and support.
"Scientists are more collaborative in industry. Industry can be a great way to do science," said John Lin, the Vice President of Immuno-Oncology & Head of Bispecifics at Regeneron. John L. leads the bispecific antibody research and development programs at the company.
The other panelists agreed. "When I was in school, you were considered a failure if you went into industry," Neil said.
"You can just feel the excitement at Regeneron — we care about the science. The way we work is driven by the science," said Bari Kowal, Regeneron's Vice President and Head of Global Clinical Project Management & Operations. Bari is responsible for the global operational leadership for the clinical development of the company's pipeline of important new medicines. Her team manages over 5,000 clinical investigators and the collection of data from more than 20,000 clinical trial subjects in over 50 countries worldwide.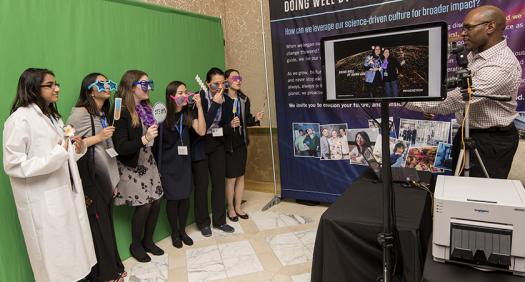 "In academia, you have to deal with politics and legacy," said John Overton, the Executive Director and Head of Sequencing and Lab Operations at the Regeneron Genetics Center, which serves as "a nimble biotech company within a larger biotech company." John O. oversees the biobanking, sample processing, and sequencing of human DNA samples. Since 2014, the RGC lab has sequenced the exomes of nearly 300,000 patient volunteers.
At Regeneron, in addition to inspiration and invention from senior research leadership, the lab research scientists are the drivers of innovation for new drug targets, Lori said. "They're owning it and shepherding the whole process," she said. They champion their programs from target nomination through preclinical development and are critical team members in clinical development and beyond, and "this continuity of science goes a long way."
One major way Regeneron is able to retain its culture of discovery is that the critical conversations are conducted by scientists and clinicians, John L. explained. The company itself is led by scientists, instead of businesspeople.