Eva Ng's inspiring journey: From science fairs to Thermo Fisher Scientific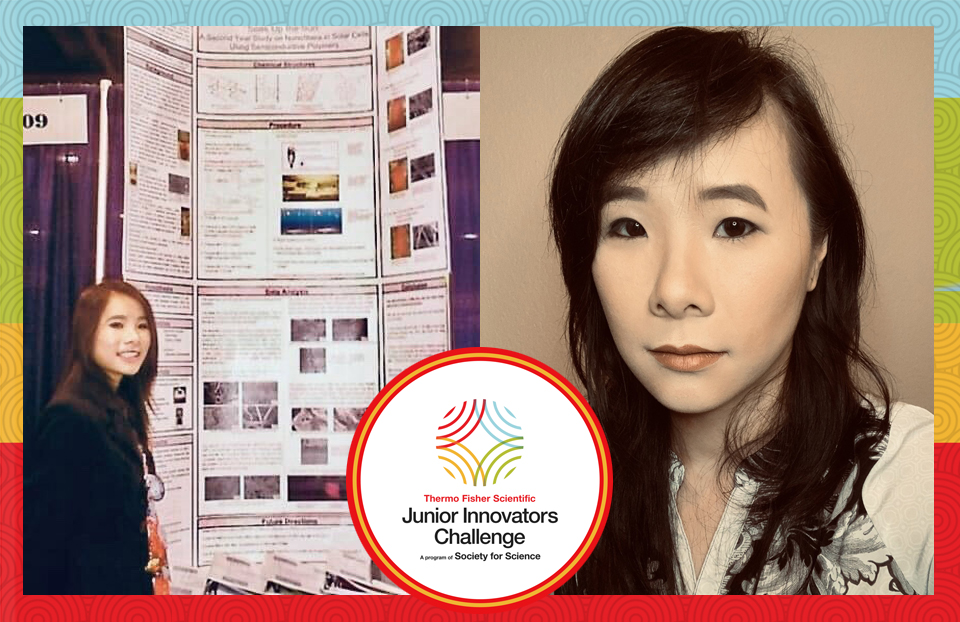 Just last month, the Thermo Fisher Scientific Junior Innovators Challenge (Thermo Fisher JIC) revealed its top 30 finalists who are preparing to showcase their research projects during Finals Week in the nation's capital in a few weeks. In anticipation of this exciting event, we had the privilege of meeting Eva Ng, an alumna of the Society's competitions and a current R&D scientist at Thermo Fisher Scientific.
Eva's path from her early days participating in science fairs to her current role as a scientist is a testament to her unwavering commitment to advancing science. Reflecting on her incredible journey, Eva says, "I was literally half my age – just 15 – when I competed and won at the International Science and Engineering Fair (ISEF). That victory was undoubtedly transformative in that it probably single-handedly altered the entire course of my life."
Her journey began with a spark of scientific curiosity during her middle school years, leading her to the George A. Jeffery NanoExplorers Program at the University of Texas at Dallas, where she honed her research skills and embarked on a path to success in competitive science fairs. Eva later went on to Rice University, where she graduated with dual degrees in biochemistry and cell biology, as well as philosophy.
In 2016, Eva transitioned to her professional career in the biotechnology industry, where she has been instrumental in launching groundbreaking products and contributing to patent filings. Her remarkable progression from a curious middle school student to a distinguished R&D scientist underscores the profound impact of nurturing a passion for STEM from a young age. To the inaugural class of Thermo Fisher JIC finalists, she advises, "Stand out. Take up space. Be unapologetically nerdy."
Let's hear more from Eva below!
Can you tell us a little bit about your background, Eva? Are there any experiences in your childhood that sparked your interest in STEM?
I was morbidly curious and engrossed in small animal dissections during middle school summer programs for gifted and talented students. I had an unsatiable overzealousness to extricate everything and anything that I could get my hands on!
After finishing 8th grade, I was selected for the inaugural class of the George A. Jeffery NanoExplorers Program at the Alan G. MacDiarmid Nanotech Institute at the University of Texas at Dallas in 2006. I leveraged my project into successful runs through competitive science fair circuits, which ultimately culminated in an acceptance to the Texas Academy of Mathematics and Science (TAMS) at the University of North Texas in 2008.
What was your ISEF project title and in a few sentences can you describe what your project was about?
I won the 4th Grand Award at ISEF 2008 in Atlanta, Georgia! My project was entitled, "Soak Up the Sun: A Second Year Study on Nanofibers in Solar Cells Using Semiconductive Polymers." I was electro-spinning single-walled carbon nanotubes into this novel plastic-like material and trying to characterize its properties. The goal of that project was to synthesize the target polymer, blend it with this nano-scale substance, and then find the appropriate fabrication conditions that would yield uniform, continuous fibers. It was meant to have future applications in creating more energy-efficient, flexible and paper-thin displays – the kind you would encounter in your day-to-day as photovoltaic cells and light-emitting diodes.
You participated in many science fairs as a student, including ISEF. How did your participation in ISEF and other science competitions shape your passion for STEM?

Participating in science fairs really opened my eyes to so many possibilities that I never knew existed. It was truly humbling to see the capabilities of other children. I had living, breathing proof that someone in my own age group – sometimes peers who lived just a few miles away from me – could do all these incredible and inspirational things in science too. That was an inherently powerful motivator because I felt like I had so much more to aspire to as a student. Especially when I saw the level of innovation from 'home-grown' projects – the ones not conducted with a graduate student type of mentor in a regulated lab environment – I was in awe of what other students could execute right in their own kitchens or garages. This was a huge factor in maintaining and growing my excitement for scientific discovery. There were so many topic categories and so much breadth and depth of real-world problems to be solved within each section at every competition. I would browse through the lanes of display boards and think to myself, "Someone like me is working on something like this? Seriously!? That's so cool!" On the other hand, I was also like, "That girl is like two grade levels lower than me and she's already doing something like that? No way! I gotta step up my science game."
You are an R&D scientist at Thermo Fisher Scientific. What is your research focus right now and what does a typical day look like for you?
I'm currently a molecular biologist on the Core Research and Translational Sample Prep Team. I help develop innovative products that enable other fellow scientists (in industry or academia) to do their work in a more sustainable and efficient way. Our team works on creating simplified workflows for a wide variety of processes and applications, like nucleic acid extractions. My upcoming product launches will be for the research-use-only market.
The charm of being in R&D is that every day is different: It's about managing expectations and controlling chaos! There will be stretches where I'll be just sitting at my desk, doing biostatistics consults for my other colleagues' projects, or writing plans and protocols for imminent verification and validation studies. At other times, I'll be in the lab deftly executing experiments at my bench and trying to interpret data that comes fresh off an instrument.
As a woman of color and a first-generation college student, what unique challenges did you face in your pursuit of a career in science?
My ethnic heritage is equal parts rooted in Hong Kong and Guangdong, Guangzhou, China. I was born and raised in a French-speaking area of Ontario, Canada prior to moving to the US. I am a '1.5 Generation' immigrant and culturally identify as an Asian-American.
My family wasn't financially or emotionally equipped to help me navigate through the forays of assimilation. I was painfully self-aware that I needed to raise myself into an 'Olympian' on a 'Rec Center' budget, all in pursuit of the 'American Dream'. I knew I needed to excel academically to be competitive for college admissions. And although I was being repeatedly told to uphold our family's traditional values and cultural expectations – to be meek and just aspire to marriage – I rebelliously dreamed of cultivating my own technical career – all on my own terms – while embracing Western feminism.

It was also difficult to swallow this reality of inherent unfairness and pressure as a child, especially since I also had to face a strangely weaponized form of the 'Model Minority Myth' – a racist and pervasive idea that Asians are somehow innately wired for socioeconomic or academic success in comparison to other minority groups, and are therefore not as readily assumed to be in need of additional support.

In your experience, what unique challenges do you think women and underrepresented scientists face today? Can you share how you've overcome these challenges?
There's a myriad of issues at play, but these are the two most prominent ones that I've experienced:
Being at the mercy of this truism: "You don't know what you don't know." Everything from fair compensation and benefits (especially negotiating equity, base salary, or PTO) to navigating office politics (not knowing what's 'expected' or 'normal' to endure before looping in HR, or if you can/should ask your manager for certain opportunities). You have little to no way of calibrating yourself early on in your career. Being your own benchmark can be equally exciting as it is terrifying.
A pressure to represent your minority group: There's often a pre-existing internal battle between the culture of 'origin' versus 'choice' and even versus 'lived' – You might feel conflicted about presenting yourself authentically in the workplace. Especially as the first or only point of contact that others may experience for your race, nationality, ethnicity, or another social identity, it can feel as though you're simultaneously being held to 'no expectations' but also 'Every Expectation'. It's a tricky balance. The best way to navigate these issues is through networking and mentorship: build yourself a professional support group as early as possible. Schedule 'one-on-one' meetings with open and honest colleagues who are allies who share a similar background or whose career trajectory interests you. Ask for advice on how they got to where they are today, and how they handled similar roadblocks!
Why do you think it is important for companies like Thermo Fisher Scientific to support and invest in programs that encourage young people to pursue careers in science? What role do you think they play?
There's definitely a social responsibility to enrich children with a STEM education and all the life-long skills that are associated with it, such as critical thinking: After all, the advancement of society and science cannot be sustained without attracting and maintaining the interest of the next generation. Corporate funding and support provide programs with greater accessibility, equality and equity for each cohort of incoming middle and high school students, Especially when it comes to giving a safe and nurturing environment to socioeconomically disadvantaged kids.
Companies in STEM also play a role in breaking down social barriers as well. Our modern role has to extend to being an active, conscious, and civil participant within our own communities – Akin to being ambassadors and self-advocates for science. As a consequence of the increasing politicization of some STEM fields, we have to work on bringing back confidence in what we do. That means making our findings more digestible for public consumption, patiently explaining away blatant misinformation and disinformation, and upholding a high standard of integrity for our experimental data. We need to be more readily open to assuaging the concerns of impressionable, young people, especially, where we might be seen as the movie-magic 'mad-scientists' or the indecisive 'flip-flopper' advisors. Early social intervention and engagement is key to making sure their perception of STEM remains positive.
According to research studies, access to STEM education before, during and after the school day allows middle schoolers to better prepare for more rigorous STEM coursework in high school. Can you share how you believe science fairs play a part and continue to inspire and encourage middle schoolers in their pursuit of STEM?
Science fairs are a pipeline that nurtures early talent in STEM. It's a program that encourages middle schoolers to ask questions about the world around them and provide their own answers with the power of science. They're being given a platform to present opportunities and solutions to improve their society. Essentially, these competitions foster scientific curiosity and creativity. These inquisitive students are taking what they learn in the classroom, extending their knowledge, and are then trying to apply their newfound understanding to real-world scenarios. Science fairs provide a stage to celebrate such efforts and determination to use sound logic and reasoning. They also reward students for being focused, methodical, meticulous and innovative.
Eva, you have a unique perspective on science fairs, having been a competitor, secured a STEM career, and now you have volunteered as a judge for the next generation of innovators. We'd love to hear your thoughts on this full-circle experience of volunteer judging. What does this journey mean to you?
When I first sat down at the judges' table for my assigned category, I picked up my clipboard and saw the grading rubric sitting on top of the stack of the competitors' abstracts. It hit me harder than I thought to be on the other side of the fence for the first time. There was about to be a very real weight and immediate, direct impact associated with my appraisal of these candidates and their respective projects. There was such an incredible concentration of budding STEM talent just ready and waiting to be discovered!
It was an incredible honor and such a huge privilege for me to be able to give back to the very same institution and process that helped set me up for my current success.
Are there any last words of wisdom you'd like to share with this year's Thermo Fisher JIC finalists?
Although the scientific integrity and merit of a project is a major criterion that determines a winner, it is not the only criterion. Don't neglect the power of a solid technical presentation combined with good marketing skills. Know your audience (ask your judge for their background!) and tailor your words towards them. Have a persuasive elevator pitch ready to go, almost like you're doing a commercial or advertisement. Practice in front of your stuffed animals if you have to!
Your poster is there as a guiding tool and the content there should be able to stand alone. You are being held accountable for understanding all the text and figures that are affixed to it. If it's on there, it's fair game to be scrutinized by a judge.
What took you thousands of minutes to generate behind-the-scenes (or in a blooper reel compilation) gets only ten minutes of actual, live broadcast screen-time. You now have the opportunity of a lifetime to bring your hard work to life – to perform and bring justice to it.
Check out this year's top 30 finalists' projects here.