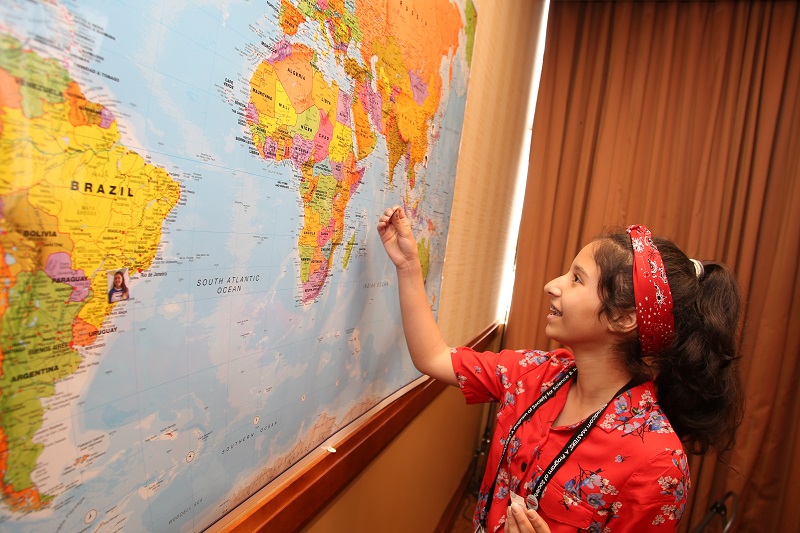 By Chris Casacchia
Environmental health concerns pushed Puerto Rican Gabriel Ruiz, Saudi Arabian Leena Almusaed and Brazilian Isadora "Isa" Fernandes Barbosa to action. A passion for animal health and safety sparked the inquiries of Mohamad Adam Haris Mohamad Rizan of Malaysia and MacKenzie "Mac" Dykeman, who lives near the U.S. border in British Columbia. The simple, commendable premise of helping family, friends and neighbors led the research work for several other Broadcom MASTERS International delegates, including Victoria Gaono, Freddie Howells and Kristyna Landsingerova.
This year's class of 27 delegates, who traveled to Phoenix from 24 countries and territories, are among the brightest middle school scientists anywhere. Their science projects, which have garnered regional and national acclaim, highlight their dedication to STEM and their determination to make the world a better place.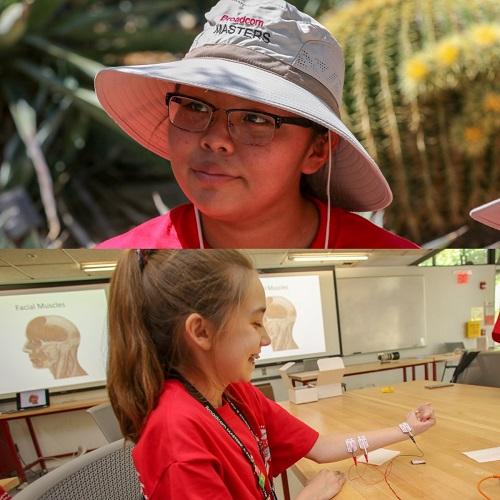 Health Watch
Jaycelyn Tallsalt, of Tuba City, Ariz., set out to find the best combination of burning wood and coal that produced the least amount of carbon dioxide. She lives in Navajo Nation, where most residents use wood-burning stoves to heat their homes.
Parkinson's disease, the progressive neurodegenerative disorder that affects movement, moved Katie Quinn, of Louisville, Ky., to study whether Atrazine, a common pesticide, is a possible cause of the disease. "Coming from Louisville, Muhammad Ali had Parkinson's disease and it inspired me," Katie said. The iconic boxer and civil rights activist lost his battle with the disease in 2016 in suburban Phoenix, a few miles from the Muhammad Ali Parkinson's Center he funded at St. Joseph's Hospital.
Freddie, from the small Welsh town of Usk, developed a facial recognition door entry and home monitoring system for the elderly that sends video and text alerts to family members. "I developed this project because my great aunt, Pat, who's 88, lives alone and has dementia," the 13-year-old said. "Our problem was she kept letting in random strangers and could never remember when people entered the house."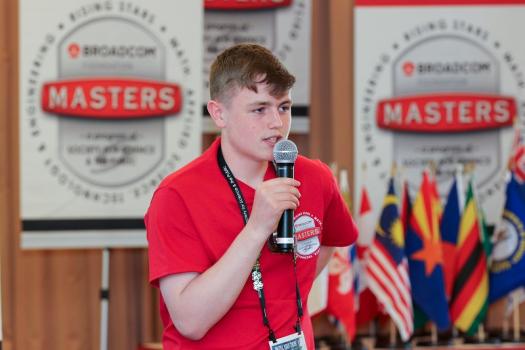 Helping Friends and Family through STEM
Liam Black, of Ballymena, Northern Ireland, wanted to prevent head injuries and rollover accidents from all-terrain vehicles after his cousin, Seamus, had a bad fall last year. He wasn't wearing a helmet, but luckily, only broke his arm. Liam's device, which utilizes an Arduino micro-processor, accelerometer, radio transmitter and receiver, requires the rider to wear a helmet and provides LED warnings and sound alerts for blind spots. "My project could make the difference between life or death," he said. "I would like to have an impact on the world and change people's lives."
Lama Alsafasfeh, of Amman, Jordan, used an Arduino to convert sign language to speech and speech to text, powering communication for the deaf and hearing-impaired. The 12-year-old, who was inspired by her deaf friend, hopes to reduce the sign language barrier.
Sriram Bhimaraju created a device to help the visually impaired become archers. The archery assistant, Dhrona, uses an accelerometer, gyroscope, flex sensors and an app, to teach proper form, where to aim, how far to pull back the bow, and how to prevent injury. "I was having difficulties when I was practicing because I didn't have a coach," said the Cupertino, Calif. native. "And it made me think about people with disabilities and how difficult it would be for them."
Similar to Sriram, Aaron Acosta Rivera was inspired by his visually impaired friend, Moises, who loves soccer, but faces challenges playing sports. Thus, Aaron set out to develop special sunglasses for him. The Bat Glasses utilize a sensor that alerts users of obstacles ahead, mitigating collisions and brush ups.
Aaron, who's from Puebla in Mexico, wants to develop and manufacture prosthetics one day.
Addressing one of the most pressing global issues for students, Kristyna Landsingerova explored the psychological dangers of the internet and social media. "In our school we have lots of kids that are cyberbullied and I wanted to help," the 14-year-old from Holis, Czech Republic said. "I started to work with our teachers, psychologists and psychiatrists, and I made a website for people that are cyberbullied."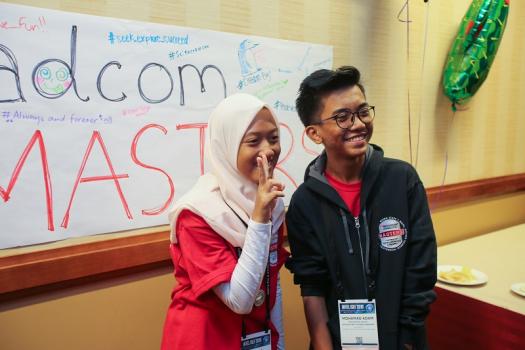 Protecting Pets
Animals are an indelible part of life for many of the Broadcom MASTERS delegates, and some used their keen sense of design to help them travel safer. 
Mac designed a shipping container for chicks that reduces injury and mortality rates. "I live on a poultry farm and get shipments of birds from the states if I want a specific breed," said the 13-year-old who lives near the Washington state border with her mom, brother and grandfather. "I would receive the shipments of birds with significant losses and injuries." Motivated by this problem, she incorporated a circular design for the container and a universal heating element under the raised floor, so the chicks wouldn't gravitate and huddle in corners of the box, which leads to injuries and fatalities.
Mohamad's hometown of Putrajaya is overrun with flash floods every May. With this in mind, he engineered a pet cage that can float to help combat a perennial problem when floods engulf large swaths of Malaysia every year. The kennel is stocked with food and water, which is dispensed through a time system via an app or browser.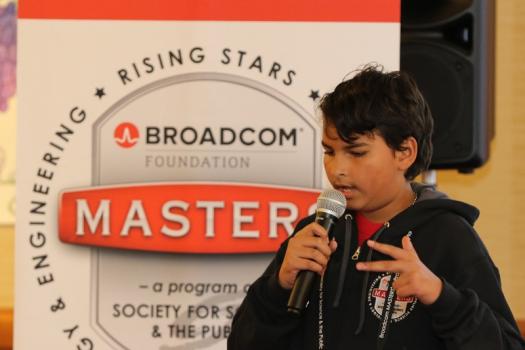 Filtering Out the Best Solution
A water dilemma of a different sort led Leena, who lives in the largest port city in the Persian Gulf, to improve efficiencies in reverse osmosis membranes by introducing self-cleaning grapheme and polyamide to minimize pores.The desalination method helps turn seawater into fresh and drinkable water in a cost-effective, eco-friendly way. "In 2050 we are going to start running out of fresh, drinkable water and we must have methods in place to change the saltwater into fresh and drinkable water," Leena asserted. "Science can solve small problems or massive problems that have worldwide impact."
Isa, who lives in the subtropical climate of Londrina, Brazil, tested different types of water treatment systems by measuring the filtration potential of three plant species from her nearby Igapo Lake.
Gabriel, who's from the mountainous town of Caguas in central Puerto Rico, set out to develop a highly-efficient, portable air filter from readily available household materials, such as sponges and gauze. The 12-year-old, who witnessed the impact and devastation of Hurricane Maria in 2017 firsthand, was concerned with high levels of air pollution caused by exhaust fumes, fires and debris, a constant reminder of the super storm that decimated the island and surrounding region. "The island passed through some tough times. A lot of things got destroyed and there was a lot of contamination," Gabriel said. "We have improved and are better prepared if a hurricane or earthquake comes. Now we know what it's like."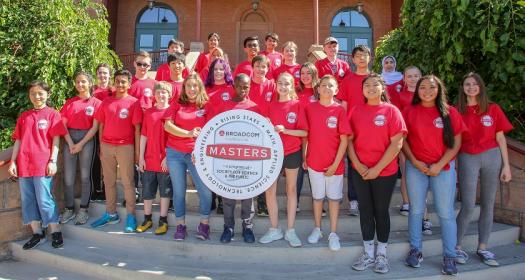 As showcased by this year's Broadcom MASTERS International delegates, no matter the scientific field or questions they are striving to answer, these young scientists, engineers and innovators are united by a drive to leave an indelible improvement on their world and community.