Deep dive: 10 TED talks by Society alumni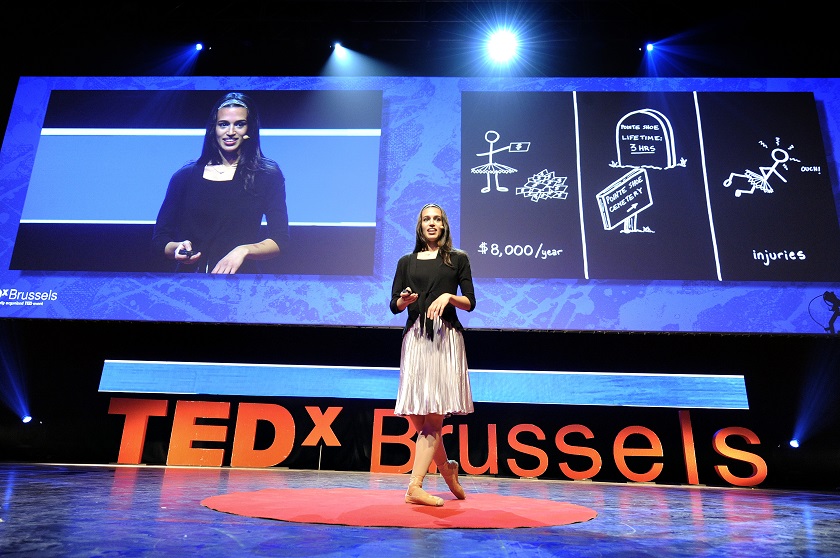 Through the Society's three leading STEM competitions, we've come across many ideas worth sharing. Projects from alumni have addressed some of the world's most intractable problems, such as disease prevention and climate change. While science has been at the forefront of their lives, the stories pertaining to the motivations behind their work aren't always told. There are lessons to be gleaned from all their experiences and you can hear 10 of their firsthand accounts here.
Lina Colucci (STS 2008), Why we should all hack medicine
Lina spoke about her work as co-director of MIT Hacking Medicine at TEDxBrussels in 2014. The group's mission is to ignite healthcare innovation. They were one of the first in the world to run health hackathons, events that bring together doctors, engineers, patients and businesses.
Mihir Garimella (STS 2015; 2011-2013 BCM), Designing the next generation of first responders
Mihir was a multi-year Broadcom Top 300 MASTER and 2013 finalist and an Intel ISEF 2015 finalist. At TEDxTeen in 2015, he discussed his invention, Flybot,a flying robot-drone that navigates by mimicking the visual capabilities of fruit flies.
Kavya Kopparapu (STS 2018; ISEF 2017-2018; BCM 2013) Harnessing the power of artificial intelligence to diagnose diseases
Kavya is the Founder and CEO of Girls Computing League. Her organization aims to empower young women and underrepresented groups in computer science, artificial intelligence and technology. At TEDxHerndon in 2017, she spoke about her work using artificial intelligence to screen for preventable diseases.
Rhea Malhotra (ISEF 2018; BCM 2016), Rethinking the age of science
At TEDxLehighRiver in 2017, Rhea argued against a minimum age for conducting research in labs. Her talk draws on her own experience with ageism in her scientific pursuits and encourages others to consider the benefits of having younger perspectives in the field.
Anushka Naiknaware (BCM 2015-2016), A teen scientist's invention to help wounds heal
Anushka designed a "smart bandage" with a sensor to measure the moisture level within a wound to track healing. She spoke about her invention at TEDWomen in 2017. Sharing her story, she hoped to inspire others to make a difference as well.
Dhruvik Parikh (ISEF 2018), Freedom from fossil fuels is closer than you think
Dhruvik talked about how agricultural waste can be recycled to fuel self-sustaining production systems at TEDxSnoIsleLibraries in 2017. Winemakers, for instance, can convert the waste products from producing one batch of wine into biodiesel to power their machinery for the next batch. Solutions like his could help combat climate change.
Syamantak Payra (STS 2018; ISEF 2017-2018; BCM 2013-2014), You can do it: simple steps for innovation
Syamantak built a smart bionic leg brace that bends the knee automatically to restore a more natural walking motion among users. He spoke at TEDxClearBrookHighSchool in 2018 to share the skills he gained from conducting science research. From this experience, Syamantak realized that anyone is capable of innovation.
Nabeel Quryshi (STS 2018; ISEF 2016-2018), The Importance of Mentors
Nabeel conducted significant biomedical research within the cardiovascular field. Speaking at TEDxFondduLac in 2017, he commented on how instrumental his mentors were in his success. The findings from Nabeel's scientific pursuits were made possible by the support he received from different professors who were willing to guide his research.
Raymond Wang (ISEF 2015), How germs travel on planes — and how we can stop them
Raymond won the top prize at ISEF in 2015, the Gordon E. Moore Award, for his invention of a system to improve air quality on planes. At TEDYouth in 2015, he explained how pathogens spread among passengers. His solution uses a small, fin-shaped device to increase fresh airflow and redirect pathogen-laden air out of circulation.
Brittany Wenger (STS 2013; ISEF 2010-2013; MSP 2008), How to make a neural network in your bedroom
Brittany received a $20,000 award at Intel ISEF 2013 for her development of an artificial neural network to help diagnose breast cancer using data from fine needle biopsy samples. At TEDxCERN in 2013, she discussed how she worked through several failed attempts to get to the final iteration of her model. Her experience taught her the importance of learning from failure to achieve success.