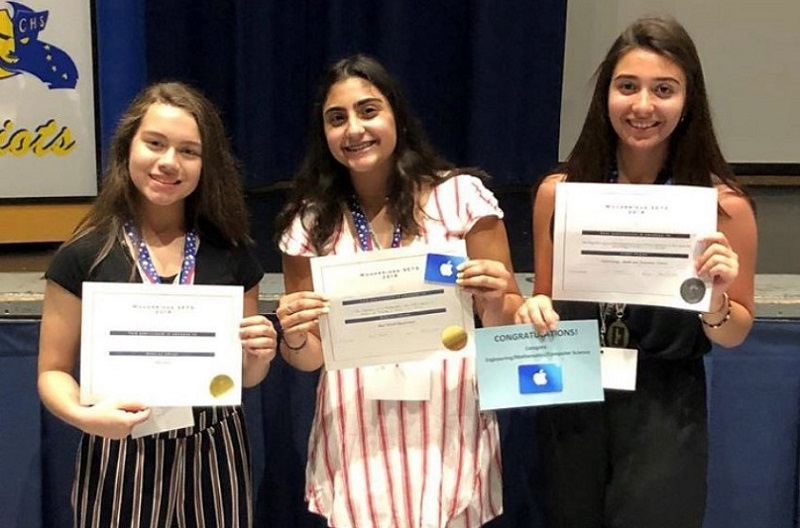 Annually for three years, The Lemelson Foundation will give $100 awards to outstanding inventors in up to 270 Society Affiliate Fairs with middle school participants around the country. The prize was especially created to reward young people whose projects exemplify the ideals of inventive thinking by identifying a challenge in their community and creating a solution that will improve lives.
According to the National Ocean Service, an estimated 8 million metric tons of plastic enter the ocean every year. That's equivalent to the weight of nearly 90 aircraft carriers! To make matters worse, plastic waste can remain in oceans indefinitely and damage marine life. Three eighth-graders from Colonia Middle School in Colonia, New Jersey—Jenna Persaud, Avery Allard and Laila Rivera—wanted to address this issue with their science project, "The Engineering of a Biodegradable and Edible Material to Decrease the Percentage of Plastic in our Oceans." Their inventive thinking earned them the Lemelson Early Inventor Prize from their school's science fair.
"We were inspired by seeing and reading how much plastic was not only killing our environment, but all the animals in the oceans," said Jenna, who spoke to the Society on behalf of her group. "It was very shocking to see just how much plastic was in our oceans and how many animals were dying from it each year. We wanted to create a material that would help the environment, benefit the animals and still have the use that plastic does. We also wanted to create something that could eventually decrease and stop the plastic overflow."
Jenna, Avery and Laila's plastic substitute was made out of tapioca powder, corn starch, vinegar, seaweed, algae powder, vegetable glycerin and water. "The idea of edible plastic came from the fact that animals end up eating the plastic in our oceans, so we wanted to make sure that it wouldn't harm them. The algae powder and seaweed in our mixture are also a part of a sea animal's diet," Jenna explained. "All the ingredients were boiled altogether until the mixture bubbled. Then, it was poured onto a baking sheet and left out to dry. Within a day, the mixture hardened. We molded it into a six pack ring and it was able to hold a soda can."
After confirming the durability and strength of the material, the group moved on to see how well it would break down in the environment. They did so by comparing it to the E6PR™ (Eco Six Pack Ring), the first ecofriendly six pack ring made from compostable materials. Each ring was placed in a separate container of water. By the end of two weeks, the girls observed that their ring had disintegrated into pieces, whereas the E6PR™ still retained its form, with no change in appearance or texture.
The group also performed a taste test. All three of them tried the edible plastic. "It did have a weird taste to it, from all the different ingredients that we mixed together. The consistency was hard at first, but it became chewable."
These students proved that inventors do not have to go it alone. "As a team, we were able to get things done faster," Jenna remarked. "We bounced off each other's ideas. Dividing the work made each of us aware of what needed to be done in order to successfully complete the project." When the team faced challenges in perfecting their recipe, they benefitted from communicating with one another. In fact, they said that their favorite part of this research experience was working together. "We were all friends and it was a great opportunity for us to get closer while still putting in our time in creating something that could help the environment, which we all took much pride in," Jenna said.
Since winning the Lemelson Early Inventor Prize, Jenna, Avery and Laila have more confidence in their potential to succeed in STEM fields and see themselves as inventors. "The plastic we created did succeed in our tests and although this is just a start, it is a big stepping stone." Given the project's promising results, the girls plan to continue their research. "We would like to see how our plastic would do in salt water considering that's what is in our oceans. We would also like to test how the plastic would decompose in different parts of the environment such as a landfill."