An astrophysicist, investor, mathematician and physician—STS alumni are leaders of today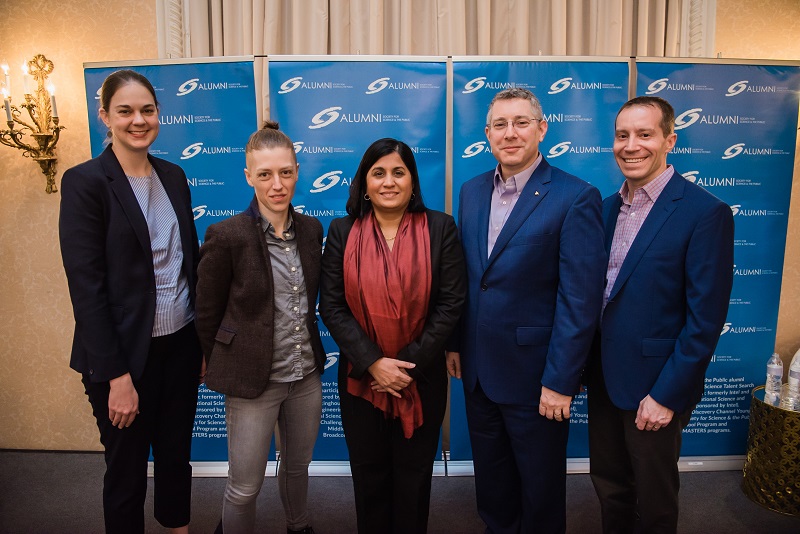 Society alumni gathered at the St. Regis Hotel in Washington, DC last month to tune into a vibrant panel of Science Talent Search (STS) alumni. Judging by the diversity and success of each of the panelists, it was clear that the Science Talent Search has upheld its mission to support the future leaders of tomorrow.
Panelists included Kevin Heller (1989 STS), Chief Medical Officer of NextCure, Meredith MacGregor (2007 STS; 2004-2006 ISEF; 2001-2003 DCYSC), NSF Astronomy and Astrophysics Postdoctoral Fellow, Emily Riehl (2002 STS), Assistant Professor in the Department of Mathematics at Johns Hopkins University and Nick Superina (1999 STS), Co-founder and General Partner, Harmonic Growth Partners.
Though the four alums are from varying fields—astrophysics, investing, mathematics and medicine—it was clear that they share three key attributes.
The first is Passion.
For all the panelists, their work isn't just a job, but a career that has purpose. "I love doing science!" Meredith said. "I get to come to work every day and think about big questions about our universe." As an observational astronomer, Meredith spends her time analyzing data captured by telescopes. "It's exciting that for every new dataset, I know that I am the first person in the world to get a glimpse of that part of space."
Kevin, Chief Medical Officer at a biotech company, shares a similar passion for his work and gave some advice to medical students in the audience. "Be prepared to work harder than you ever have in your life. As long as you have passion for the work, keep going for it!" His goal is to help patients through the discovery and development of new drugs. Nick, meanwhile, has a thirst for learning about all types of industries, which is helpful when deciding which companies to invest in.
A deep understanding that one's work means more than oneself.
"In science fairs, you are representing something bigger than yourself," said Nick. In 1999, he felt lucky to be his high school's first STS finalist, but didn't anticipate all the media attention and interview requests from newspapers and TV stations. "I was representing not only myself and my project, but also my family, high school and hometown community. Twenty years later, I think back to my STS experience and how it taught me that you're always really representing something bigger than yourself in life."
Emily Riehl, a mathematics professor at Johns Hopkins echoed that her work goes beyond her own field as well. She knows that math has an impact on science and technology and even societal issues, such as gerrymandering. "Abstract mathematics teaches you to think clearly and carefully, through problems that are often unclearly defined. This sort of rigorous analytic thinking is absolutely critical to science and engineering of course, but also to discussions on law and public policy."
Meredith also believes that science and society are undoubtedly interconnected. "As humans, we are constantly trying to understand how the world works and what our place is in it. Science and technology allow us to ask those big questions and push towards new understandings. In the end, that pursuit of knowledge pushes our whole society forward through new discoveries and new technologies."
Gratitude for a strong mentor, as passion cannot be realized without mentorship and guidance.
Meredith's mentor was a female astrophysicist named Vera Rubin, whose work on angular motion of galaxies inspired her own work looking at disks around young stars. (Vera was also on the Society's Board of Trustees from 2002-2008.) To pay it forward, Meredith is working toward diversifying her field, especially for young women and the underserved. One of Kevin's mentors was the late Dr. Ralph M. Steinman, a man who passed away the day before his Nobel Prize was announced. "He was an unbelievably humble and kind individual who just wanted to talk about science. He made the world a better place."
The alumni in the audience and the panelists had the opportunity to connect after the discussion. The bonds alumni form from participating in the Society's competitions last for life – whether it be networking, career advice or friendship. "It's always fun to chat with other alumni and see where their careers have taken them over the years," Meredith said.
Stay connected through The Society Alumni Network, an online community for alumni of the Society's science competitions. Join the Alumni Network here