By Caitlin Jennings, Communications Coordinator, Society for Science & the Public
In the mid 1950s in Indiana, Roger Cuffey (STS 1957) set up two telescopes on his front porch in order to view Mars during close approaches. He used these observations, along with comparisons to previous maps, to create detailed surface maps of the planet and its large lava fields that were surrounded by dusty deserts. He submitted this work to the Westinghouse Science Talent Search (now the Intel Science Talent Search (STS)) and became a finalist.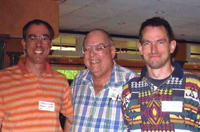 His effort inspired his two younger sisters to also submit projects to the competition. His sister Hazel Reita Schbert (STS 1960), who later went on to become an opera singer, became a finalist for her work on raising slime molds. Like Roger's telescopes that dominated the family porch, the Petri dishes containing Hazel's slime molds were scattered around the house as she observed their life cycles. His other sister, Irene Priscilla Franklin (nee Cuffey), was a semifinalist in 1963 for her work raising silk worms and studying what stimulated them during each life cycle.
Roger credits their parents, first generation immigrants who met at Harvard while both were studying Astronomy, for driving his family toward academic success. "My mother was very insistent that we do well in school," he says.
And the family tradition didn't stop with him and his sisters. A generation later, Roger's sons also submitted projects to STS and became finalists. Roger explains that the competition "was a real help in my own career development," — he went on to teach Paleontology at Pennsylvania State for almost four decades — so he encouraged his sons to think about projects that might be suitable for STS. Clifford Cuffey (STS 1986) studied fossil shells on rocks, and Kurt Cuffey (STS 1988) observed how glacier valleys formed in Glacier National Park in Montana.
Roger credits the competition with motivating his sons to pursue independent scientific research and says it created a goal for them in high school. More than 20 years later, both sons work in fields related to their STS projects. Cliff is a Petroleum Exploration Geologist for Chevron and he teaches geology and astronomy part-time at Midland College in Texas. Kurt also shares his knowledge with the next generation of scientists as a professor of glaciology and geomorphology at the University of California at Berkeley, where he is also the chair of the Geography Department. "[STS] was a stimulus that underscored their career choice," Roger says. "It was the chance to do something real."