Advocate Program helps teacher and students find success at science fairs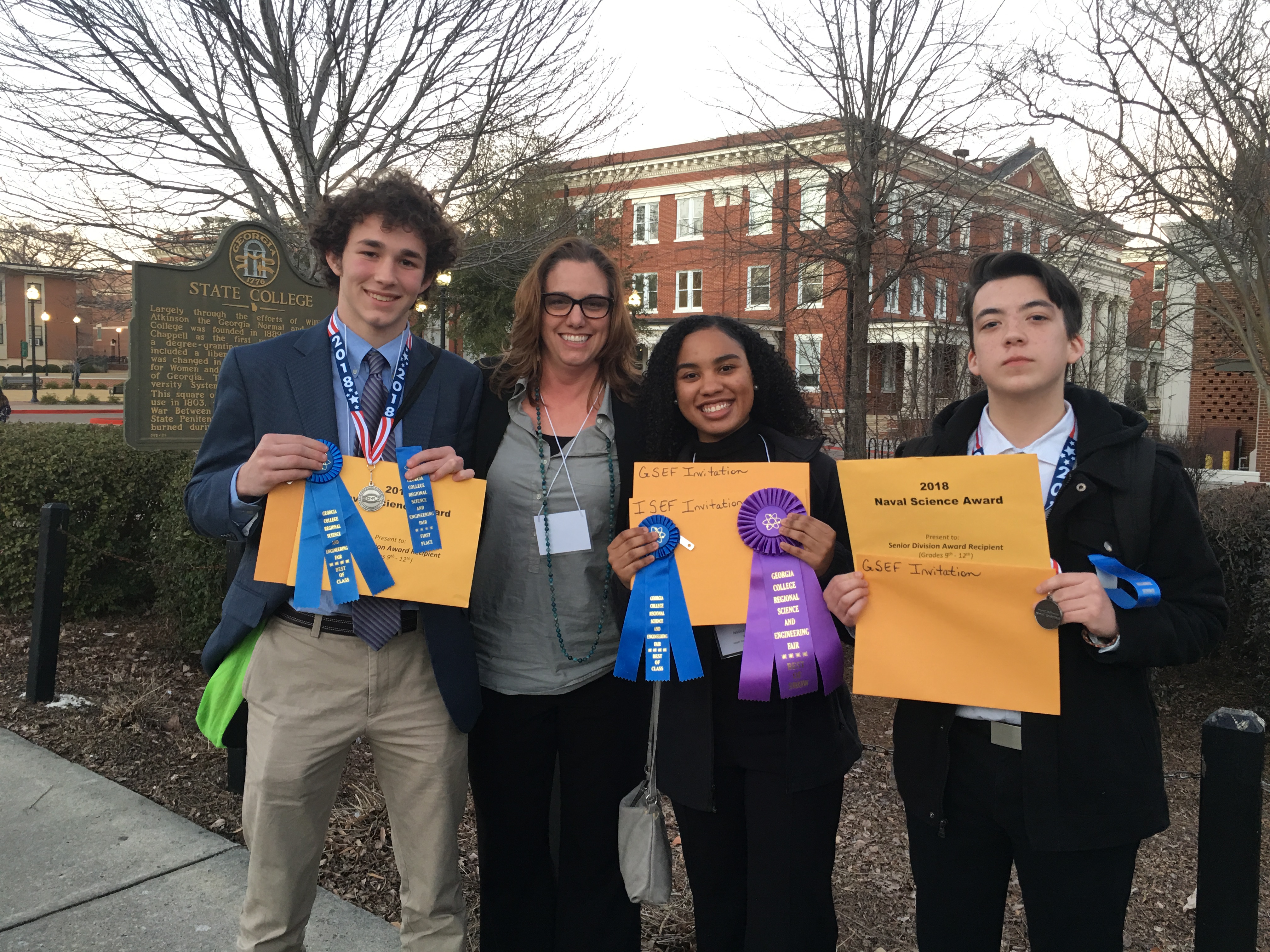 After her first year guiding students through science fairs, Elizabeth Proctor, a teacher at Jasper County High School in Monticello, Georgia, wasn't sure if she would continue participating in the competitions.
At a school where over half of the students are eligible for free or reduced lunch, it can be difficult for the community to get behind science fairs, especially considering the limited financial resources. Being in a rural school district, far away from research facilities, universities, and a larger STEM community, also makes it difficult to drive participation in science fairs.
But then Elizabeth applied for the Society for Science & the Public Advocate Grant Program, which supports mentors as they guide a group of three to five underserved students in scientific research and the science fair process.
"The grant support was definitely a kick start," she said.
With the financial support, she was able to take twice as many students to the Georgia College Regional Science and Engineering Fair, compared to her first year. In May, Elizabeth will be attending Intel ISEF with three of her students from her cohort.
After her first year helping students through science fairs, Elizabeth feels a greater sense of self confidence . A great deal of this is thanks to the Advocate Grant Program.
Especially in an impoverished, overstretched school system, the financial support provided by the Advocate Grant Program is extremely helpful, Elizabeth says. It eliminates the need to make sure every student is financially able to pay for something like transportation or application fees.
"The grant provides access for my kids," Elizabeth said. "This way, everybody gets on the bus."
In addition to providing financial assistance that pays for application fees, equipment, transportation to and from science fairs, and more, the Advocate Grant Program provides mentors like Elizabeth with guidance as they help underrepresented students enter science fairs.
For example, when she first went through the science fair process three years ago, Elizabeth says her students were intimidated by the entire experience. Her students have always been smart, she says—they just lacked confidence.
---
Support teachers like Elizabeth. Become a member of the Society for Science & the Public today.
---
"The Society has helped me network with other advocates that are working with similar challenges," Elizabeth says.
The Advocate Grant Program provides Elizabeth with the support network she needs, whether it be through advice, talking with other teachers working with similar student populations, or being made aware of additional research opportunities for her students.
The kids see that science is fun.
Being an Advocate has opened up a number of opportunities for Elizabeth and her students. After attending the Advocate Training Institute in Washington, D.C., Elizabeth learned about the importance of her students completing summer internships. The connections she has made through the Society for Science & the Public helped her students find internships.
The program has made a huge impact on Elizabeth, both personally and professionally, she said. She loves guiding her students in meaningful research projects and showing them how material in their classes can be applied in the real world.
"The kids see that science is fun," Elizabeth said.
Elizabeth and her students show that being successful in science fairs and even making it to Intel ISEF is possible for anyone, despite diverse financial situations in the community or at home. She wants to continue to increase the number of students conducting science research at her school. One way she hopes to make this possible is to create a pipeline of success in her school district, so that by the time students get to high school, they've already completed science research projects and are aware of Intel ISEF.
"Through experience and association I am learning how to prepare students for the rigor associated with presenting science fair projects," she said. "I am still learning but at least now they get on the plane; even if it's the first time they have ever flown."
Elizabeth is finding that more of her students are getting excited about science research and that her program is doubling. Especially motivating to students is a photo wall Elizabeth created in her classroom, where she displays big prints of awards and photos from the science fairs.
"The opportunity to be a part of the Society for Science & the Public Advocate Grant Program has been inspiring. As an educator I am treated as a true professional in this program. My concerns are addressed and supported," she said.