A teenager created wearable tech to help anyone prone to falling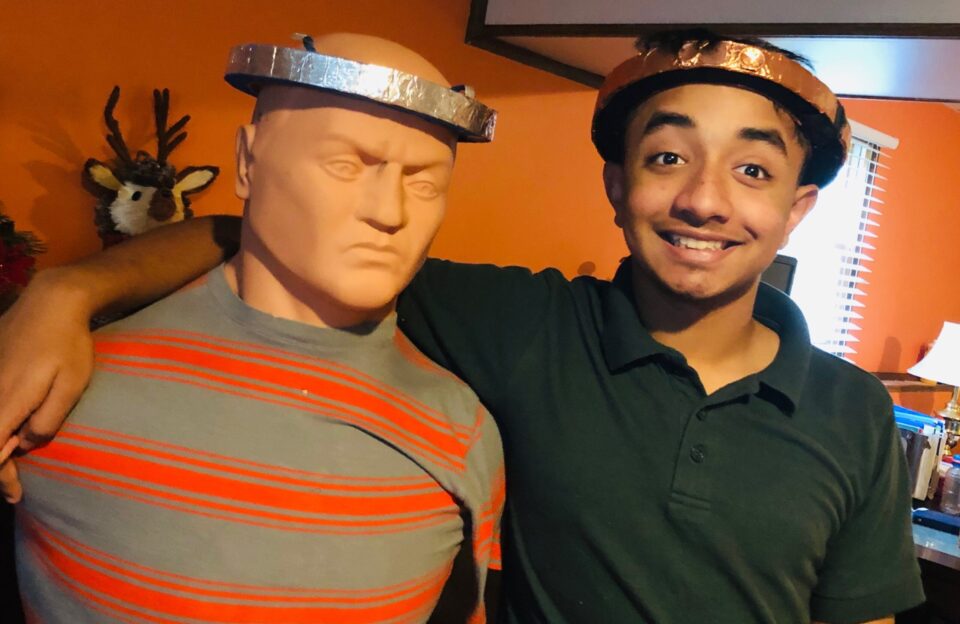 For the fourth year, The Lemelson Foundation is giving $100 awards to outstanding young inventors in Society Affiliate Fairs with middle school participants around the country. The prize was especially created to reward young inventors whose projects exemplify the ideals of inventive thinking by identifying challenges in their communities and creating solutions that will improve lives.
Sixty thousand people are diagnosed with Parkinson's disease (PD) annually according to Parkinson's Foundation. A neurodegenerative disorder which affects dopamine-producing neurons, PD can cause balance problems, limb rigidity and tremors. The CDC rates complications from PD as the 14th leading cause of death in the United States.
With these startling statistics in mind and after seeing his grandmother struggle with complications from PD, Ravindu Karunaratne, a middle school student from Hamden, Connecticut, developed an invention to alert people when someone has fallen and needs help. Ravindu says his grandmother would sometimes lose her balance and fall and injure her head. What was concerning about these instances of falling was that often, the falls would go unnoticed by other family members in the home because there was no noise from the impact. To address this problem, Ravindu created the "Impact Absorbing and Alerting (iAAA) Headband" which serves two purposes: absorbing the impact of a fall and alerting someone nearby that a person has fallen. With comfort in mind, the band is made of lightweight foam with embedded springs, and weighs just 47 grams, or one-sevenths of what an adult bike helmet typically weighs. Disk batteries and a small buzzer are attached to the side of the band using conductive copper foil. When the band detects an impact, the circuit is completed, activating the buzzer to make a sound.
To test his invention's effectiveness, Ravindu put the band on a 37 pound, three-foot-tall exercise dummy named Bob and staged falls. "First, I tested the band by pushing my test dummy from different heights, then from different angles. I observed that during each fall, the band managed to absorb the impact and send an alert," Ravindu explains. "The buzzer signal reached everyone in the house in different rooms. I tested face-first, backwards and side falls. In frontal falls, I checked if Bob's nose directly hit the ground by putting a wet pigment on his nose. I noticed that the nose was safe when he fell while wearing the band." He built in a few safeguards to ensure the user's nose is protected in the case of frontal falls. It is wide enough in that when a person falls, the band hits the floor instead of the user's nose.
Ravindu says the iAAA band can also help people who do not have PD but are vulnerable to falling. "The iAAA band serves a large audience, from toddlers learning to walk to the elderly. It is for anyone prone to falling — especially those at higher risk of injuring their heads during a fall. It can benefit people who often cross slippery surfaces and those recovering from surgeries." Ravindu says the band can be easily hidden beneath a beanie, keeping it discreet to the public.
To further test the effectiveness of his iAAA band, Ravindu hopes to gain access to crash test dummies, also known as Anthropomorphic Test Dummies, which replicate the dimensions, weight and articulation of the human body. He also plans to develop a small sensor that will attach to the band and send a text message to a person's family member when a fall takes place.
"I plan to apply for a patent and then find a way to develop this and make it available to people to honor my late grandma," says Ravindu. He added, "I am really excited about this prize, I think this recognition will spread awareness about this issue. So many people suffer from falls each year, and I hope that by advancing my invention further, it will help many people in need."
Ravindu received the Lemelson Early Inventor Prize for his work at the Connecticut Science & Engineering Fair in Newtown, Connecticut.