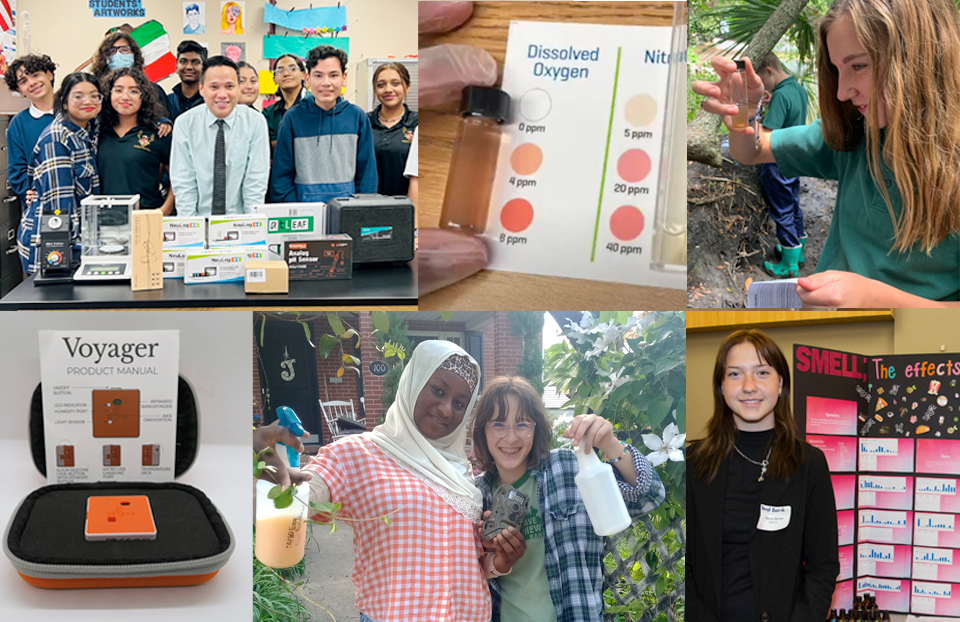 Society for Science today named 52 dedicated teachers as recipients of awards through its STEM Research Grants program, which seeks to further hands-on science learning in middle and high school classrooms throughout the nation. By giving more classrooms access to a wider breadth of equipment and materials, teachers are empowered to give their students a plethora of research opportunities, from promoting and encouraging wet lab science and coding to explorations of the natural world and surrounding wildlife. Having more resources allows educators to support their students in their pursuit of a broader array of experiential learning projects. The program recognizes forward-thinking teachers and creative mentors who are preparing and inspiring the next generation of scientific leaders who will be critical to our planet's future. The Society's STEM Research Grants program is profoundly committed to driving transformational change that will lead to increased access and full representation of all people in STEM and the greater scientific community.
Award recipients this year hail from 24 states and the U.S. commonwealth of the Northern Mariana Islands. Priority consideration is given to educators who serve students from low-income communities, including students of underrepresented and underserved backgrounds. All recipients teach at the middle and/or high school levels and the majority of this year's cohort are based at public, Title 1 schools. About 90% of the students served are from low-income communities and 76% are from underrepresented groups, including American Indian, Alaska Native, Black and Latinx demographics.
Teachers are encouraging students to develop independent research projects where they answer scientific questions outside of their regular core curricula. These research projects are then often entered into science fairs and competitions.
See the full list of 52 STEM Research Grantees here.
This year, STEM Research Grants are available in two forms: (1) research kits assembled and distributed to teachers by Society for Science and (2) funds paid directly to teachers intended for STEM-related equipment, such as lab supplies or software, to be used in hands-on research. The funds vary between $1,000 and $5,000, based on what the teacher requested for their classroom.
Of the 52 awardees, 36 teachers are receiving kits valued at $1,000 per kit and 16 are receiving funds of up to $5,000 for classroom equipment to help their students follow lines of questioning that align with their genuine scientific curiosities.
"Every year, we look forward to celebrating educators from around the country who are building the capacity of their STEM classrooms," said Maya Ajmera, President and CEO of Society for Science and Executive Publisher of Science News. "This program is building inclusive classrooms that make robust hands-on education and careers in science and engineering possible for all students."
The kits distributed include the following items to support a quality STEM education, encouraging both critical thinking and the development of well-rounded research skills:
Arduino Starter Kits – Each STEM kit includes four Arduino Starter Kits. With this open-source hardware and software platform, students can get started on learning about electronics. Available in a variety of languages and simple to use in any location, teachers can lead students through projects about voltage, current, coding and the fundamentals of programming. Students can build innovative prototypes with Arduino boards for research projects with this kit.
Hawkray Trail Cameras – Each kit contains four waterproof trail cameras, along with 32 GB SD cards and batteries. This motion-detection camera delivers images at 20mp and 1080p video. While these cameras are often used by hunters, students will be able to use them to explore research questions about animal behavior, migration patterns and biology.
LaMotte Water Monitoring Kits – Each kit includes four water monitoring kits. Whether it be a nearby stream or ocean, well or drinking water, these portable kits support students who want to investigate water quality and contamination. This kit can be used to investigate eight testing parameters and includes non-hazardous reagents to evaluate up to 10 water samples.
PocketLab Voyagers – Each STEM Research Grantee receives two PocketLab Voyagers. This gadget can fit into one's pocket, hence the name, and enables students to conduct research from anywhere. The small pocket laboratory can help students explore physics, weather, climate studies and engineering topics via sensing capabilities that measure acceleration, angular velocity, magnetic fields, altitude, infrared rangefinder and more. Users can stream real-time data with the Pocket Lab app to their own devices.
Since 2017, the Society has provided over $775,000 in STEM Research Grants, which include both kits and funding, to teachers who primarily serve underrepresented students in all 50 states, Washington D.C., American Samoa, Guam, Puerto Rico, Peru, Mexico and Uruguay. In total, more than 9,100 kits and over half a million dollars in funds have been awarded. Priority consideration is given to educators serving student communities historically underrepresented in STEM.
The Society's STEM Research Grants program is sponsored this year by Regeneron. For more information, please visit https://www.societyforscience.org/outreach-and-equity/stem-research-grants/
About Society for Science
Society for Science is a champion for science, dedicated to promoting the understanding and appreciation of science and the vital role it plays in human advancement. Established in 1921, Society for Science is best known for its award-winning journalism through Science News and Science News Explores, its world-class science research competitions for students, including the Regeneron Science Talent Search, the Regeneron International Science and Engineering Fair and the Thermo Fisher Scientific Junior Innovators Challenge, and its outreach and equity programming that seeks to ensure that all students have an opportunity to pursue a career in STEM. A 501(c)(3) membership organization, Society for Science is committed to inform, educate and inspire. Learn more at www.societyforscience.org and follow us on Facebook, Twitter, Instagram and Snapchat (Society4Science).
Media Contact:
Aparna K. Paul (she/her)
Director of Communications
Society for Science
apaul@societyforscience.org
(781) 375-8353