12-year-old develops fire detection system; wins $25,000 top award at the inaugural Thermo Fisher Scientific Junior Innovators Challenge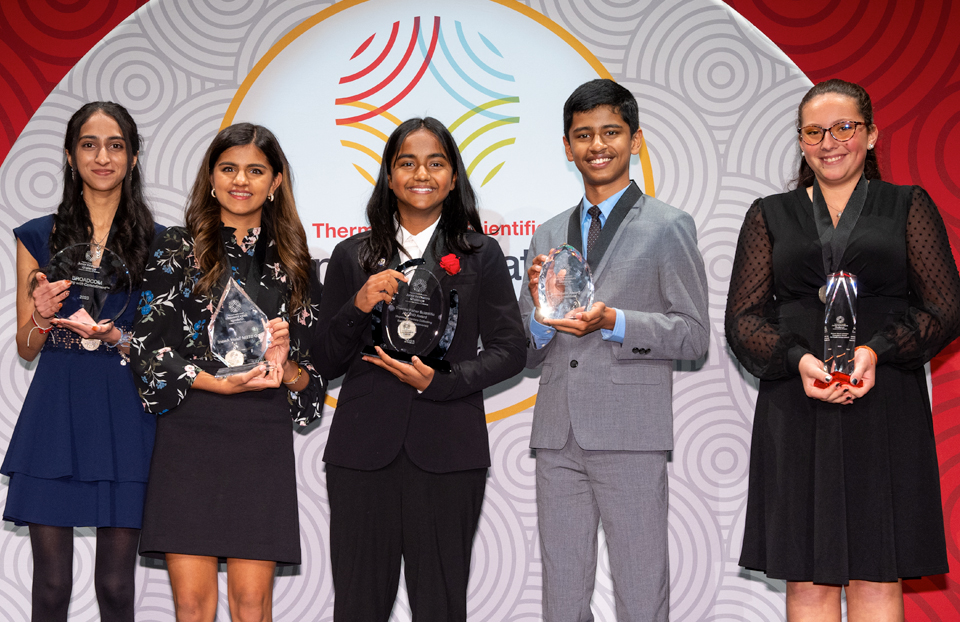 Nation's Brightest Middle Schoolers Awarded $100,000 in Prizes, Inspiring Next Generation of Scientists, Engineers and Innovators
WASHINGTON, D.C. — Thermo Fisher Scientific and Society for Science today announced the winners of the Thermo Fisher Scientific Junior Innovators Challenge (Thermo Fisher JIC), the nation's premier middle school science, technology, engineering and math (STEM) competition. Shanya Gill, 12, from San Jose, California; won the $25,000 Thermo Fisher Scientific ASCEND (Aspiring Scientists Cultivating Exciting New Discoveries) Award, the top prize in the competition.
In the summer of 2022, a fire destroyed a restaurant behind Shanya's house. That incident inspired her to create a fire-detection system that involved connecting an affordable thermal camera to a compact computer. She then programmed the system to differentiate between people–which were identified as warm objects moving horizontally–and heat sources, such as an active gas burner, which were identified as hot objects that remained stationary. Shanya then programmed the system to send a text message when it detected a heat source but no human presence for a continuous 10-minute period. Shanya's system accurately detected human presence 98% of the time and heat sources 97% of the time.
The Thermo Fisher JIC, a program of Society for Science, reaches 65,000 middle schoolers nationwide and inspires them to follow their personal STEM passions to exciting college and career paths. The 30 finalists are counted among the nation's brightest students, with several, including Shanya, collectively accepting more than $100,000 at tonight's award ceremony at The Kennedy Center in Washington, D.C.
Thermo Fisher's sponsorship of the Junior Innovators Challenge continues the company's longstanding commitment to widespread and equitable access to STEM education. Together with Society for Science, Thermo Fisher is helping to increase the number of students who enter the competition and nurture a future STEM talent pool that is more diverse than ever.
Each of the 30 finalists participated in team challenges in addition to being judged on their science research projects. The challenges leveraged project-based learning and tested their critical thinking, communication, creativity and collaboration skills in each of the STEM areas. During the team challenges, the finalists designed devices to study the Chesapeake Bay's oyster reef ecosystem and investigated the spread of a "zombie pathogen" to find solutions and identify mitigation or eradication strategies. The finalists also employed block coding and construction skills to create an interactive minigolf hole.
"The top winners of the Thermo Fisher Scientific Junior Innovators Challenge have exhibited boundless curiosity," said Maya Ajmera, President and CEO of Society for Science and Executive Publisher of Science News Media Group. "Their remarkable research not only reflects their talent but also paves the way for an exciting new future."
Shanya Gill, 12, San Jose, Calif.; won the $25,000 ASCEND Award for her project designing a fire detection system as well as the leadership, collaboration and critical thinking skills she demonstrated through the course of her research project and Finals Week challenges.
Keshvee Sekhda, 14, Sugar Hill, Ga.; won the $10,000 Broadcom Coding with CommitmentTM Award for combining coding with STEM knowledge to create a solution that improves one's community and aligns with the 17 Sustainable Development Goals of the United Nations. Keshvee and her teammate Nyambura Sallinen developed a smartphone app called IdentiCan to identify breast, lung and skin cancer. It uses photos or health scans, sound clips and personal health information to predict diagnoses.
Maya Gandhi, 14, Anaheim, Calif.; won the $10,000 DoD STEM Talent Award for demonstrating excellence in science, technology, engineering or math, along with the leadership and technical skills necessary to excel in the 21st Century STEM workforce and build a better community for tomorrow. Maya explored different substances to boost energy output of plant microbial fuel cells, which generate electricity using living plants and microbes.
Adyant Bhavsar, 13, San Jose, Calif.; won the $10,000 Lemelson Award for Invention, awarded by The Lemelson Foundation to a young inventor creating promising product-based solutions to real-world problems. Adyant created a low-cost, eco-friendly version of a triboelectric nanogenerator. This device generates electricity from the mechanical energy of two touching objects when they separate.
Elizabeth (Ellie Lou) Olvera, 13, Goleta, Calif.; won the $10,000 Robert Wood Johnson Foundation Award for Health Advancement, which recognizes the student whose work and performance shows the most promise in health-related fields and demonstrates an understanding of the many social factors that affect health. Ellie Lou identified an eco-friendly fabric suitable for creating affordable and reusable menstrual pads.
"Congratulations to our inaugural class of Thermo Fisher Scientific Junior Innovators Challenge winners!" said Dr. Karen Nelson, Chief Scientific Officer, Thermo Fisher Scientific. "These exceptional students are future changemakers in their chosen fields, and they are also role models for all young learners who aspire to improve society through STEM. We are honored to celebrate their extraordinary talent and passion and look forward to seeing how their projects positively impact our world."
Thermo Fisher JIC winners were chosen from the 30 finalists, who were selected from nearly 2,000 applicants from 49 states, Guam, Northern Mariana Islands and Puerto Rico. Winners were selected by a panel of distinguished scientists, engineers and educators. All the finalists' schools also receive a $1,000 grant to support STEM programming.
In addition to the top prizes, Thermo Fisher and the Society announced first- and second-place winners in each of the STEM categories of Science, Technology, Engineering and Math; as well as the competition's Team Award.
First- and second-place winners of STEM Awards demonstrated acumen and promise in science, technology, engineering and math. First-place winners were awarded $3,500 and second-place winners received $2,500 to support their choice of a STEM summer camp experience in the U.S. All STEM Award winners received an iPad.
Science Award:
First place: Veronica Howard, Pesticide Residue on Organic versus Conventional Produce and the Effect of Simple Washing Techniques
Second place: Elizabeth Shen, Diffusion-Only Water Transport and How to Modulate Its Speed
Technology Award:
First place: Advait Badrish, HeartNN: A High-Accuracy Neural Network for Cardiac Auscultation
Second place: Chloe Svetlana Fierro, Therma-Q: Analyzing the Thermal Performance of a Quercus Suber Insulation
Engineering Award:
First place: Krishna Bhatt, A Novel Wearable for Active Prevention of Falls Through GRU-Based Gyroscopic Inference and Center of Mass Manipulation
Second place: Claire Xu, The Future of Fashion and Functionality: Transforming Produce Waste and Lignocellulosic Fibers into Sustainable Vegan Leather
Mathematics Award:
First place: Tate D. Plohr, The Stability of Solar Flares
Second place: Amritha Praveen, Improving Mental Health Using Artificial Intelligence-Powered Music Therapy
Team Award, sponsored by TIES: Each member of the Finals Week challenge team that best demonstrates their ability to work together and solve problems through shared decision-making, communication and scientific and engineering collaboration received a $200 science supply company gift card to support their interests in STEM.
Silver Team: Colin Beckner, Adyant Bhavsar, Shanya Gill, Akshadha Mehta, Venice Parnell
Thermo Fisher Scientific Leadership Award: Bestowed upon one finalist, this award recognizes the student elected by their peers to speak on behalf of their Thermo Fisher JIC class at the Awards Ceremony. The Class Speaker demonstrates the collegiality and spirited leadership that has earned the collective esteem of the class and united them around common goals.
Maya Gandhi, Optimizing Plant Microbial Fuel Cell Energy Output: The Effect of Anodic Substance and Configuration
Media Kit: https://www.societyforscience.org/thermo-fisher-jic-2023-media-kit/
About Society for Science
Society for Science is a champion for science, dedicated to promoting the understanding and appreciation of science and the vital role it plays in human advancement. Established in 1921, Society for Science is best known for its award-winning journalism through Science News and Science News Explores, its world-class science research competitions for students, including the Regeneron Science Talent Search, the Regeneron International Science and Engineering Fair and the Thermo Fisher Scientific Junior Innovators Challenge, and its outreach and equity programming that seeks to ensure that all students have an opportunity to pursue a career in STEM. A 501(c)(3) membership organization, Society for Science is committed to inform, educate and inspire. Learn more at www.societyforscience.org and follow us on Facebook, Twitter, Instagram, LinkedIn and Snapchat (Society4Science).
About Thermo Fisher Scientific
Thermo Fisher Scientific Inc. is the world leader in serving science, with annual revenue of approximately $40 billion. Our Mission is to enable our customers to make the world healthier, cleaner and safer. Whether our customers are accelerating life sciences research, solving complex analytical challenges, increasing productivity in their laboratories, improving patient health through diagnostics or the development and manufacture of life-changing therapies, we are here to support them. Our global team delivers an unrivaled combination of innovative technologies, purchasing convenience and pharmaceutical services through our industry-leading brands, including Thermo Scientific, Applied Biosystems, Invitrogen, Fisher Scientific, Unity Lab Services, Patheon and PPD. For more information, please visit www.thermofisher.com.