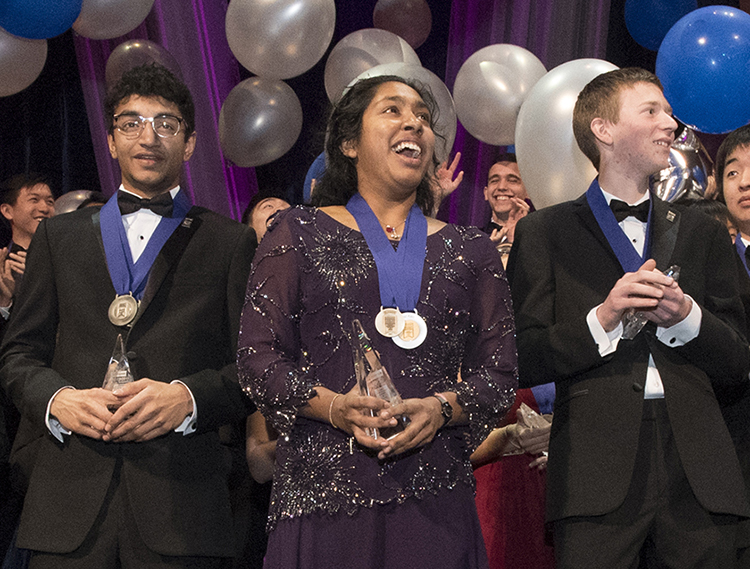 On March 14, 2017 Society for Science & the Public and Regeneron Pharmaceuticals, Inc. announced that Indrani Das, 17, of Oradell, New Jersey, won the top award in the Regeneron Science Talent Search, the nation's oldest and most prestigious science and math competition. Forty finalists, including Indrani, were honored tonight at the annual Regeneron Science Talent Search Awards Gala for their research projects demonstrating exceptional scientific and mathematical ability, taking home more than $1.8 million in awards provided by Regeneron.
Indrani Das, 17, of Oradell, New Jersey, won the top award of $250,000 for her study of a possible approach to treating the death of neurons due to brain injury or neurodegenerative disease. A contributor to neuron death is astrogliosis, a condition that occurs when cells called astrocytes react to injury by growing, dividing and reducing their uptake of glutamate, which in excess is toxic to neurons. In a laboratory model, she showed that exosomes isolated from astrocytes transfected with microRNA-124a both improved astrocyte uptake of glutamate and increased neuron survival. Indrani mentors younger researchers and tutors math in addition to playing the piccolo trumpet in a four-person jazz ensemble.
Second place honors and $175,000 went to Aaron Yeiser, 18, of Schwenksville, Pennsylvania, for his development of a new mathematical method for solving partial differential equations on complicated geometries. Partial differential equations are ubiquitous in science and engineering and are currently solved using computers. He developed a more efficient way to do this and applied it to the challenging field of computational fluid dynamics. Aaron is a distance runner who competes in cross country and track. During the summer, he teaches sailing in Maine.
Third place honors and $150,000 went to Arjun Ramani, 18, of West Lafayette, Indiana, for blending the mathematical field of graph theory with computer programming to answer questions about networks.  Typically, these questions require statistical comparisons to hundreds or thousands of random graphs, a process that can take a relatively long time. He developed an algorithm that greatly accelerated the process by reducing the time required to generate these graphs. Arjun is an award-winning debater and accomplished tennis player and coach, and also volunteers at a local science museum.
This year, Regeneron became only the third sponsor of the Science Talent Search, following previous sponsors Westinghouse and Intel. As part of its 10-year, $100 million commitment, Regeneron significantly increased awards to better reward the nation's brightest young scientists and encourage their continued pursuit of scientific innovation. In total, this year's finalists received over $1.8 million in awards provided by Regeneron, which distributed $3.1 million in awards overall to Regeneron Science Talent Search 2017 finalists, scholars and their schools. Regeneron is also supporting efforts to increase nationwide student and school participation in the Science Talent Search.
1st Place
Indrani Das
2nd Place
Aaron Yeiser
3rd Place
Arjun Ramani
4th Place
Byron Xu
5th Place
Archana Verma
6th Place
Laura Pierson
7th Place
Prathik Naidu
8th Place
Ethan Novek
9th Place
Vrinda Madan
10th Place
Stefan Wan
Alumni Speaker
George Yancopoulos 
Glenn T. Seaborg Award Winner
Jackson Weaver
Regeneron STS 2017 Finalist Book
Regeneron STS 2017 Scholars Book
2017 Finalists
| | | | |
| --- | --- | --- | --- |
| Jessika | Baral | Fremont | CA |
| Beau | Bingham | Tulsa | OK |
| Sambuddha | Chattopadhyay | Silver Spring | MD |
| Jonathan | Chung | Montrose | NY |
| Rohan | Dalvi | Silver Spring | MD |
| Indrani | Das | Hackensack | NJ |
| Vineet | Edupuganti | Portland | OR |
| Steven | Elliott | Parker | TX |
| Jacy | Fang | Hackensack | NJ |
| Isabella | Greco | Bronx | NY |
| Natalia | Hajlasz | Pittsburgh | PA |
| Blake | Hord | Dobbs Ferry | NY |
| Krithika | Iyer | Plano | TX |
| Apoorv | Khandelwal | Redmond | WA |
| Nathaniel | Lee | Jericho | NY |
| Dylan | Li | New York | NY |
| Vrinda | Madan | Orlando | FL |
| Prathik | Naidu | Alexandria | VA |
| Ethan | Novek | Greenwich | CT |
| Emily | Peterson | Saint James | NY |
| Laura | Pierson | Oakland | CA |
| Evani | Radiya-Dixit | San Jose | CA |
| Arjun | Ramani | West Lafayette | IN |
| David | Rekhtman | Bethesda | MD |
| Audrey | Saltzman | Armonk | NY |
| Manan | Shah | San Jose | CA |
| Arjun | Subramaniam | San Jose | CA |
| Alec | Sun | Exeter | NH |
| Jessica | Tian | San Diego | CA |
| Archana | Verma | Jericho | NY |
| Stefan | Wan | West Palm Beach | FL |
| Felix | Wang | West Roxbury | MA |
| Jackson | Weaver | Jersey City | NJ |
| Julian | Wellman | Ann Arbor | MI |
| Derek | Woo | Greenwich | CT |
| Byron | Xu | Sugar Land | TX |
| Amber | Yang | Winter Park | FL |
| Michael | Yang | Charlotte | NC |
| Aaron | Yeiser | Collegeville | PA |
| Mary | Zhu | Nashua | NH |