Intel STS 2015 Semifinalists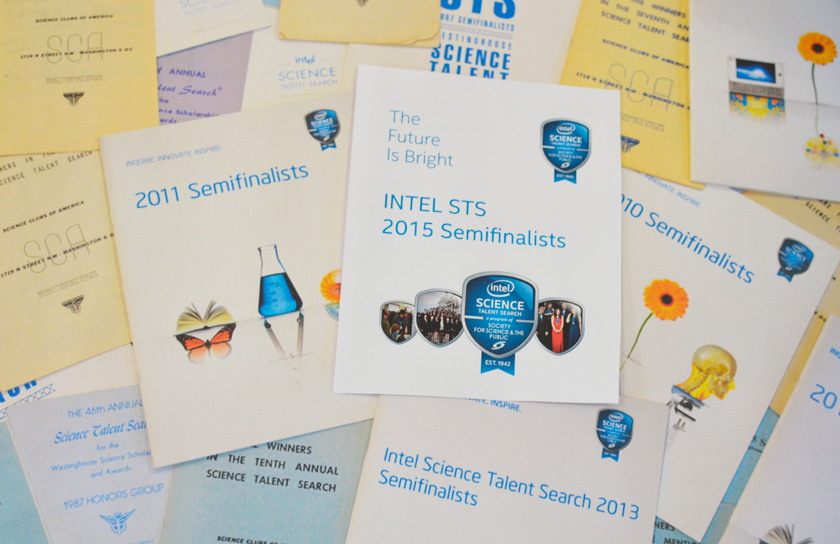 The Intel Science Talent Search (Intel STS) is the nation's most prestigious pre-college science competition. Alumni of STS have made extraordinary contributions to science and hold more than 100 of the world's most coveted science and math honors, including the Nobel Prize and National Medal of Science. Annually, students entering the Intel STS compete for more than $1.6 million in awards. Only 300 students are announced as semifinalists each year. From this select pool, 40 finalists are then invited to Washington, DC in March to participate in final judging, display their work to the public, meet with notable scientists, and compete for three top awards of $150,000 each. 
Download the Semifinalist Book to view semifinalists by state and see project titles.
Abreo, Joshua Cyril, 17
James Clemens High School, Madison, AL
Adamovich-Zeitlin, Richard Harris, 17
Clarkstown High School South, West Nyack, NY
Alagappan, Perry, 17
Clear Lake High School, Houston, TX
Alber, Daniel, 17
Penn High School, Mishawaka, IN
Ali, Muhammad Mujtaba, 17
Shaker High School, Latham, NY
Amjad, Emily, 17
Hathaway Brown School, Shaker Heights, OH
Anandapadmanaban, Eswar, 17
Dr. Ronald E. McNair Academic High School, Jersey City, NJ
Anderson, Jason, 17
Columbia River High School, Vancouver, WA
Arya, Tejasv, 17
Phillips Academy, Andover, MA
Ashkin, Emily Lorin, 17
Providence Day School, Charlotte, NC
Azeem, Burhan, 18
Staten Island Technical High School, Staten Island, NY
Baghel, Ankit Singh, 18
The Albany Academies, Albany, NY
Balachandar, Niranjan, 17
Texas Academy of Mathematics and Science, Denton, TX
Banerjee, Souvik, 17
Colleyville Heritage High School, Colleyville, TX
Bedekar, Neel, 17
Saratoga High School, Saratoga, CA
Beeferman, Monica, 18
John L. Miller Great Neck North High School, Great Neck, NY
Ben, Charlynn Trish Magdale, 17
Midwood High School at Brooklyn College, Brooklyn, NY
Benson, Naomi, 18
Deerfield High School, Deerfield, IL
Biju, Kevin, 17
Methacton High School, Eagleville, PA
Bikkani, Aswin, 17
Westlake High School, Westlake, OH
Borgnia, Eitan, 17
Towson High School, Towson, MD
Bram, Alanna Megan, 17
John Marshall High School, Rochester, MN
Bristol, Henry, 17
North Carolina School of Science and Mathematics, Durham, NC
Broitman, Jack, 17
Blind Brook High School, Rye Brook, NY
Brown, Beatrice, 18
John F. Kennedy High School, Bellmore, NY
Caffet, Matthew, 17
The Woodlands College Park High School, The Woodlands, TX
Campagna, Matthew Anthony, 17
Lancaster Catholic High School, Lancaster, PA
Campeau, Michelle, 17
Mayo High School, Rochester, MN
Carlin, Greg, 17
Byram Hills High School, Armonk, NY
Cha, Tim, 17
Thomas Jefferson High School for Science and Technology, Alexandria, VA
Chandrashekar, Pooja, 17
Thomas Jefferson High School for Science and Technology, Alexandria, VA
Chang, Joseph, 17
Palo Alto High School, Palo Alto, CA
Charlson, Trenton Matthew, 17
Oconomowoc High School, Oconomowoc, WI
Charnis, Daniel, 17
Stuyvesant High School, New York, NY
Chemparathy, Augustine George, 17
Dougherty Valley High School, San Ramon, CA
Chen, Alyssa, 17
Highland Park High School, Dallas, TX
Chen, Jack, 17
McDonogh School, Owings Mills, MD
Cheng, Alan De-Hao, 17
Southridge High School, Beaverton, OR
Chhabra, Ria, 17
Plano Senior High School, Plano, TX
Chiang, Charles Lee, 17
Worcester Academy, Worcester, MA
Child, Benjamin, 17
Yorktown High School, Yorktown Heights, NY
Chin, Felix Tian, 17
Williamsville East High School, East Amherst, NY
Choi, Yewoon, 17
Academy for Medical Science Technology, Hackensack, NJ
Choi, Brandon, 17
Garden City High School, Garden City, NY
Chojar, Jayson, 17
Greenwich High School, Greenwich, CT
Choudhury, Rohan, 17
Monta Vista High School, Cupertino, CA
Chung, Catherine, 17
Yorktown High School, Yorktown Heights, NY
Cohn, Rachel, 18
North Carolina School of Science and Mathematics, Durham, NC
Correa, Natalie Ann, 17
St. Francis Preparatory School, Fresh Meadows, NY
Cowan, Nicholas Robert, 17
Sayville High School, West Sayville, NY
Crich, Alexander, 17
River Hill High School, Clarksville, MD
Crowdis, Jett Parker, 17
Pensacola High School, Pensacola, FL
Crump, Carly Elizabeth, 18
Episcopal High School of Jacksonville, Jacksonville, FL
Cui, Brandon Bichemg, 17
Hillcrest High School, Midvale, UT
Dai, Bo, 17
Wayzata High School, Plymouth, MN
Dale, Michele Genevieve, 17
Bronx High School of Science, Bronx, NY
Danalache, Eduard Gabriel, 18
Thomas Jefferson High School for Science and Technology, Alexandria, VA
Das Sarma, Matthew D., 17
Montgomery Blair High School, Silver Spring, MD
Dharia, Monika, 17
Mineola High School, Garden City Park, NY
Ding, Valerie S., 17
The Catlin Gabel School, Portland, OR
Dixit, Shikhar, 17
The Harker School, San Jose, CA
D'Mello, Ryan, 17
Benet Academy, Lisle, IL
Dong, Emma Jing, 17
Manhasset High School, Manhasset, NY
Donheiser, Julia Renée, 17
Bronx High School of Science, Bronx, NY
Doppelt, Michael, 17
Horace Greeley High School, Chappaqua, NY
Dorian, Kenneth, 17
Greenwich High School, Greenwich, CT
D'Souza, Alicia, 17
Plano East Senior High School, Plano, TX
Dugery, Reilly Jane, 18
Episcopal Academy, Merion, PA
Edwards, Ben, 17
Half Hollow Hills High School East, Dix Hills, NY
Ekeh, Harold, 17
Elmont Memorial High School, Elmont, NY
Epstein, Samuel, 18
John F. Kennedy High School, Bellmore, NY
Eroh, Guy Darrell, 17
Riverdale High School, Portland, OR
Eskow, Nicole, 18
Academy for the Advancement of Science and Technology, Hackensack, NJ
Fan, Michael, 17
Montgomery Blair High School, Silver Spring, MD
Fan, David Jiatian, 17
Montgomery High School, Skillman, NJ
Faughnan, Emily Grace, 17
Sayville High School, West Sayville, NY
Ferris, Caitlin, 17
Paul D. Schreiber High School, Port Washington, NY
Firester, Kalia D., 17
Hunter College High School, New York, NY
Florakis, Christina, 18
New Rochelle High School, New Rochelle, NY
Fong, Ryan Avery, 17
Sheldon High School, Sacramento, CA
Frank, David, 17
Scarsdale High School, Scarsdale, NY
Gabalski, Arielle Hope, 17
Plainview-Old Bethpage John F. Kennedy High School, Plainview, NY
Gandhi, Kavish, 17
Newton North High School, Newtonville, MA
Gerard, Francis, 17
Montgomery Blair High School, Silver Spring, MD
Golowich, Noah, 17
Lexington High School, Lexington, MA
Gopal, Ariana, 17
St. Francis Preparatory School, Fresh Meadows, NY
Gornet, James, 18
Mary Institute and St. Louis Country Day School, St. Louis, MO
Goul, Claire, 17
Sage Hill School, Newport Beach, CA
Grossbard, Brooklyn Monica, 17
Nyack High School, Upper Nyack, NY
Grossman, Emily Mina, 17
Croton-Harmon High School, Croton-on-Hudson, NY
Gu, Brett J., 17
Carnegie Vanguard High School, Houston, TX
Gu, Angela, 17
Phillips Academy, Andover, MA
Gulian, Charles, 17
Ossining High School, Ossining, NY
Gumina, Megan Elizabeth, 18
Columbus School for Girls, Columbus, OH
Gupta, Anvita, 17
BASIS Scottsdale, Scottsdale, AZ
Gupta, Agastya, 17
Saratoga High School, Saratoga, CA
Hafez, Omar Amr, 17
Monroe Woodbury High School, Central Valley, NY
Hamerling, Sarah, 17
Hunter College High School, New York, NY
Hashe, Michael Jeffrey, 18
Texas Academy of Mathematics and Science, Denton, TX
Houle, Lauren, 17
Pine Crest School, Fort Lauderdale, FL
Hsieh, Edward, 17
Taipei American School, Tienmou Taipei, Chinese Taipei
Huang, Brice, 17
West Windsor-Plainsboro High School North, Plainsboro, NJ
Hwang, Grace Wei, 17
Hershey High School, Hershey, PA
Ivanov, Juliet Adela, 17
Ossining High School, Ossining, NY
Iyer, Sunand, 17
Texas Academy of Mathematics and Science, Denton, TX
Jang, Gyu Bin, 18
Campolindo High School, Moraga, CA
Jang, Robbin, 17
William A. Shine Great Neck South High School, Great Neck, NY
Jaslow, David Michael, 17
Roslyn High School, Roslyn Heights, NY
Jasti, Naveen, 17
Detroit Country Day School, Beverly Hills, MI
Jeong, Jin Oh, 18
Northern Valley Regional High School, Demarest, NJ
Jiang, Allen, 17
duPont Manual Magnet High School, Louisville, KY
Jiang, Tiffany, 17
Texas Academy of Mathematics and Science, Denton, TX
Jin, Andrew, 17
The Harker School, San Jose, CA
Jolly, Alex, 18
Hillsboro High School, Nashville, TN
Joshi, Ananya, 17
High Technology High School, Lincroft, NJ
Ju, Jessica, 17
Ward Melville High School, East Setauket, NY
Kalinich, Chaney Christine, 17
Glenbard West High School, Glen Ellyn, IL
Kam, Brian, 17
Edgemont High School, Scarsdale, NY
Kapoor, Arjun, 17
The Wheatley School, Old Westbury, NY
Karuppur, Abhiram, 17
The Pingry School, Martinsville, NJ
Katipamula, Shanta, 18
Hanford High School, Richland, WA
Kelly, Daniel Conor, 17
West Islip High School, West Islip, NY
Kendall, Ellen Katherine, 17
Notre Dame Academy, Park Hills, KY
Kendrick, Lev Haldar, 17
Walter Payton College Preparatory, Chicago, IL
Keremane, Saumya, 17
Martin Luther King High School, Riverside, CA
Khan, Farzana, 17
Bronx High School of Science, Bronx, NY
Khare, Somya, 17
Lynbrook High School, San Jose, CA
Khurana, Jay, 18
Fayetteville-Manlius High School, Manlius, NY
Kim, Nicole Jisoo, 17
Academy for Medical Science Technology, Hackensack, NJ
Kim, Grace Shin Hye, 18
Academy for the Advancement of Science and Technology, Hackensack, NJ
Kim, Jessica, 17
Manhasset High School, Manhasset, NY
Kioulaphides, Sophia, 17
Bronx High School of Science, Bronx, NY
Kishore, Shashwat, 18
Unionville High School, Kennett Square, PA
Koehlmoos, Eric, 18
South O'Brien High School, Paullina, IA
Kuditipudi, Rohith, 18
The Harker School, San Jose, CA
Kumar, Ayush, 18
Massachusetts Academy of Math and Science, Worcester, MA
Lall, Kriti, 17
Castilleja School, Palo Alto, CA
Laredo, Dalia, 17
Somers High School, Lincolndale, NY
Lee, Jihyeon (Janel), 17
Amador Valley High School, Pleasanton, CA
Lee, Yarim, 17
Townsend Harris High School, Flushing, NY
Leibert, David, 17
Ossining High School, Ossining, NY
Lenaghan, Delaney Rose, 18
St. Anthony's High School, South Huntington, NY
Lewis, Samuel J., 17
Edgemont High School, Scarsdale, NY
Li, Ien, 17
Jericho Senior High School, Jericho, NY
Li, Jessica, 17
Kent Place School, Summit, NJ
Li, Catherine J., 18
Lake Highland Preparatory School, Orlando, FL
Li, Willa, 18
Lowell High School, San Francisco, CA
Li, Alexander Hugh, 18
North Carolina School of Science and Mathematics, Durham, NC
Liao, Kevin, 17
Morrison Academy, Taichung, Chinese Taipei
Liberman, Martin, 17
Bronx High School of Science, Bronx, NY
Lin, Erica, 17
Hunter College High School, New York, NY
Lin, Jessy, 17
John L. Miller Great Neck North High School, Great Neck, NY
Lin, Alexander, 17
Millburn High School, Millburn, NJ
Lin, David, 17
The Harker School, San Jose, CA
Lin, Lucas, 18
Thomas Jefferson High School for Science and Technology, Alexandria, VA
Liu, Lily, 17
Texas Academy of Mathematics and Science, Denton, TX
Liu, Cindy Zang, 17
The Harker School, San Jose, CA
Low, Emily Morgan, 17
Rogers Heritage School, Rogers, AR
Lu, William, 17
Montgomery Blair High School, Silver Spring, MD
Luo, Queenie, 17
High Technology High School, Lincroft, NJ
Ma, Lily, 18
Bronx High School of Science, Bronx, NY
Ma, Andrew, 17
Greenwich High School, Greenwich, CT
MacGuidwin, Scott, 17
Okemos High School, Okemos, MI
Macha, Venkata Viswajit, 17
Loveless Academic Magnet Program High School, Montgomery, AL
MacKay, Evan, 18
Vero Beach High School, Vero Beach, FL
Majumdar, Ridoy, 17
Syosset High School, Syosset, NY
Mandelshtam, Yelena, 17
University High School, Irvine, CA
Marcone, Zak, 17
Kings Park High School, Kings Park, NY
Marks, Gurion, 17
Bronx High School of Science, Bronx, NY
Martin, Isabella Helen, 17
Academy for Visual and Performing Arts, Hackensack, NJ
Martin, Nicholas R., 18
Episcopal High School of Jacksonville, Jacksonville, FL
Massa, Scott, 17
Commack High School, Commack, NY
Matonis, Spencer, 17
Greenwich High School, Greenwich, CT
McCleary, Jennifer, 17
Arnold O. Beckman High School, Irvine, CA
McGlade, Bennet, 17
Montgomery Blair High School, Silver Spring, MD
Meruva, Puneeth Naga Sai Krishna, 17
Homestead High School, Fort Wayne, IN
Michaelsen, Anya, 17
Lake Braddock Secondary School, Burke, VA
Michel, Jesse Martin, 17
Massachusetts Academy of Math and Science, Worcester, MA
Minichetti, Maxmillian, 17
Greenwich High School, Greenwich, CT
Mintz, Rachel Lauren, 17
Roslyn High School, Roslyn Heights, NY
Mirmira, Priya, 18
Park-Tudor School, Indianapolis, IN
Mohanty, Ahneesh Jayant, 17
Plano Senior High School, Plano, TX
Movva, Neil, 17
The Harker School, San Jose, CA
Mukundan, Aditya, 17
International Academy, Bloomfield Hills, MI
Munitz, Jazz Alexander, 17
Hendrick Hudson High School, Montrose, NY
Nandi, Shreya, 17
Thomas Jefferson High School for Science and Technology, Alexandria, VA
Nandigala, Vipul A., 17
Walled Lake Western High School, Walled Lake, MI
Navaratna, Nidhi A., 17
Lynbrook High School, San Jose, CA
Neyman, Eric Michael, 17
Montgomery Blair High School, Silver Spring, MD
Nguyen, Edward, 17
Robert L. Paschal High School, Fort Worth, TX
Niffenegger, James Salvador, 18
Pine View School, Osprey, FL
O'Connell, Matthew, 17
Commack High School, Commack, NY
Oh, Richard Joonyup, 18
Thomas Jefferson High School for Science and Technology, Alexandria, VA
Ouyang, Richard, 18
Memphis University School, Memphis, TN
Ouyang, Jessica Bao, 17
Texas Academy of Mathematics and Science, Denton, TX
Pacheco, Kai, 17
Stuyvesant High School, New York, NY
Padia, Umesh Janak, 17
Poolesville High School, Poolesville, MD
Pandey, Sachin, 17
Montgomery Blair High School, Silver Spring, MD
Pandya, Dhaivat Nitin, 17
Appleton North High School, Appleton, WI
Pandya, Ruchi, 17
Lynbrook High School, San Jose, CA
Panigrahi, Atman, 17
River Hill High School, Clarksville, MD
Parhi, Rahul, 16
Wayzata High School, Plymouth, MN
Parikh, Ishaan Manish, 17
Montgomery Blair High School, Silver Spring, MD
Pathak, Reesab, 16
Camas High School, Camas, WA
Pevsner, Spencer K., 17
Greenwich High School, Greenwich, CT
Pine, Max, 17
Pelham Memorial High School, Pelham, NY
Poddar, Aunoy, 17
Monta Vista High School, Cupertino, CA
Prembabu, Saranesh, 17
Dougherty Valley High School, San Ramon, CA
Qu, Michael, 17
Oakton High School, Vienna, VA
Radinsky, Ilana, 17
Stella K. Abraham High School for Girls, Hewlett Bay Park, NY
Raghuvanshi, Anika, 17
Jesuit High School, Portland, OR
Raju, Karthik, 17
Mira Loma High School, Sacramento, CA
Ramayya, Shreya, 17
Palos Verdes Peninsula High School, Rolling Hills Estates, CA
Ramesh, Brinda, 17
Ossining High School, Ossining, NY
Rastogi, Ruchir, 16
Loveless Academic Magnet Program High School, Montgomery, AL
Ravindran, Pavithran T., 17
Walter Tresper Clarke High School, Westbury, NY
Reddy, Pranav Gudipally, 17
The Harker School, San Jose, CA
Renier, Tim, 17
Duluth East High School, Duluth, MN
Reyes, Reyvin Michael, 18
Niles Township West High School, Skokie, IL
Riesel, Eric Alan, 17
Oceanside High School, Oceanside, NY
Ring, Charlotte, 17
Mineola High School, Garden City Park, NY
Rosen, Jordan, 17
Roslyn High School, Roslyn Heights, NY
Runge, Jack, 18
South Carolina Governor's School for Science & Mathematics, Hartsville, SC
Russell, Peter, 17
Greenwich High School, Greenwich, CT
Sabini, Mark William, 17
Academy for the Advancement of Science and Technology, Hackensack, NJ
Sajjath, Raj Munavar, 16
Plano West Senior High School, Plano, TX
Saklecha, Anokhi, 17
The Harker School, San Jose, CA
Sakowitz, Julia, 16
The Brearley School, New York, NY
Salgado, Harini Erangika, 17
Montgomery Blair High School, Silver Spring, MD
Savoor, Rohan Anand, 17
Monte Vista High School, Danville, CA
Seong, Daniel, 18
Lexington High School, Lexington, MA
Shankar, Nikash, 17
The Harker School, San Jose, CA
Shao, Michael, 17
Detroit Country Day School, Beverly Hills, MI
Shapiro, Justin Daniel, 17
John F. Kennedy High School, Bellmore, NY
Sharma, Divij, 17
Syosset High School, Syosset, NY
Shaw, Golda, 18
George M. Steinbrenner High School, Lutz, FL
Shen, Rebecca, 17
North Carolina School of Science and Mathematics, Durham, NC
Shim, Peter C., 17
The Pingry School, Martinsville, NJ
Shrivastava, Vaishnavi, 17
Mission San Jose High School, Fremont, CA
Somasundaram, Sriram, 17
The Harker School, San Jose, CA
Spencer, Emily Jane, 18
Hathaway Brown School, Shaker Heights, OH
Spring, Aaron Maxwell, 17
Ossining High School, Ossining, NY
Subramaniam, Pranav, 17
Millard North High School, Omaha, NE
Subramanian, Arjuna, 17
Montgomery Blair High School, Silver Spring, MD
Sun, Mengyuan, 17
Centennial High School, Ellicott City, MD
Sun, George, 17
Interlake High School, Bellevue, WA
Sun, Tiffany, 17
Roslyn High School, Roslyn Heights, NY
Talwai, Prem, 17
Mira Loma High School, Sacramento, CA
Talwar, Abhinav Arunabh, 17
Herricks High School, New Hyde Park, NY
Tam, Allison, 17
Lynbrook High School, San Jose, CA
Tandon, Tanay, 17
Cupertino High School, Cupertino, CA
Tang, Zoey, 17
Richard Montgomery High School, Rockville, MD
Tang, Daniel, 17
West Linn High School, West Linn, OR
Tarplin, Joshua Grayson, 18
Potomac School, McLean, VA
Thach, Daniel, 17
Bronx High School of Science, Bronx, NY
Tian, Peter Mingru, 17
The Wellington School, Columbus, OH
Tian, Hui, 18
William Fremd High School, Palatine, IL
Tobin, Tess Woerner, 17
John Jay High School, Cross River, NY
Tse, Jim, 17
Herricks High School, New Hyde Park, NY
Uppal, Uday, 17
North Carolina School of Science and Mathematics, Durham, NC
Van Artsdalen, Kathryn, 17
Walter Johnson High School, Bethesda, MD
Venigalla, Abhinav Sai, 17
Phillips Academy, Andover, MA
Vodrahalli, Kailas, 17
The Harker School, San Jose, CA
Vuong, Stanley James, 16
Blind Brook High School, Rye Brook, NY
Walling, Abigail Lyn, 17
West High School, Iowa City, IA
Wan, Tracy Meng, 17
Academy for the Advancement of Science and Technology, Hackensack, NJ
Wang, Aileen Feng, 17
Aliso Niguel High School, Aliso Viejo, CA
Wang, Jenny, 17
North Carolina School of Science and Mathematics, Durham, NC
Wang, Katherine, 17
North Carolina School of Science and Mathematics, Durham, NC
Wang, Steven Michael, 17
The Harker School, San Jose, CA
Wang, Eric Edward, 17
Ward Melville High School, East Setauket, NY
Wara, Nafisa Jerin, 17
Boston Latin School, Boston, MA
Winer, Michael, 18
Montgomery Blair High School, Silver Spring, MD
Wong, Justin, 18
Germantown Academy, Fort Washington, PA
Wu, Quinn, 17
Henry M. Gunn High School, Palo Alto, CA
Wu, Menghua, 17
The Harker School, San Jose, CA
Xia, Shalier, 17
North Carolina School of Science and Mathematics, Durham, NC
Xie, Jianing, 17
A&M Consolidated High School, College Station, TX
Xu, Jen, 18
Brookline High School, Brookline, MA
Xu, David, 17
Charter School of Wilmington, Wilmington, DE
Yan, Emily, 17
The Charter School of Wilmington, Wilmington, DE
Yom, Typher, 17
Manhasset High School, Manhasset, NY
Yoon, Kevin Ji Whan, 18
Oxford Academy, Cypress, CA
Yu, Justin, 17
Academy for the Advancement of Science and Technology, Hackensack, NJ
Yu, Glenn, 17
Hunter College High School, New York, NY
Yu, Phillip, 17
Plano West Senior High School, Plano, TX
Yu, Leo, 17
The Harker School, San Jose, CA
Yu, Kuan, 17
The Wheatley School, Old Westbury, NY
Yu, Alexandria, 17
University School of Nashville, Nashville, TN
Yuan, Gina, 17
Dougherty Valley High School, San Ramon, CA
Zhai, Alice, 17
La Canada High School, La Canada, CA
Zhang, Jesse, 17
Fairview High School, Boulder, CO
Zhang, Yizhen, 17
Richard Montgomery High School, Rockville, MD
Zhang, Andrew, 17
The Harker School, San Jose, CA
Zhao, Dennis, 17
Montgomery Blair High School, Silver Spring, MD
Zheng, Steve D., 18
Jericho Senior High School, Jericho, NY
Zheng, Crystal, 17
Jericho Senior High School, Jericho, NY
Zhong, Vivian, 17
Syosset High School, Syosset, NY
Zurier, Joseph, 16
Classical High School, Providence, RI
Zussman, Jay, 17
William A. Shine Great Neck South High School, Great Neck, NY