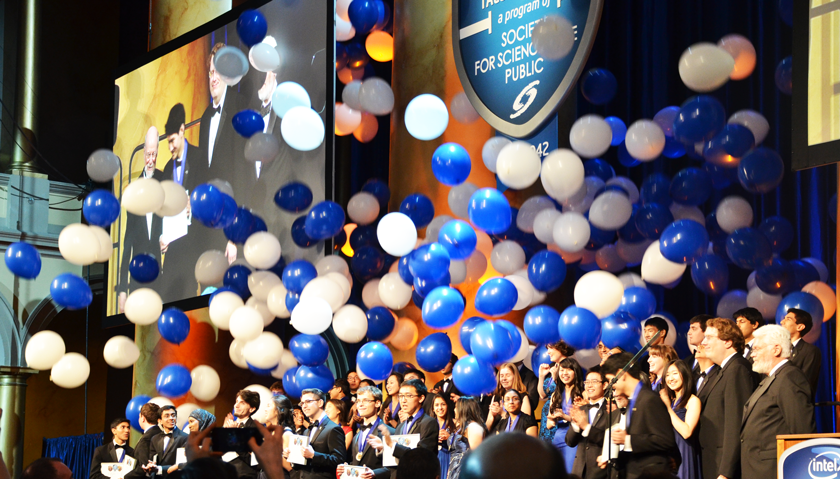 The Intel Science Talent Search (Intel STS) is the nation's most prestigious pre-college science competition. Intel STS alumni have made extraordinary contributions to science and hold more than 100 of the world's most coveted science and math honors, including the Nobel Prize and the National Medal of Science. Students are selected based upon their scientific research and also on their overall potential as future leaders of the scientific community. Intel STS recognizes 300 students as semifinalists each year and awards them and their schools $1,000 each. From that select pool, 40 finalists are then invited to Washington, DC in March to undergo final judging, display their work to the public, meet with notable scientists, and compete for $1,012,500 in awards, including the three top awards of $150,000 each.
Read the official press release
Download the finalist book
Anandapadmanaban, Eswar
Dr. Ronald E. McNair Academic High School, Jersey City, NJ
The ThereNIM: A Touch-less Respiratory Monitor
Ashkin, Emily Lorin
Providence Day School, Charlotte, NC
A Novel Synergistic Approach for Enhancing Immunotherapy in the Treatment of Melanoma
Chemparathy, Augustine George
Dougherty Valley High School, San Ramon, CA
Accumulation of the Biodiesel Precursor Triacylglycerol Offsets Oxidative Stress in the Model Alga Chlamydomonas reinhardtii
Cui, Brandon Bicheng
Hillcrest High School, Midvale, UT
Demonstration and Characterization of Split Ring Resonators as Terahertz Waveguides
Ding, Valerie S. 
The Catlin Gabel School, Portland, OR
Novel Automated Designs and Rapid Multivariate Optimization of Next-Generation Multijunction Quantum Dot Solar Cells Using Monte Carlo Modeling
D'Mello, Ryan
Benet Academy, Lisle, IL
A New Result on Gaps Between Integer Points on Elliptic Curves with Coverage of Applications to Cryptography
Epstein, Samuel
John F. Kennedy High School, Bellmore, NY
The Effects of the Modulation of TOR Signaling and Microbial Exposure on Feeding Behavior in Drosophila melanogaster
Eskow, Nicole
Academy for the Advancement of Science and Technology, Hackensack, NJ
A Novel Use of Valeryl Salicylate in the Inhibition of Chronic Myelogenous Leukemia Cell Proliferation: Targeting STAT6- and PGE2-Dependent Mechanisms
Firester, Kalia D.
Hunter College High School, New York, NY
The Role of Fatty Acid and Retinol Binding Proteins (FARs) During Host Parasitism by RKN Meloidogyne spp.
Golowich, Noah
Lexington High School, Lexington, MA
Resolving a Conjecture on Degree of Regularity, with some Novel Structural Results
Gulian, Charles
Ossining High School, Ossining, NY
A Search for Tidally-Distorted White Dwarf Binaries in the Kepler Survey
Gupta, Anvita
BASIS Scottsdale, Scottsdale, AZ
Computational Drug Discovery for Cancer, Tuberculosis, and Ebola by Targeting Intrinsically Disordered Proteins
Huang, Brice
West Windsor-Plainsboro High School North, Plainsboro, NJ
Monomization of Power Ideals and Generalized Parking Functions
Jin, Andrew
The Harker School, San Jose, CA
Shedding Light on Human Evolution: Machine Learning Algorithms for Systematic Genome-wide Discovery and Characterization of Adaptive Mutations
Khare, Somya
Lynbrook High School, San Jose, CA
Changes in Growth Rate and Cytoskeletal Activity During the Starvation Response in E. coli
Kishore, Shashwat
Unionville High School, Kennett Square, PA
Multiplicity Space Signatures and Applications in Tensor Products of sl2 Representations
Kuditipudi, Rohith
The Harker School, San Jose, CA
Network Based Integration of High Throughput Gene Expression and Methylation Data Reveals New Insights into NAFLD Progression
Lall, Kriti
Castilleja School, Palo Alto, CA
A Novel Bacteria Strain and Bioreactor for Practical Arsenic Water Bioremediation
Lee, Jihyeon  
Amador Valley High School, Pleasanton, CA
An Enhanced Method for HDR Imaging: Artifact-Free and Optimized for Mobile Devices
Li, Catherine J.
Lake Highland Preparatory School, Orlando, FL
In-Fiber Emulsification of Biodegradable Polymers for Drug Delivery
Li, Ien
Jericho Senior High School, Jericho, NY
Statistical Modeling of Major Depression: Bridging the Gap between Brain and Behavior
Lin, Alexander
Millburn High School, Millburn, NJ
Approximating the Maximum k-Colorable Subgraph Problem on Dotted Interval Graphs
Liu, Lily
Texas Academy of Mathematics and Science, Denton, TX
Oxidative Cleavage of Methoxyethane by Transition Metal Atoms: A Computational Study on Catalytic Properties of Metals and Performance of DFT Functionals
Mandelshtam, Yelena
University High School, Irvine, CA
Arrangements of Minors in the Totally Positive Grassmannian and Sturmfels' Triangulation
Massa, Scott
Commack High School, Commack, NY
The Importance of Endocytosis to Neuregulin1 Back Signaling: Implications in Neuropsychiatric and Neurodegenerative Disorders
McCleary, Jennifer
Arnold O. Beckman High School, Irvine, CA
Correlating the Bandgaps of Earth-Abundant Metal Oxides to Photocurrent Generation for Water Splitting Applications
Michaelsen, Anya
Lake Braddock Secondary School, Burke, VA
Kinematic Determinants of Scoring Success in the Fencing Flick: Logistic and Linear Multiple Regression Analysis
Pandya, Dhaivat Nitin
Appleton North High School, Appleton, WI
Minimum Cost Linear Network Coding Design for General Connections
Pathak, Reesab
Camas High School, Camas, WA
Cytomegalovirus Vaccine Vectors Induce Universal, MHC-E Restricted CD8+ T cells Against AIDS Virus
Pine, Max
Pelham Memorial High School, Pelham, NY
Effect of Climate on the Spatial Distribution and Synchrony of Eight Irruptive Bird Species
Prembabu, Saranesh
Dougherty Valley High School, San Ramon, CA
Coupled Electric and Magnetic Properties in Artificially-Layered Perovskite Thin Films
Raghuvanshi, Anika
Jesuit High School, Portland, OR
Logic Synthesis and a Generalized Notation for Memristor-Realized Material Implication Gates
Spencer, Emily Jane
Hathaway Brown School, Shaker Heights, OH
Synthesis of Photo-Healable and Thermal Shape-Memory Disulfide Polymers
Sun, Tiffany
Roslyn High School, Roslyn Heights, NY
The Effect of SES, Beauty, and Disability in the Trolley Problem
Tandon, Tanay
Cupertino High School, Cupertino, CA
Topographical Computer Vision Algorithms for Rapid, Low-cost Hematological Diagnostics and Parasite Detection Through Random Forests Classification and van Leeuwenhoek-type Imaging
Wang, Steven Michael
The Harker School, San Jose, CA
Computer-Aided Genomic Characterization of Colorectal Cancer Driver Alterations for Oncogenic Transformation of Primary Colon Organoids
Winer, Michael
Montgomery Blair High School, Silver Spring, MD
Interactions of Electrons and Phonons in a Crystal
Zhang, Jesse
Fairview High School, Boulder, CO
Effect of the Atlantic Ocean on Sudden Stratospheric Warming
Zhang, Yizhen
Richard Montgomery High School, Rockville, MD
Wiring for "Blue"-Connectome of the S-Cone Photoreceptor in the Outer Retina
Zheng, Crystal
Jericho Senior High School, Jericho, NY
BDNF VAL66MET Induces Endocytosis-dependent Dendritic Spine Collapse via proNGF-like Collapse Mechanism