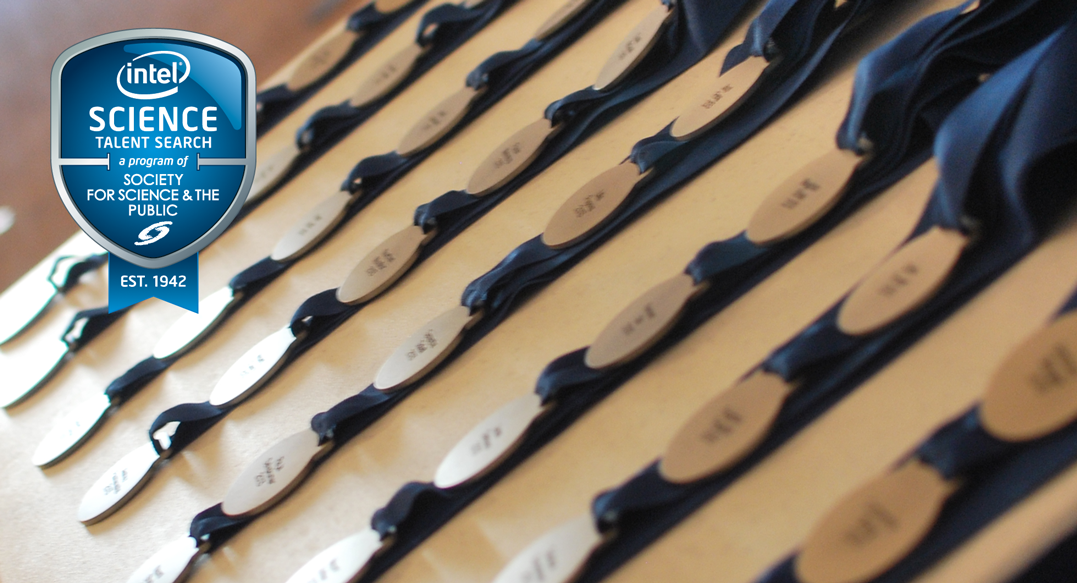 The Intel Science Talent Search (Intel STS) is the nation's most prestigious pre-college science competition. Intel STS alumni have made extraordinary contributions to science and hold more than 100 of the world's most coveted science and math honors, including the Nobel Prize and the National Medal of Science. Students are selected based upon their scientific research and also on their overall potential as future leaders of the scientific community. Intel STS recognizes and rewards 300 students, as well as their schools, as semifinalists each year. From that select pool, 40 finalists are then invited to Washington, DC in March to undergo final judging, display their work to the public, meet with notable scientists, and compete for $630,000 in awards, including the top award of $100,000.
Download the finalist book
Read the official press release
Arshavsky, Alec Vadim
East Chapel Hill High School, Chapel Hill, NC
Automatic Characterization of Donor Tissue for Corneal Transplantation Surgery
Camenzind, Kathy
California High School, San Ramon, CA
Quantifying Trapping Forces in a Simplified Optical Tweezers Setup
Chen, Eric S.
Canyon Crest Academy, San Diego, CA
Computer-aided Discovery of Novel Influenza Endonuclease Inhibitors to Combat Flu Pandemic
Chen, Steven
Westwood High School, Austin, TX
On the Surface Tension of Entropic Droplets in Dynamically Metastable Liquids
Clarke, John Anthony
Regis High School, New York, NY
High-Energy X-ray Emission in the Jovian Magnetosphere: A Feasibility Study for the Nuclear Spectroscopic Telescope Array (NuSTAR)
Coraor, Aron
Huntington High School, Huntington, NY
Pressure Dependent Azeotropic Melting Relations in the Mg2SiO4-Fe2SiO4-NaAlSi3O8-CaAl2Si2O8 System: a Critical Role in Lunar Highlands Formation?
Daga, Soham
Stuyvesant High School, New York, NY
Using Google Trends to Enhance Predictive Models of Mortgage Delinquency to Mitigate Risk in the Loan Lending Process
Datta, Shaun
Montgomery Blair High School, Silver Spring, MD
Saturated Nuclear Matter in the Large Nc and Heavy Quark Limits of Quantum Chromodynamics
Davey, Neil
Montgomery Blair High School, Silver Spring, MD
Early Cancer Diagnosis and Treatment Through the Detection of Circulating Tumor Cells Using Drop-Based Microfluidics
Freed, Benjamin
Governor Thomas Johnson High School, Frederick, MD
Identification of Novel Regulatory Mechanisms of the K-Ras Oncoprotein
Guha, Anubhav
Horace Greeley High School, Chappaqua, NY
Discovery of Rare Earth Oxide Nanoparticles as Agents for Prolonging Fluorescence Imaging in Biological and Other Systems: Fluorescence Studies from Single Molecules and Dispersions
Homma, Yushi
Carmel High School, Carmel, IN
Asymptotics of Two-Point Correlation Functions for the Zeros of Random Polynomials
Kang, Joyce Blossom
Brentwood High School, Brentwood, TN
Development of a High-performance Hybrid Supercapacitor on CF Cloth Using 3D Nano-Architectured Electrodes Comprised of Aligned CNTs Coated with Pseudocapacitive MnO2 Nanoparticles
Kong, Angela Xiangyue
Lynbrook High School, San Jose, CA
The Transcription Factor Bcl11b Regulates Mammary Stem Cell Self-Renewal and Quiescence Partially Through Cell Cycle Progression Inhibitor CDKN1a/p21
Kuszmaul, William Henry
Lexington High School, Lexington, MA
A New Approach to Enumerating Statistics Modulo n
Lee, Kevin
University High School, Irvine, CA
Strongly Coupled Electromechanical Modeling of the Heart in Moving Domains Using the Phase-Field Method
Liu, Charles Xin
Henry M. Gunn High School, Palo Alto, CA
Integrated Meta-analysis of 64 Diseases Identifies Novel Relationship Between Systemic Sclerosis and Systemic Lupus erythematosus
Maiti, Esha
California High School, San Ramon, CA
Stochastic Monte Carlo Simulations to Determine Breast Cancer Metastasis Rates and Tumor Distribution from Patient Survival Data
Mehta, Rahul Siddharth
The University of Chicago Laboratory High School, Chicago, IL
A New Max-Flow Algorithm for Sparse Networks
Meier, Joshua Abraham
Academy for the Advancement of Science and Technology, Hackensack, NJ
Control of Induced Pluripotent Stem Cell Aging by Modulation of Mitochondrial DNA Deletions
Merrill, Anne
Greenwich High School, Greenwich, CT
Comparative Suppression of Soil-Borne Pathogens via Earthworm Bioturbation of Natural and Man-Made Biochars
Michaels, Lisa P.
Plano West Senior High School, Plano, TX
Pan-Neuronal Over-Expression of the GCLc Gene to Mitigate Redox Stress and Mitochondrial ETC Complex  Dysfunction in Alzheimer's Disease
Misra, Sreyas
The Harker School, San Jose, CA
Design and Characterization of a Novel Single-headed and Hand-held PET Camera Using 511 keV Photon Collimation via Compton Scatter
Mocz, Viola
Mililani High School, Mililani, HI
The Mass Ratio of Elementary Particles from Helicotoroidal Topology
Ng, Natalie
Monta Vista High School, Cupertino, CA
Advancing Precision Medicine: MicroRNA Prognostic Signatures and Prediction Models for Distant Metastasis Free Survival in Breast Cancer
Pang, Emily
Dougherty Valley High School, San Ramon, CA
The Opposing Roles of Tumor Suppressive cC1qR and Oncoprotein gC1qR as Mechanisms for Inhibiting Cancer Pathogenesis
Park, Jiho
University High School, Irvine, CA
Molecular Dynamics Simulations of Aromatase: Implications for Novel Drug Design
Paskov, Ivan Spassimirov
Edgemont High School, Scarsdale, NY
Predicting Cancer Drug Response Using Nuclear Norm Multi-Task Learning
Pereira, Brianna
Academy for Medical Science Technology, Hackensack, NJ
CXCR4/SDF-1α Signaling as a Target of Microenvironmental Regulation of Metastasis in NSCLC
Pulak, Thabit
Richardson High School, Richardson, TX
Affordable Home-based Bio-sand Arsenic Water Filter and Rapid Arsenic Water Test Using Nanotechnology
Rahman, Zarin Ibnat
Brookings High School, Brookings, SD
The At-Risk Maturing Brain: Effects of Stress Paradigms on Mood, Memory and Cognition in Adolescents and the Role of the Prefrontal Cortex
Saini, Ajay
Acton-Boxborough Regional High School, Acton, MA
Predictive Modeling of Opinion and Connectivity Dynamics in Social Networks
Sakowitz, Sara
The Brearley School, New York, NY
A Novel Approach for Metastatic Breast Cancer Therapy: Pharmacological Inhibition of EZH2 Histone Methyl Transferase Activity Suppresses Cancer Stem Cells and Induces Epithelial Phenotype
Seong, David
Lexington High School, Lexington, MA
Novel Use of Mutant Huntingtin Haplotype 3'UTR Sequence to Discover miRNAs Targeting Mutant Huntingtin Gene Causing Huntington's Disease
Shankar, Vishnu
Monta Vista High School, Cupertino, CA
The 3D Structure of Human DP Prostaglandin G-protein Coupled Receptor Bound to Selective Antagonists from GEnSeMBLE Predictions
Shi, Jessica
Montgomery Blair High School, Silver Spring, MD
The Speeds of Families of Intersection Graphs
Shin, Kaitlyn
Jericho Senior High School, Jericho, NY
Photon and Positron Emission from Primordial Black Hole Clusters
Srinivasan, Anand
Roswell High School, Roswell, GA
RNNScan: Eukaryotic Gene Prediction via Recurrent Neural Networks Utilizing Local-Feature Extraction
Thakker, Parth
North Carolina School of Science and Mathematics, Durham, NC
Design, Assembly, and Optimization of Novel ZnxSeAgy Biocompatible Quantum Dot Sensitized Solar Cells