2020 Regeneron STS Finalists
Society for Science & the Public (the Society) and Regeneron Pharmaceuticals, Inc. congratulate the 40 finalists in the Regeneron Science Talent Search 2020, the nation's oldest and most prestigious science and math competition for high school seniors. The 2020 finalists were selected from 1,993 highly qualified entrants based on their projects' scientific rigor and their potential to become world-changing scientists and leaders. Each finalist is awarded at least $25,000, and the top 10 awards range from $40,000 to $250,000. The top 10 Regeneron Science Talent Search 2020 awards will be announced at a black-tie gala awards ceremony at the National Building Museum on March 10.
View the Press Release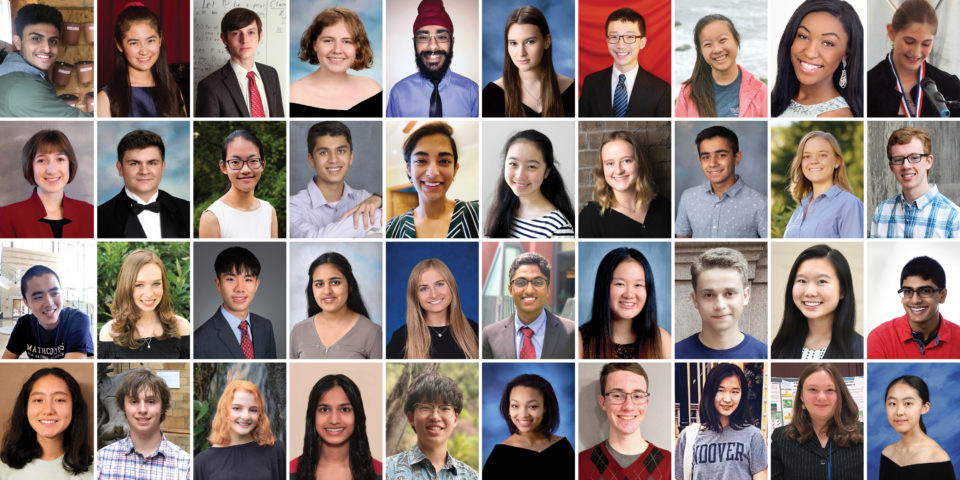 View the Press Release
2020 Finalists
Jagdeep Bhatia, Age: 17
Watchung Hills Regional High School, Warren, NJ
Project Title: Simple and Fast Algorithms for Interactive Machine Learning with Random Counter-Examples
Amogh Bhatnagar, Age: 18
University School of Milwaukee, Milwaukee, WI
Project Title: Methodology Demonstration of a Cost Effective Comparison of Procedures Using Open and Laparoscopic Appendectomy: Total Charges vs Hospital Stay
Andrew Brinton, Age: 17
John F. Kennedy High School, Bellmore, NY
Project Title: Marsh Restoration: Ribbed Mussels (Geukensia demissa) as a Revival Mechanism to Rebuild the Coastal Salt Marshes of Long Island, New York
Cynthia Chen, Age: 17
The Harker School, San Jose, CA
Project Title: Decoding Neural Networks: Discovery of Anti-Tumor B Cell Receptor Motifs Using a Novel Sequence-Based Computational Framework
Lauren Chen, Age: 16
Dutch Fork High School, Irmo, SC
Project Title: Serum miR-134 Predicts and Potentially Promotes Breast Cancer Recurrence
Holly Cheng, Age: 18
Horace Greeley High School, Chappaqua, NY
Project Title: Modulating Fetal Globin Levels Using CRISPR/Cas9 in an in vitro Mouse Cellular System
Brendan Crotty, Age: 17
Hickory Hill Academy Homeschool, Muskogee, OK
Project Title: An Innovative Hybrid Diffusion Burner Design for NOx Reduction in High Temperature Applications Year Three of an Ongoing Study
Ankush Dhawan, Age: 18
Signature School, Evansville, IN
Project Title: An Improved Method for Trace Level Arsenic Quantification in Water
Maria Fields, Age: 17
University-Liggett School, Grosse Pointe Woods, MI
Project Title: Genes that Potentially Drive Health Outcome Disparities for African-American Women with TNBC
Ari Firester, Age: 17
Hunter College High School, New York, NY
Project Title: WormBots: Earthworm Inspired Robots with Self-Assembly Capabilities
Makayla Gates, Age: 18
Valencia High School, Los Lunas, NM
Project Title: Comparative Analysis of Lovastatin Introduction Through Botanical Dietary Supplementation in Apis mellifera for Treatment of Social Anxieties in Fragile-X Syndrome and Autism Spectrum Disorder Patients
Victoria Graf, Age: 17
Thomas Jefferson High School for Science and Technology, Alexandria, VA
Project Title: Determining Stimulus Selection Parameters for Treatment of Neurological Disorders Using Statistical Analysis of EEG Signal Entropy
Zander Hill, Age: 18
BASIS Scottsdale, Scottsdale, AZ
Project Title: Upper Bound on the Distortion of Cabled Knots
Raina Jain, Age: 17
Greenwich High School, Greenwich, CT
Project Title: Control of Varroa destructor Infestation with a Dual-Function Thymol-Emitting Honey Bee Hive Entranceway
Anushka Jetly, Age: 17
Friendswood High School, Friendswood, TX
Project Title: An Affordable, Machine Learning-Aided Otologic Diagnostic Suite for Automatic Detection of Middle Ear Abnormalities
Helena Jiang, Age: 17
Buchholz High School, Gainesville, FL
Project Title: Novel Bioinspired Colorimetric Sensors for Detecting Chemicals in Vapor, Liquid, and Solid Phases
Nithin Kavi, Age: 18
Acton-Boxborough Regional High School, Acton, MA
Project Title: Cutting and Gluing Surfaces
Olivia Krivitsky, Age: 17
Bergen County Academies, Hackensack, NJ
Project Title: Ketones: Novel Treatment for Aberrant Conditions in the Diabetic Eye
Caitlin Kunchur, Age: 17
Dutch Fork High School, Irmo, SC
Project Title: Evaluating Room Acoustics for Speech Intelligibility
Rupert Li, Age: 17
Jesuit High School, Portland, OR
Project Title: Compatible Recurrent Identities of the Sandpile Group and Maximal Stable Configurations
Jason Liu, Age: 17
The Davidson Academy of Nevada, Reno, NV
Project Title: On Q-binomial Polynomials and Quantum Integer-Valued Polynomials
Kyra McCreery, Age: 17
North Shore High School, Glen Head, NY
Project Title: Associations between the Slowdown in North Atlantic Tropical-Cyclone Translation Speed and Intensifying Storm Precipitation
Nadine Meister, Age: 17
Centennial High School, Ellicott City, MD
Project Title: Cooperative Relaxation in Supercooled Liquids: Kadanoff's Block Construction and Wilson's Renormalization Group Transformation
Sonja Michaluk, Age: 16
Hopewell Valley Central High School, Pennington, NJ
Project Title: A Novel Method of Monitoring the Health of our Global Fresh Water Supply using DNA Barcoding of Chironomidae (Diptera)
Arjun Neervannan, Age: 17
University High School, Irvine, CA
Project Title: Combating Cyberbullying and Toxicity by Teaching AI to Use Linguistic Insights from Human Interactions in Social Media
Annie Ostojic, Age: 17
Munster High School, Munster, IN
Project Title: Targeting Cancer via Signaling Pathways: A Novel Approach to the Discovery of Gene CCDC191's Double-Agent Function using Differential Gene Expression, Heat Map Analyses through AI Deep Learning, and Mathematical Modeling
Lillian Petersen, Age: 17
Los Alamos High School, Los Alamos, NM
Project Title: Real-Time Prediction of Crop Yields from MODIS Relative Vegetation Health: A Continent-Wide Analysis of Africa
Alina Pollner, Age: 18
Canyon Crest Academy, San Diego, CA
Project Title: Novel Strategy to Increase Fruit Production via CRISPR-Cas9 Genome Engineering
Katherine St George, Age: 17
John F. Kennedy High School, Bellmore, NY
Project Title: The Ketogenic Diet Ameliorates The Effects of Caffeine in Seizure Susceptible Drosophila melanogaster
Anaiah Thomas, Age: 18
Bergen County Academies, Hackensack, NJ
Project Title: The Manipulation of Natural Killer Cell Phenotype and Function using Sacromal Fibroblast-Like Synoviocytes in vitro.
Adriane Thompson, Age: 17
The Wellington School, Columbus, OH
Project Title: Differentially Expressed Genes from RNA-Seq Identify both RNA Polymerase IV- and Dicer-like3- Independent Regulatory Pathways in Zea mays, Verified through qPCR and Bioinformatic Analyses of Novel Gene Classes
Rohan Wagh, Age: 17
Sunset High School, Portland, OR
Project Title: Designing a Microbial Fuel Cell Based In-Situ Soil Conductivity Monitoring System for Precision Agriculture and Water Management
Ella Wesson, Age: 17
Manhasset High School, Manhasset, NY
Project Title: Engineering One Layer of a Two-Dimensional Acoustic Band Gap Material and Reconstructing the Sound Pressure Field using Acoustic Holography
Alek Westover, Age: 17
Belmont High School, Belmont, MA
Project Title: Cache-Efficient Parallel-Partition Algorithms using Exclusive-Read-and-Write Memory
Brian Wu, Age: 18
Horace Mann School, Bronx, NY
Project Title: Tatooine Found! Discovery, Confirmation, and Characterization of the First-Ever Circumbinary Planet Detected Using Doppler Spectroscopy Applied in Conjunction with a Novel Synthetic Spectra-Based Confirmation System and Machine Learning
Yi Xie, Age: 18
Bronx High School of Science, Bronx, NY
Project Title: Harnessing the Power of Comparative Functional Genetics: How the Medically Important Enzyme Na+, K+-ATPase Can Advance the Treatment of Cardiovascular Diseases
Ellie Yang, Age: 17
Parkway Central High School, Chesterfield, MO
Project Title: A Deep Learning Model Using a Convolutional Neural Network for the Detection of Guns, Knives, and Blood: SafetyNet
Kevin Yang, Age: 18
Fairview High School, Boulder, CO
Project Title: From Greenhouse to Redhouse: Development of an Advanced Film to Promote Photosynthetic Activity and Crop Production
Jake Yasonik, Age: 18
Homestead High School, Mequon, WI
Project Title: Multiobjective De Novo Drug Design with Recurrent Neural Networks and Nondominated Sorting
Zhifei Yu, Age: 18
Phillips Academy, Andover, MA
Project Title: Orbital Decay of the X-Ray Binary LMC X-4