Pranavi Chatrathi
7th Grade, Pioneer Heritage Middle School
Frisco, TX
Using gaming simulation software, Pranavi tested whether external airbags on the sides of cars could reduce fatalities from T-bone collisions.
Side Impact Car Crash: An External Airbag To Reduce Injury Severity Through Reduction in B. Pillar Intrusion
VIEW POSTER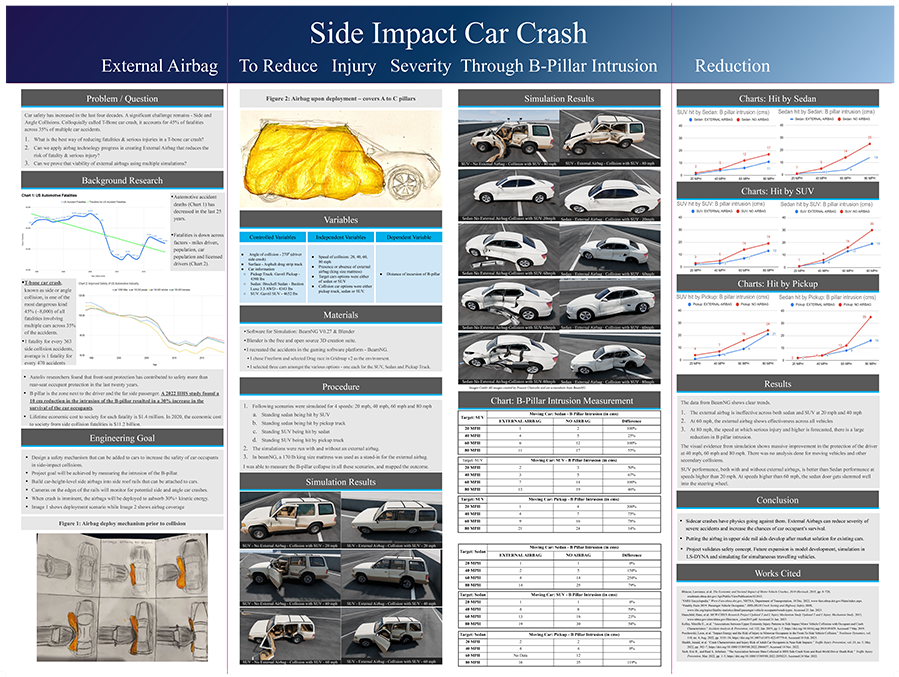 VIEW POSTER
Project Background
Pranavi's parents were in a car crash when her mom was pregnant with her. "My grandparents constantly remind me that the three of us were lucky to have escaped the accident without any injuries," she says. The constant retelling of this story has stuck with Pranavi. So, she checked out the National Highway Traffic Safety Administration website and research on car safety. She found that side-impact car crashes are some of the deadliest. After that, Pranavi says, "the concept of external airbags came easily to me." She decided to design airbags on the outside of cars that could help reduce fatalities.
Tactics and Results
To reduce severity of injuries from side-impact car crashes, manufacturers need to reduce how far the pillar between the front and rear doors gets bent inward during an accident, Pranavi says. She simulated T-bone crashes using a gaming simulation software called BeamNG. In the software, she modeled how three different car models would fare if they had external airbags on their sides. Theoretically, these would be attached to the roof rails and be triggered by cameras monitoring other cars. Across all simulations, external airbags decreased the amount the car pillars bent when hit. With sedans and SUVs hit by cars moving 60 or 80 miles per hour, pillar bending was reduced, on average, 78 percent compared to simulations with no external airbags. "This project demonstrates the merit of adding external airbags in side-impact collisions," Pranavi says. But the ultimate goal, she notes, is to build a real-life system that can make cars safer.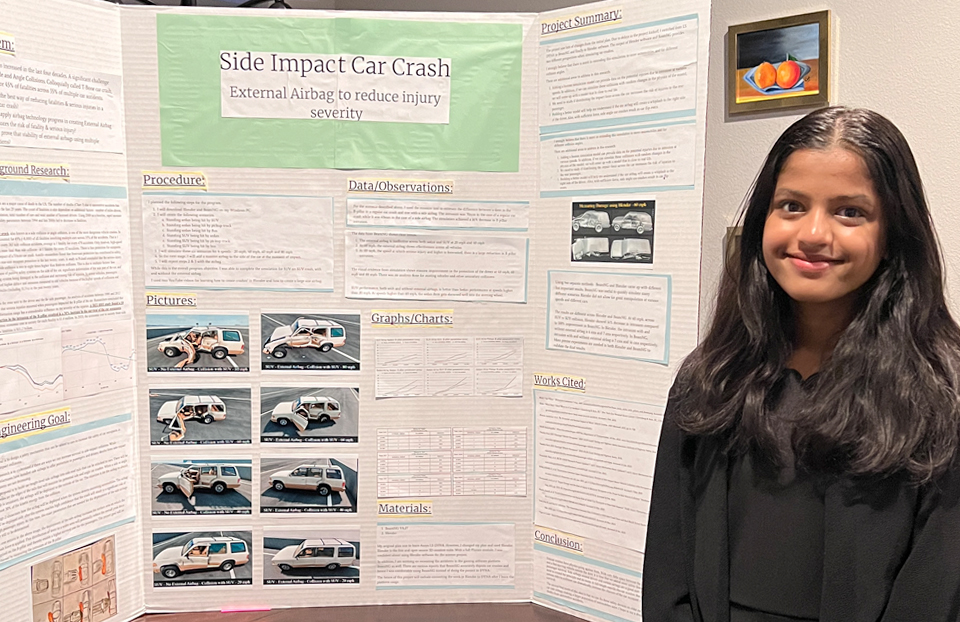 Beyond the Project
Pranavi wants to dive deeper into the functionality of the car sensors. This would include researching current airbag materials and sensors, analyzing the components, and refining her external airbags based on what she learns.
Other interests
Pranavi enjoys golf and artistic activities like sketching, scale model development, video production and photography. But her favorite extracurricular is Bharatanatyam, an Indian classical dance. She has been learning it for the last six years and now mentors younger students. "My current dream job is to work as an automotive safety design engineer," Pranavi says. "I want to find a way to reduce the number of automotive fatalities through new safety systems."