Inika Adapala
7th Grade, Stratford Middle School – San Jose
San Jose, CA
Inika developed a prototype smartphone app that allows people with locked-in syndrome (LIS) to communicate through eyeblinks.
Project Background
Inika recently read an article about a man who recovered from locked-in syndrome (LIS). "Despite being fully conscious and aware of his surroundings, he was unable to communicate with his family or any of the nurses or doctors," she says. People with this rare neurological disorder retain their cognitive functions, but movement is usually limited to eyeblinks and moving their eyes around. So Inika developed a smartphone app that tracks eyeblinks to help people with LIS communicate.
Tactics and Results
Inika first got a computer program to find a user's eyes and detect blinks via a smartphone's front-facing camera. It does this by locating a person's nose and calculating where the top and bottom of their eyes should be. Inika then programmed her software to count a user's blinks and tell if a blink lasted longer than 1 second. She connected this to a smartphone app she built with a library of phrases that a person might want to say. A person can use eyeblinks to navigate through the phrases, which are organized by category. A long blink confirms which phrase the user wants to say, which gets read aloud by the phone. Inika hopes that someday her app "will significantly improve the quality of life of patients suffering from LIS by providing them with a voice."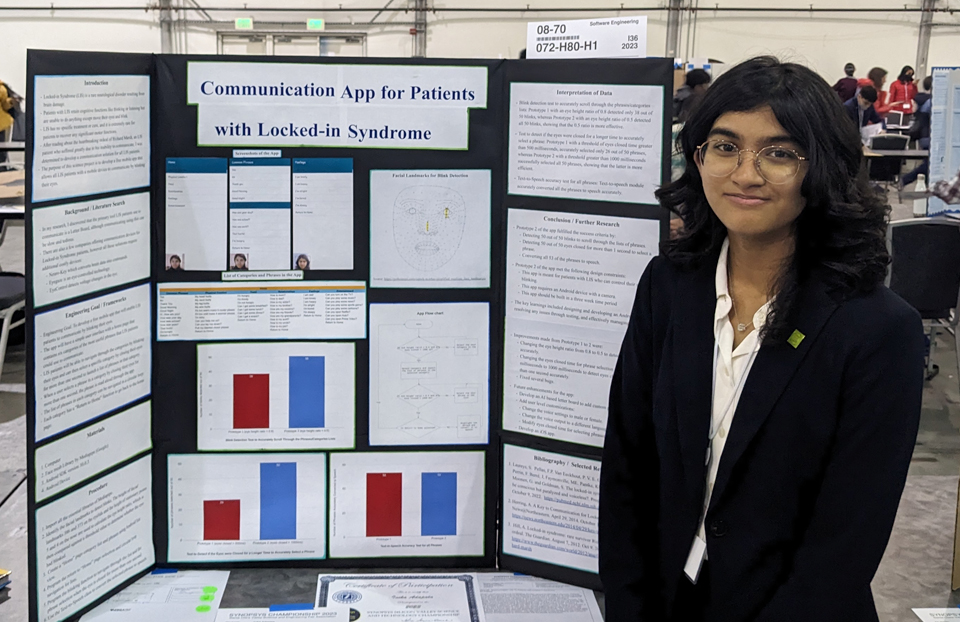 Beyond the Project
More enhancements could be made to personalize the app, Inika says. She would like to add more languages, the option to have a male or female voice and a letterboard for users to create custom phrases.
Other interests
Inika enjoys piano and swimming. In the future, she hopes to become a medical doctor. "It allows me to follow my passion for helping others and making a real impact on people's lives," she says. "I love problem solving in a methodical way, and I believe that being a doctor would give me the chance to face new challenges that may arise and always keep learning."