Chloe Svetlana Fierro
6th Grade, Homeschool
El Paso, TX
Chloe tested cork, a sustainable resource, as a potential insulation material for buildings.
Project Background
Last year, Chloe's family visited the San Diego Botanical Garden. "When we came upon the cork tree, I was amazed to read it had so many good properties," she says. Those helpful properties include fire and insect resistance, good heat and sound insulation and being renewable. Chloe's mom, who's an architect, mentioned that cork was becoming more popular as a product used in buildings. "The thermal properties made me wonder if it was being used as an insulator," Chloe says. Much to her surprise, she couldn't find much data on cork's insulative properties, and noticed that it isn't widely marketed. Chloe also found that many types of commonly used insulation are made of harmful materials, hard to recycle and contribute to climate change. So she took on the task of measuring cork's insulative properties to compare the material to other types of insulation.
Tactics and Results
Wall and ceiling insulation helps keep a building's interior at a comfortable temperature. To test how well cork compared to two commercially-available rigid insulators, Chloe lined the inside of glass terrariums — model houses — with the different materials. She had thermometers measuring temperatures inside and outside the terrariums. To simulate cold weather, Chloe placed them outside and recorded temperatures at the same time, five times a day for 10 days. To model hot weather, she stuck the terrariums in her oven heated to a low temperature. She repeated this for 10 hot day simulations, with five readings per "day." Averaging the daily temperature readings showed that the cork outperformed both commercial insulators. On average, cork kept the inside of the model house the warmest during cold day simulations, and it kept the inside the coolest during hot day simulations. "The findings of this experiment help us make smarter choices," Chloe says. Using cork, a sustainable resource, as insulation could help reduce climate change, she notes.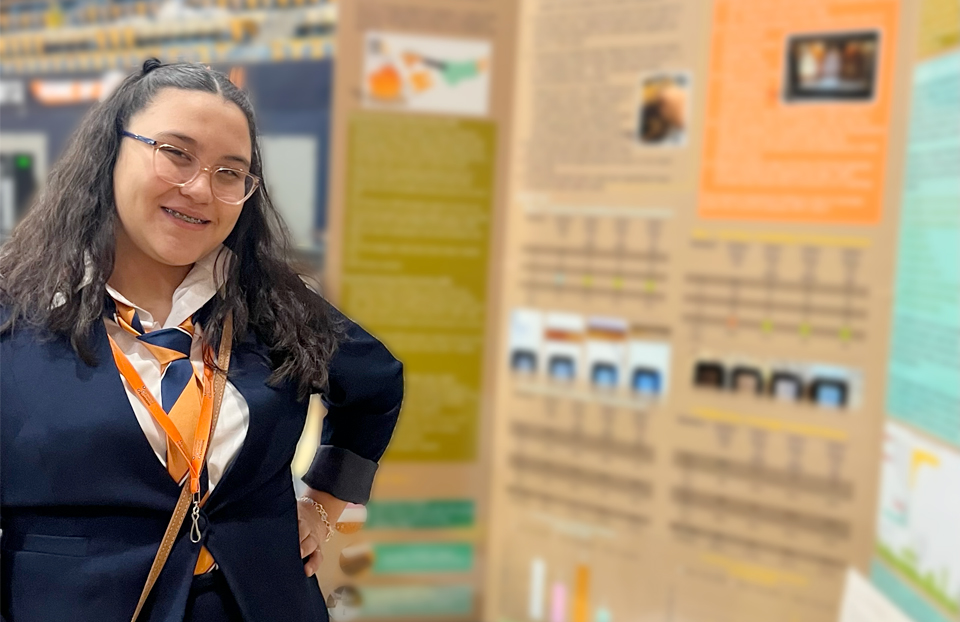 Beyond the Project
Other eco-friendly materials, like straw bales, wool and cellulose — a substance from plants — have been used for building insulation, Chloe says. "I'd love to study their thermal performance."
Other Interests
Chloe enjoys crafting, playing cello and baking. "I love crafting because I feel there are so many endless possibilities," she says. Playing the cello also gives her creative freedom. Chloe would like to become a materials scientist. "I can create something with my hands that can potentially solve many problems," she explains.