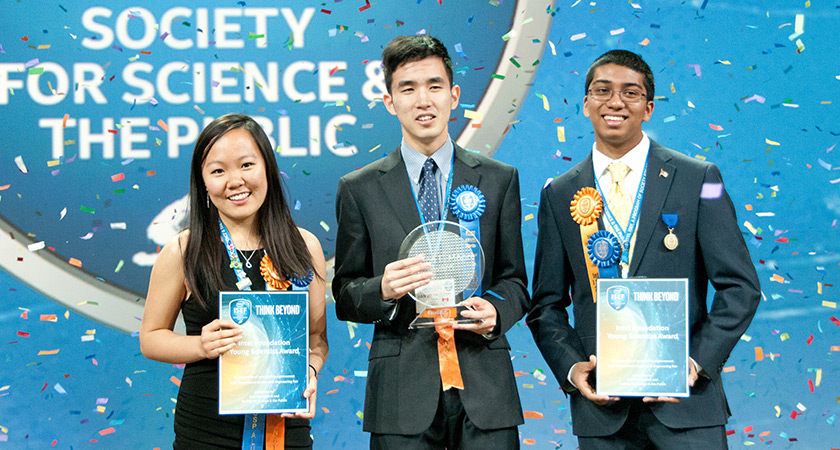 Top Winners from 2016
Gordon E. Moore Award Winner of $75,000 
Han Jie (Austin) Wang, 18, of Vancouver, Canada 
Boosting MFC Biocatalyst Performance: A Novel Gene Identification and Consortia Engineering Approach
Intel Foundation Young Scientist Awards – $50,000 each
Syamantak Payra, 15, of Friendswood, Texas, United States
Brace Yourself: A Novel Electronically Aided Leg Orthosis
Kathy Liu, 17, of Salt Lake City, Utah, United States
Nature-Based Solid Polymer Electrolytes for Improved Safety, Sustainability, and Efficiency in High-Performance Rechargeable Batteries
Intel ISEF 2016 Highlights Video
The 2016 Intel International Science and Engineering Fair featured approximately 1,750 young scientists selected from 419 affiliate fairs in more than 75 countries, regions and territories. In addition to the top winners, approximately 600 finalists received awards and prizes for their innovative research, including 20 "Best of Category" winners, who each received a US$5,000 prize. The Intel Foundation also awarded a US$1,000 grant to each "Best of Category" winner's school and to the affiliated fair they represent. 
Category
Name
City
State/Country
Animal Sciences
River Grace
Melbourne
FL
Behavioral and Social Sciences
Rajeev Jha
Honolulu
HI
Biochemistry
Edward Kim
Waco
TX
Biomedical and Health Sciences
Jiwoo Lee
Hackensack
NJ
Biomedical Engineering
Luiz da Silva Borges
Aquidauana
Brazil
Cellular and Molecular Biology
Marissa Sumathipala
Ashburn
VA
Chemistry

Kathryn Lawrence
Katherine Younglove

Boulder
CO
Computational Biology and Bioinformatics
Swetha Revanur
San Jose
CA
Earth and Environmental Sciences
Natalie Bush
Baton Rouge
LA
Embedded Systems
Syamantak Payra
Friendswood
TX
Energy: Chemical
Kathy Liu
Salt Lake City
UT
Energy: Physical
Tiasha Joardar
Plano
TX
Engineering Mechanics
Takahiro Ichige
Chiba-City
Japan
Environmental Engineering
Wyatt Pontius
Sterling
VA
Materials Science
Nicky Wojtania
Plano
TX
Mathematics
Pei-Hsuan Chang
Taipei City
Chinese Taipei
Microbiology
Han Jie (Austin) Wang
Vancouver
Canada
Physics and Astronomy
Camille Yoke
Richmond
VA
Plant Sciences
Dennis Drewnik
Winnipeg
Canada
Robotics and Intelligent Machines
Simone Braunstein
New York
NY
Systems Software
Charles Noyes
Villa Park
CA
Translational Medical Science

Brennan Clark
Prashant Godishala

Golden Valley
MN
Intel ISEF 2016 Photo Albums on Facebook and Flickr
2016 Alumni Updates
We welcome and encourage updates on alumni from the Intel International Science and Engineering Fair in 2016; please contact us with information.