Young scientists witness cutting-edge research at Janelia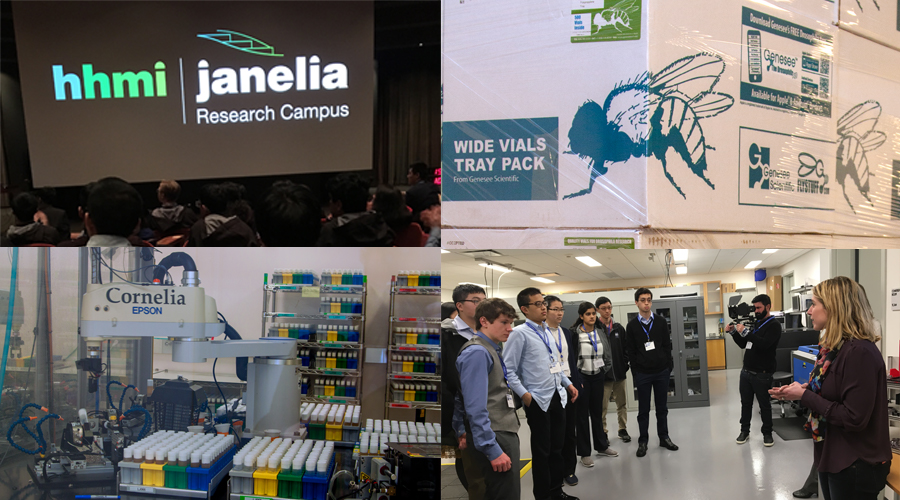 A scientist often has many responsibilities outside of conducting research. As the forty Regeneron Science Talent Search finalists learned during a visit to the HHMI Janelia Research Campus in Ashburn, Virginia, funding can be difficult to obtain and often feels like a full time job in and of itself.
Taking a break from the city for a few hours, the finalists headed out to Virginia during the week of the Regeneron Science Talent Institute to visit this cutting-edge research campus, where scientists focus on neuroscience and imaging. The finalists were immediately impressed with Janelia's 689 acre campus, which in addition to laboratories includes housing and amenities for scientists. Before going on a tour and viewing some of the labs, students heard from a variety of Janelia representatives, who talked about some of the research they have conducted.
Between filling out grant applications to teaching classes, scientists at universities are required to fill a variety of roles, which means they are spending less time in the lab, the Janelia representatives explained. Research at Janelia is internally funded by HHMI, meaning that scientists can focus completely on their research. Lab Directors lead small research groups, mentor their students and actively work at the bench.
Janelia, which opened in 2006, provides hundreds of scientists the opportunity to pursue research they are interested in. The presenters explained that research conducted at Janelia is not expected to provide commercial value right away—rather, it highly values originality, creativity and basic science research.
In addition to scientists at Janelia, the campus includes more than one million insects that are used for research. During their tour of the Landscape building, the main research facility, students had a chance to visit labs that included booth fruit flies and dragonflies. They also saw a 3-D printer and a variety of other exciting equipment.
Although the forty finalists only spent a few hours at Janelia, we wouldn't be surprised to see them return to conduct research of their own some day. After all, they've already gotten quite the head start.