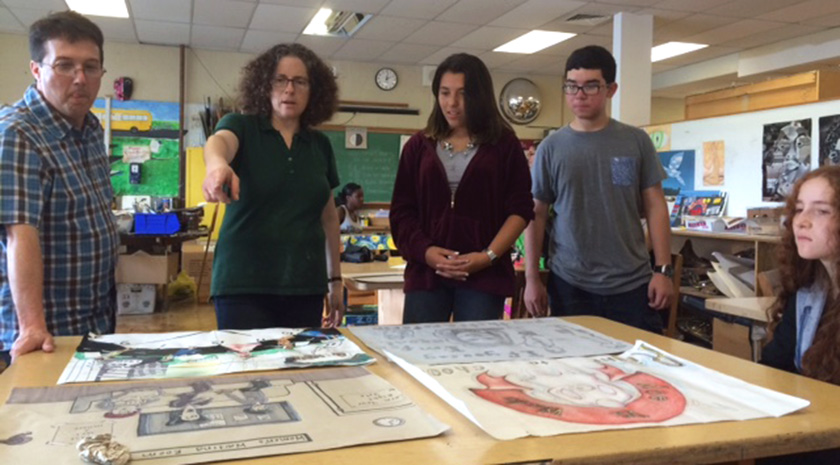 This weekend, Lawrence High School teacher Stephen Sullivan will travel to Washington, D.C. for a special meeting with 199 other science research teachers.
He will attend the Research Teachers Conference, which is sponsored by Regeneron. The conference, on September 30-October 2, 2016, brings together science research teachers for a weekend to share best practices, troubleshoot any challenges they face in supporting students in independent science research, and learn more about the Science Talent Search and the Society.
Conference topics will include completing research in a high school lab, finding and placing students in summer programs, obtaining pre-approval for projects relating to humans and animals, combating plagiarism, reaching underserved students, and more.
We talked to Stephen before the conference started to see what he hopes to gain.
WHAT ARE YOUR GOALS FOR GETTING STUDENTS INVOLVED WITH SCIENCE RESEARCH: I want to get the rookies (mostly sophomores, a couple of freshmen) excited about behavioral sacience and working on a project. It might not be the project, the one they submit to Regeneron STS, the Long Island Psychology Fair, or the Association of Psychological Science, but teens need to be engaged.
Two-thirds of my students submit a Regeneron STS paper in their senior years. Hands-on research requires background research, for sure. But it also requires hands-on as soon as possible.
Two-thirds of my students submit a Regeneron STS paper in their senior years.
My juniors and seniors need to hone their skills — skills that will outlast their high school glory. Conducting literature reviews, editing, administering, and scoring surveys, coding data, and running multiple regressions — these skills may well serve as tickets into the labs of leading university psychologists. Stats class will be a breeze. Our students report leading their study groups, and earning A's in Research Methods courses in psychology or sociology.
WHAT DO YOU HOPE TO GAIN FROM THE RESEARCH TEACHERS CONFERENCE: I'm not a big country fan, but I really like the penultimate line of Tim McGraw's recent hit, "Humble & Kind." Although musically awkward (too many syllables), it sums up the approach my parents and grandfather taught me as a little boy. I try to keep it in mind with my students and colleagues:
"Don't take for granted the love this life gives you.
When you get where you're going don't forget turn back around,
and help the next one in line;
always stay humble and kind."
I'd like to share 29 years of experience with the rookies (and experienced teachers, too). They're not competitors; they're colleagues.
"Education, particularly public education is under fire from selfish, little-minded people. As Ben Franklin, statesman, inventor, and scientist, once remarked, "We must all hang together, or most certainly, we will all hang separately." This is especially important in light of the spread of science research to secondary schools in all 50 states, to students of more and more diverse backgrounds. I also think that as a behavioral scientist, both my similar and unique experiences may be instructive.
HOW DID YOU BECOME INTERESTED IN SCIENCE: I teach HIST3535: History of the City of New York at Columbia (my alma mater) every summer. I teach HIS103: American Civilization to 1865; HIS104 American Civilization, 1865-2015, and HIS290: History of the City of New York at Adelphi on evenings during the school year. I cancel classes on November 11 for the Regeneron STS upload deadline(s). The makeup classes meet for a walking tour of Lower Manhattan the following Saturday.
I have a Ph.D. in United States History. My second major in college was anthropology. I teach research methods, not science.
I teach research methods, not science.
Over half of my students enter National History Day and/or submit a scholarly history paper to the Concord Review, Long Island Historical Review, New York Irish History, etc. at some point during their two-three years in the program. They all have an opportunity to learn GIS and to work with U.S. federal manuscript census microfilm reels.
I like it (a lot) when my students win awards. But I like it more when they tell me they were better-prepared for college than their peers.
Check back for more stories from the Research Teachers Conference.