Value of Being an Intel STS Finalist Continues After High School
Alice Zhao was the Glenn T. Seaborg Award winner at the Intel Science Talent Search 2010 and also competed in the Intel International Science and Engineering Fair. The Seaborg Award is voted on by the Intel STS finalists, and the winner represents the class by speaking at the awards gala. Alice is currently a sophomore attending Harvard, has an internship with Epic Systems, and recently had the opportunity to participate in a tribute to Sally Ride.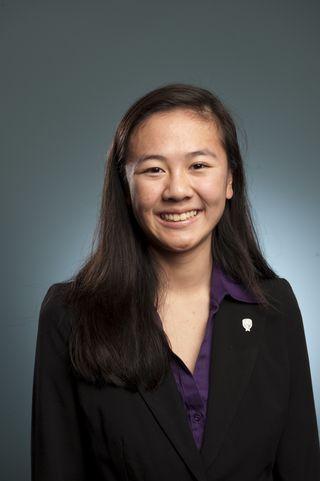 Originally from Sheboygan, Wisconsin, I was an Intel STS finalist and won a 2nd Award in mechanical engineering at the Intel ISEF in 2010. My project was titled "A Novel Heating Method in the Dynamic Spraying of Nanoparticles." Essentially, I heated up air to a high temperature and a high pressure that eventually carried nanoparticles. The purpose of this is to spray these nanoparticles to coat industrial parts.
Many people ask me, as a high school student, why I would decide to do research in engineering rather than biology or physics (topics that students become exposed to in their high school curriculum). I became interested in science at an early age, and engineering more specifically, because of my parents. I thought doing engineering research would be a really good start to getting more involved with science beyond just my high school classes.
If you ask any Intel STS or Intel ISEF finalist, they'll almost always say that the people are the best part of the experience. It's amazing that after just one week of meeting the 39 other Intel STS finalists, I call some of them my best friends. We have reunions over Harvard-Yale weekend. I went to China after my senior year with a bunch of the finalists and casually hang out and work on weekly problem sets with the others at school. During the competition, most finalists did not realize that the Intel STS "brand" continues with them after they graduate high school. The fact that you can say you were among the top 40 high school researchers in the nation carries dramatic weight for future possibilities in lab interviews, internships, and nationwide opportunities in general. I didn't realize that Intel STS and my involvement extended well beyond the week of competition.
During that amazing week filled with delicious food, tons of fun, and incredibly hard interview questions, I was chosen to be the Glenn T. Seaborg Award Winner. During the awards gala, I spoke on behalf of the finalists about scientific opportunity, inquiry, and absolute appreciation for its beauty. Later I found out from Dudley Herschbach [Nobel Laureate and former SSP Board of Trustees Chair] that I would be returning to Washington, DC in late April to represent innovation in science as a Legacy Prize winner for the Creativity Foundation. Unknowingly by winning the Seaborg award, I was able to meet past and future award winners as well, since I was asked to present the Legacy Prize to the Seaborg award recipients for the past two years. Connection among Intel STS classes is generally rare unless other finalists attend the same college or participate in similar programs. Nonetheless, there's an instant bond between other finalists regardless of year.
This past year, I also returned to Washington, DC a second time. SSP and Intel contacted me about speaking at Sally Ride's National Tribute on scientific achievement, particularly from a female perspective. At the time, it seemed random to pick me to speak at this event since I didn't know much about Sally Ride and wasn't very familiar with space exploration. At the tribute, however, I realized that it was not only a tribute to Sally Ride and her accomplishments but also a celebration of other "firsts" as women. I was told before the event that my speech should offer the perspective of high school and college women in science. As the first female winner of the Seaborg award, I realized that being a "first" was less impressive than what came as a result of it. Through the Creativity Foundation, I met the two most recent Seaborg winners and spoke about my experiences there in my speech for Sally Ride. It read:
Including myself, 3 out of the last 4 Seaborg winners were female. Just this little fact, I believe, is an indication of Sally Ride's lasting significance on science education and is inspiring of what is yet to come.
Even though it took so long to have a female Seaborg winner, it is energizing to know that, immediately after, the supposed "glass ceiling" completely shattered.
Currently I'm writing this post at my desk in Madison, Wisconsin during my summer internship at Epic Systems as a software development intern. It's nice to be back in my home state after being away for school. Interning in Madison is the perfect balance of being near home if I need anything, yet not living with my parents the entire summer. I chose to accept the Epic offer (the use of the word "epic" will likely be ruined for me after this summer) not because I'm a coding genius but because when I was being treated for Hodgkin's, the doctors and nurses used Epic software. It seemed like an excellent way to give back and have the greatest possible impact I could on the healthcare industry given the fact that my background is not in healthcare, biology or chemistry. As a result, my project focuses more on user interface and analytical components.
Overall, I think participating in Intel STS and being a Seaborg winner has taught me to pursue things that I enjoy, regardless of obstacles. Back in high school, my academic interests were in mechanical engineering, yet I really enjoyed public speaking. In college, I translated that experience to speaking at even larger venues and trying to meet as many people as I possibly can. Even though my academic pursuit changed to statistics, I still apply that innate scientific inquiry.
Here's some advice to students interested in participating in some of SSP's programs: I say go for it. It sounds cheesy but doing what you love is the best advice I can give to those who are thinking about applying for Intel STS and those who are just interested in science in general. You have nothing to lose and so much to gain. I was always interested in science but being chosen as an Intel STS finalist and a Seaborg winner really was the start of all the other cool opportunities that I have been able to experience since then. So…. decide to do what you love even earlier!