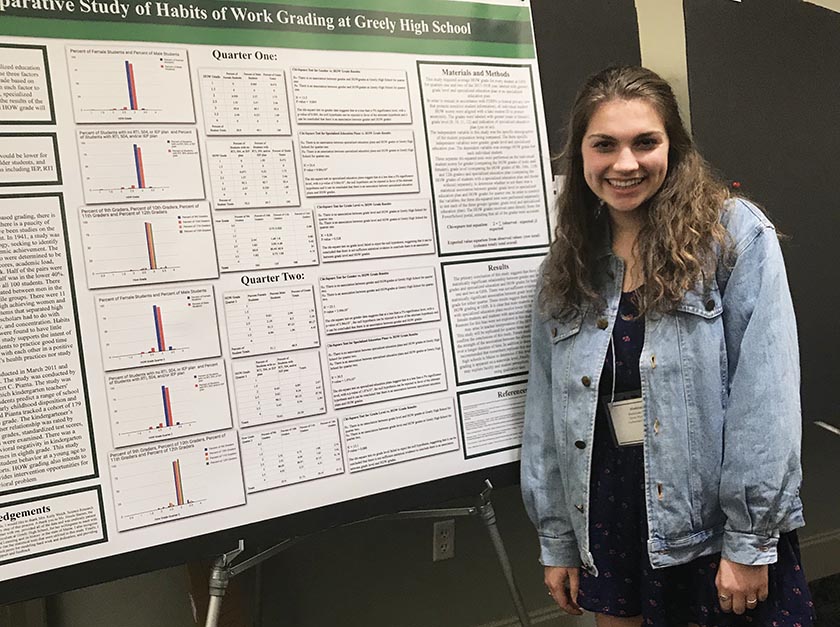 When students complete their work in school, they expect to receive fair grades. But that's not always the case, according to Madelaine Panici, a high school student at Greely High School in North Yarmouth, Maine.
The state of Maine recently implemented proficiency-based learning (PBL), which includes Habits of Work (HOW) grading and reporting. Under this system, schools are able to create their own grading rubrics, based on a model published by the Portland nonprofit organization Great School's Partnership. The primary goals of PBL is to produce grades that more accurately reflect a student's learning progress and achievement.
Madelaine met with the school district's Data Specialist, Nicole Barnes, and received spreadsheets for Greely High School's HOW grades for two quarters. These included raw grades for 635 students for Q1 and 626 students for Q2. These were categorized by gender, grade level, and specialized education plans.
"Greely's rubric was implemented quickly due to a Department of Education decision, and I was curious if it was doing its intended duty in a fair way for all students," Madelaine explained.
Science fairs are inspiring forums that combine celebration, appreciation, and new learning.
She ran chi-square tests on three separate variables, to determine the relationship between a student's gender, grade level, education plan, and HOW grade. The statistical analysis Madelaine ran determined if there was a statistically significant association between variables from the same population. "I compared the gender of the student to their HOW grades, if a student was on a Individualized Education Plan (IEP) or not, as well as their grade level," she explained.
Madelaine found statistically significant associations in the data — male HOW grades were lower than female HOW grades. Moreover, students with specialized education plans received lower HOW grades than those without these plans. The HOW grades ranged from 1 (lowest score; does not meet standards) to 4 (highest score; exceeds standards).
After assessing the results, Madelaine believes the rubric itself has inherent bias.
"The data indicates that there is teacher bias in the assessment of students using the current HOW grading rubric," she said. "Female students have statistically higher HOW grades than male students. And students with IEP, 504, or Response-to-Intervention methodology (RTI) programs had statistically lower HOW grades than students without these plans. There should be more work on the rubric or in professional development of teachers so they can assess these standards in a less biased way." (Formal plans called 504's are developed by schools to offer students with disabilities the support they need — they are covered under Section 504 of the Rehabilitation Act, which is a civil rights law. RTI is a methodology where public schools have a continuum of services for students who struggle with regular curriculum.)
Madelaine's goal was to conduct thorough research and provide evidence for potentially flawed grading practices. Now she has.
"This study will provide information to administrators regarding potential bias in current grading," said Madelaine.
There may be teacher bias in interpretation of the HOW rubric.
Her research was selected by her local science fair for recognition as a Society for Science & the Public Community Innovation Award winner. This award honors students participating in science fairs around the world who are making a difference in their communities. In 2018, the Society awarded 24 young scientists with $500 prizes — and Madelaine was one of them.
Madelaine's love of research stems from her participation in science competitions, through which her work has now been recognized with this Community Innovation Award. "Science fairs and competitions are a way to celebrate research," she said. "They're a way for scientific minds to gather together and learn about new technologies and findings. They're inspiring forums that combine celebration, appreciation, and new learning."