Top reasons to enter Regeneron STS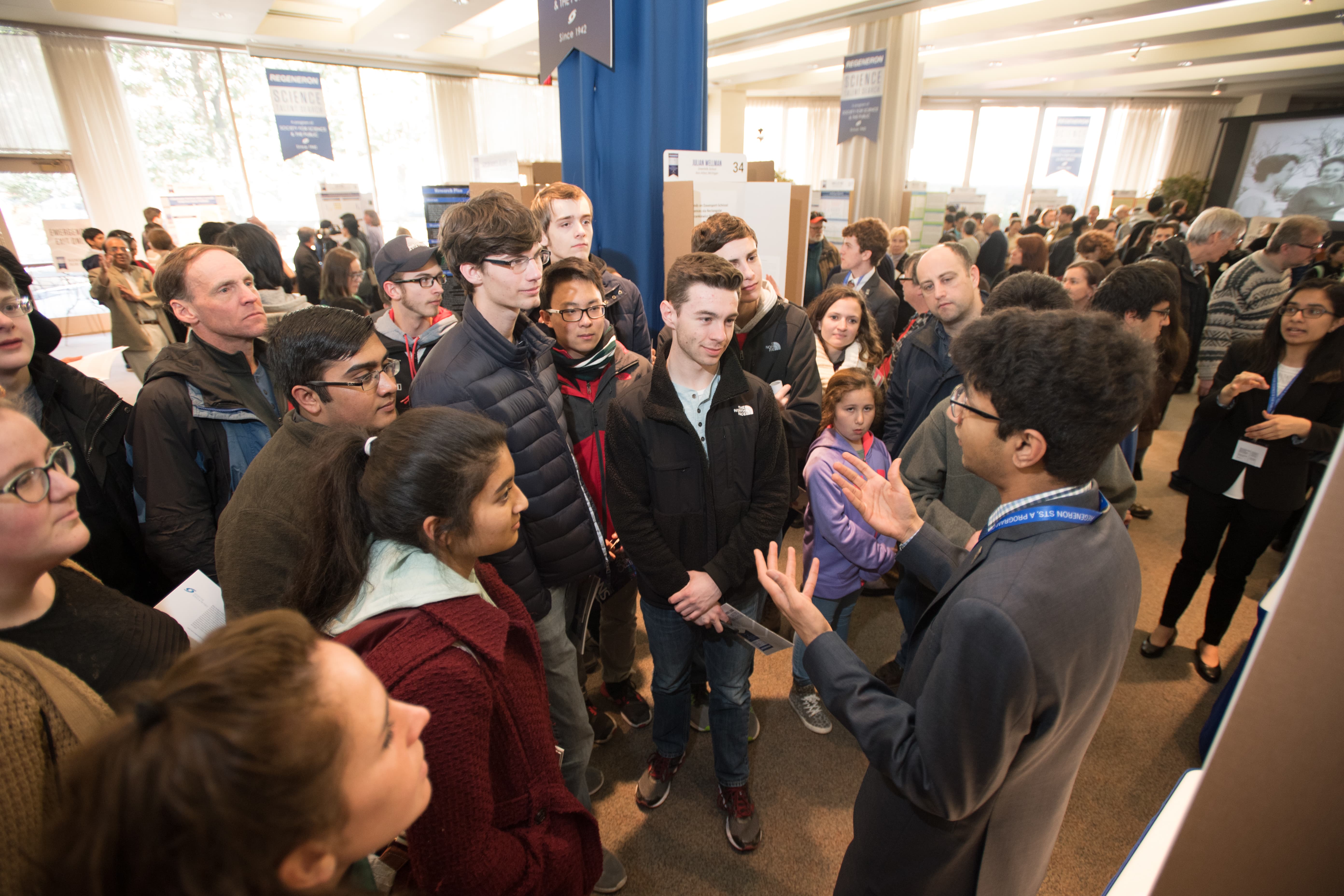 The Regeneron Science Talent Search gives students like you a chance to gain recognition for your scientific achievements and a chance to win big awards. The top 40 finalists in this competition are guaranteed to win $25,000. And the top 10 winners, will have a chance to win prizes ranging from $40,000 to $250,000. Besides this draw, there are many reasons why entering the Regeneron Science Talent Search (STS), the nation's oldest and most prestigious science and math competition for high school seniors, is worth your time. Here are just a few of the reasons why this STEM competition may be for you.
A chance to make new friends that will last a lifetime…
From the entry pool, 40 finalists are invited to compete at the final competition in Washington, DC each year. These students will have an incredible opportunity to come to the STS to showcase their talent and knowledge, leaving an indelible impact on their lives and friendships that will last a lifetime.
Steven Elliott from Parker, Texas, is an STS 2017 finalist who now attends Harvard. He has many classmates who were also finalists in the competition. "I made a lot of good friends at Regeneron actually. We still keep in touch," said Steven. A lot of us are going to the same colleges. I know several who go to Harvard and are still continuing with their research. The Regeneron alumni network really runs far, which is awesome."
Brandon Cui, a STS 2015 finalist from Midvale, Utah, had a similar experience. "STS gave me a community that I've gone back to a lot," said Brandon. "I've actually been roommates with a friend from STS for the last 3 years. It's so great able to stay in touch with an awesome community."
A chance to make valuable professional connections…
As a young person, it is important to meet people willing to share their experiences and to act as a resource and mentor. Networking is essential for a scientist's future career. Even if an individual has grand ideas, they may not always be able to implement them without invaluable resources such as a team or a lab. To the enterprising, these connections may be established through the competition.
"My favorite unexpected memory and good example of this was our first evening after dinner," said 2017 finalist Ethan Novek, Greenwich, Connecticut, on his networking experience. "The Regeneron co-founder, George Yancopolous, blended in and we found ourselves talking about global drug pricing, USA healthcare costs, and corporate taxes—just shooting the breeze."
From Nobel laureate-headed panel discussions to excursions to leading research institutions (the 2017 alumni took a trip to the NIH) there are many resources to be taken advantage of at the STS. "I think finding a support network and strong mentorship is a big part of why I'm here today," said Brandon Cui. "I think this comes down to someone who can provide insight into the field, take time out of their day to help you and encourage you to pursue what you want to do. There are a number of such people to connect with at STS."
A chance to grow and learn with like-minded individuals…
One of the main benefits of Regeneron STS is that everyone is just as invested in science as everyone else. One thing the finalists have in common is that they are thrilled to meet other students with similar passions for innovation and discovery. "To be around others my age who were doing such impressive work, who worked on graduate level scientific research, and to be able to participate in a once-in-a-lifetime competition like Regeneron was quite an experience," said Ethan.
Regeneron STS can be used as a platform to learn from those who are conducting the same research as you are. It can also build friendly rivalries and present opportunities to learn from each other.
"As a child I would build different models and inventions," said Steven Elliott. "I'm most proud of what I made for Regeneron—making quadcopters more stable with a thrust control system that makes it easier to fly. It was really important to discuss new ideas and see what everyone else was doing engineering-wise. The STS was the culmination of my lifetime of engineering experience."
A chance to explore a new city…
The top 40 STS finalists will be given a chance to travel to D.C. and explore a town full of historic landmarks and attractions. The Regeneron STS isn't all work. There are plenty of opportunities for contestants to explore all that Washington D.C. has to offer. From the Tidal Basin to the Exorcist stairs there's plenty to see and plenty of potential friends to go see it with.
Clare Zhu, Irvine, California, a 2016 STS finalist, had the opportunity to take a trip with a group of finalists through the D.C. area.
"I'd gathered a group of friends I met at the competition and we took a small trip around Dupont Circle and other areas close by where we were staying." She said. "I even make plans to head to specific landmarks whenever I'm in the area now—D.C. will always have a place in my heart."