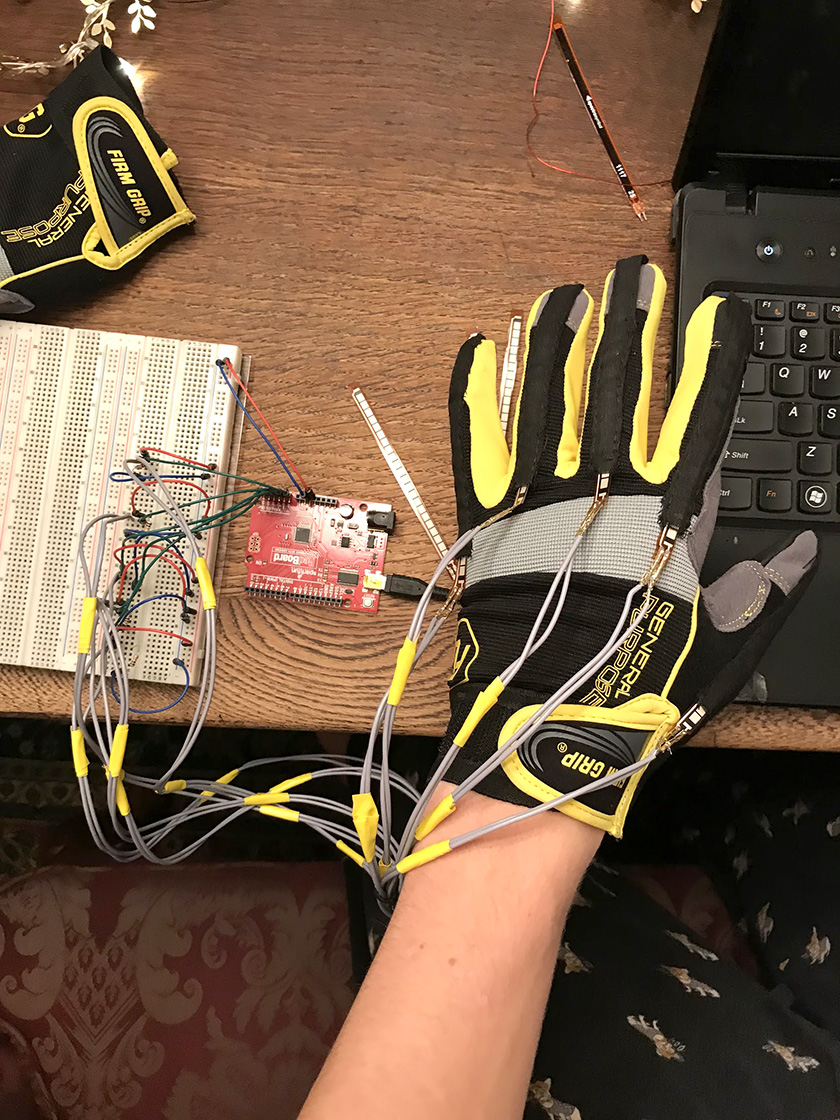 Sign language is invaluable to those who are D/deaf and hard of hearing ("big d" deaf describes people who identify themselves with the deaf culture and are sign language users, and "little d" deaf describes people who face hearing loss but whose first language is English, and may have the option to lip-read or use hearing aids). But not everyone knows sign language. So Ethan Damiani, a high school student in Atlanta, Georgia designed wearable technology that has the intelligence to not only read hand motions, but also convert them into computer text. "I successfully translated American Sign Language (ASL) into English," he said.
Ethan embedded sensors into a glove, which monitor and detect the ways a person's hand moves. He then wrote a computer program to translate different gestures into English. "I programmed this into open source Arduino, and made the flex sensors and triple axis accelerometers Bluetooth-compatible," he explained. "The sensors send data to the computer, which analyzes it in open code and translates the blocks of data into letters, numbers, words, and even some personalized phrases." His current design computes multiple analog signals from ASL into English.
Many people in the D/deaf community face alienation and discrimination, Ethan explained. "This has left people with hearing disabilities feeling isolated from the rest of society and unable to interact with others," he said. "I wanted to bridge this language gap and provide the D/deaf community with an affordable technology that would allow easy social interaction. I wanted to help integrate the D/deaf community with the rest of society."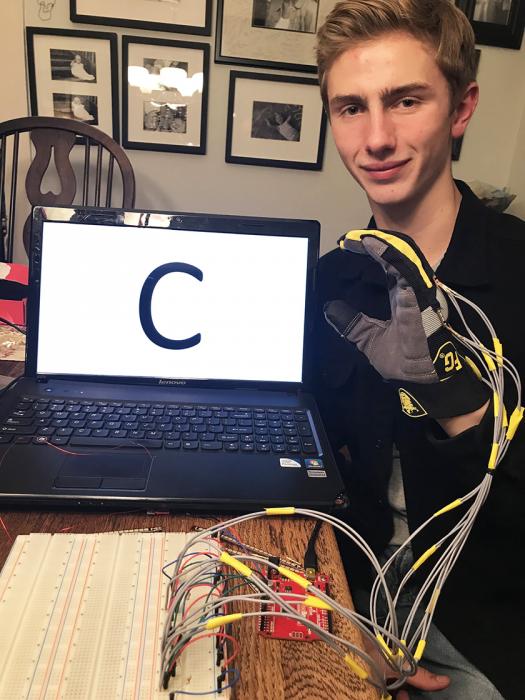 Ethan's impact in the deaf and hard of hearing community was noticed by the Society for Science & the Public. His work was selected by his local science fair for recognition as a Society for Science & the Public Community Innovation Award winner. This award honors students participating in science fairs around the world who are making a difference in their communities. In 2018, the Society has selected 20 young scientists from around the world with $500 prizes — and Ethan was one of them.
"To be recognized in science as working to benefit the community was one of the greatest awards I could ever ask for," Ethan said. "This innovation can have a huge impact on society. It's driven me to continue innovating to help others from every background."
In the future, Ethan is interested in electrical engineering and building complex circuits, "just for the fun of it." He plans to pursue a master's degree in psychology and a Ph.D. in electrical engineering.
Ethan encourages others interested in STEM to not "… kick out any of your craziest ideas. A lot of times, those have the most potential. Don't let them scare you because they would be 'too hard.'"
Check back for more blog posts from other Community Innovation Award winners from this year.