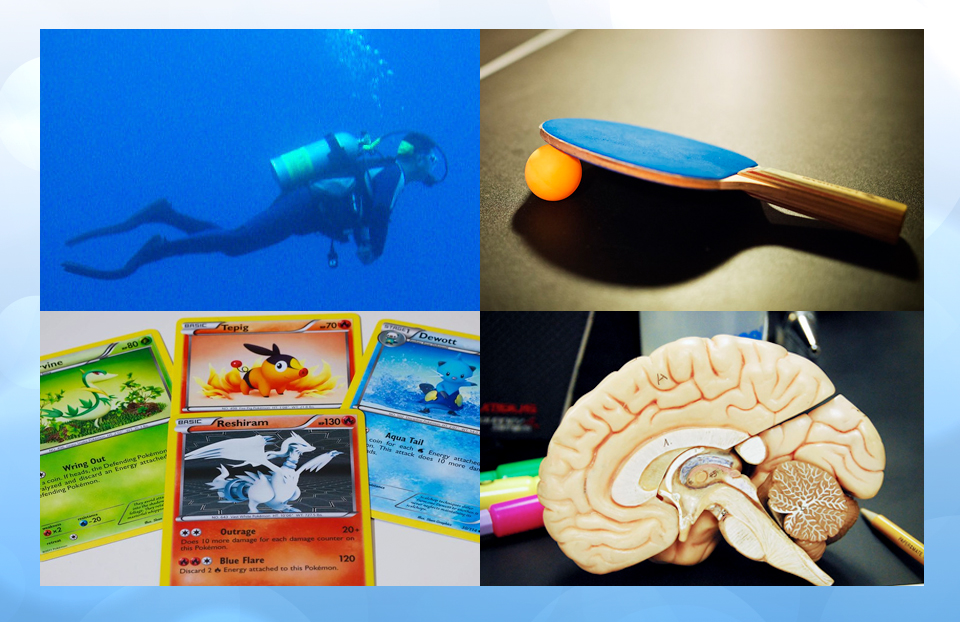 The 2023 class of Regeneron Science Talent Search scholars know how to persevere through challenges, whether in the classroom or the lab. They also know how to let loose and have fun! Selected from 1,949 applicants and representing 194 high schools, the top 300 scholars are ready to take STEM by storm. With research areas ranging from materials science to molecular biology and neuroscience, it's no surprise that these scholars' interests and hobbies are equally as diverse.
For many scholars, spending time in the water, whether swimming, scuba diving or rowing, is their favorite way to decompress. One student even got their boating license before their driver's license.
In addition to English, these scholars can speak a variety of languages including Korean, Italian and Burmese.

Whether it's writing for their school's satire newspaper, performing standup comedy or executing an elaborate prank, several scholars find joy in making others laugh.
You may have seen some of these scholars on your TV screen. For instance, one scholar was on a Lifetime show called "Child Genius" and the Disney+ show "Shop Class," while another flexed her table tennis skills in a Dick's Sporting Goods commercial.
Speaking of table tennis, during a coronavirus pandemic quarantine, one scholar built a table tennis robot from scratch that shoots out balls at a maximum speed of one ball per second!
Many of the scholars in this year's class are also musically talented. Playing instruments ranging from violin to electric guitar, these scholars immerse themselves in K-pop (Korean popular music) and classical music. Some have even written STEM-themed songs.
Inspired by his love of playing Pokémon, one scholar has developed and published four distinct games of his own and started the Young Game Developers Association, a community for young developers interested in all kinds of game creation.
Math gets one student out of bed every morning, literally. Her alarm doesn't stop until she has solved three math problems while racing a 10 second timer for each problem. She says the adrenaline helps wake her up.
Stay tuned for the finalist announcement on January 24, at noon ET, when 40 of the 300 scholars will be named Regeneron STS 2023 finalists. The finalists will compete in Washington, D.C. from March 9-15 for more than $1.8 million in awards.