The 2019 Regeneron Science Talent Search finalists
Forty of the nation's most brilliant young scientists named finalists in Regeneron Science Talent Search.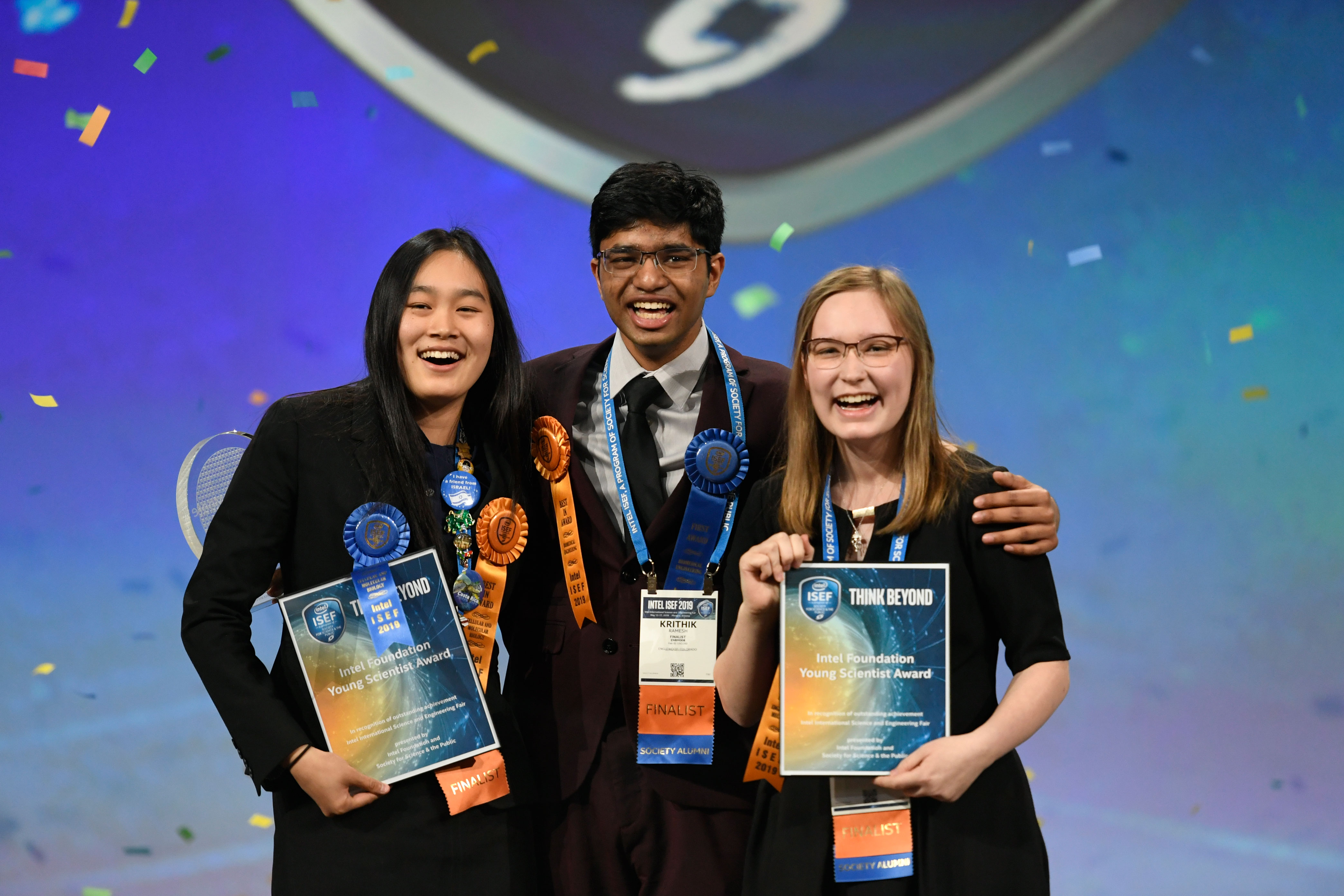 On January 9, Society for Science & the Public and Regeneron announced the 300 students named as Scholars. Each scholar and their school were awarded $2,000. From that select pool, 40 finalists are then invited to Washington, D.C. in March to undergo final judging, display their work to the public, meet with notable scientists, and compete for $1.8 million in awards. Each finalist will receive a minimum $25,000 award, with a top award of $250,000.
Alag, Ayush
The Harker School, San Jose, CA
Computational DNA Methylation Analysis of Food Allergy Yields Novel 13-gene Signature to Diagnose Clinical Reactivity
Ardeishar, Adam
Thomas Jefferson High School for Science and Technology, Alexandria, VA
Extreme Values of a Statistical Distribution Relating to the Coupon Collector Problem
Beaumont, Carolyn
Potomac School, McLean, VA
New Analysis Reevaluates the Effect of Water on Silicate Melt Structures by Comparing FTIR and NMR Spectra of Water Interactions with Melts of Albite under Conditions Mimicking the Upper Mantle
Cai, Grace
Montgomery Blair High School, Silver Spring, MD
An Urgency Dependent Quorum Sensing Algorithm for N-Site Selection in Autonomous Swarms
Chadha, Anjali
duPont Manual Magnet High School, Louisville, KY
Development of a Fully Automated 3D Printed IoT Sensor for Arsenic Detection in Groundwater
Co Ting Keh, Lyron
Crescenta Valley High School, La Crescenta, CA
HICCUP: A Novel Hierarchical Machine Learning Model for Cancer of Unknown Primary Classification
Ferguson, Samuel
West Windsor-Plainsboro High School, South Princeton Junction, NJ
Design Study of a Blended Wing Body Aircraft
Huang, Vincent
Plano West Senior High School, Plano, TX
Modeling Refugee Migration: Mathematical and Algorithmic Models of Refugee Crises
Humphrey, Ana
T. C. Williams High School, Alexandria, VA
Finding Exoplanets by Assessing the Dynamical Packing of Kepler Multi-Candidate Systems
Jain, Navami
North Carolina School of Science and Mathematics, Durham, NC
Development of Integrated Ionic Liquid System for Simultaneous Pretreatment and Biomass Saccharification of Fermentable Sugars
Karan, Aayush
University School of Milwaukee, Milwaukee, WI
Generating Set for Nonzero Determinant Links Under a Skein Relation
Karthik, Ananya
St. Francis High School, Mountain View, CA
Ultrasonic Drug Uncaging from Polymeric Perfluoropentane Nanoparticles
Krishnamani, Preeti
Charter School of Wilmington, Wilmington, DE
Effects of Silicon Amendments on the Concentration and Adsorption Properties of Iron-Oxides in Rice Paddy Soils
Kumar, Chirag
Horace Greeley High School, Chappaqua, NY
A Machine Learning Approach to Estimating the Error in Satellite Sea Surface Temperature Measurements
Kumar, Varun
Bergen County Academies, Hackensack, NJ
Dihydrotanshinone: A Pan-Therapeutic Treatment for Chemoresistance in Cancer
Lam, Thomas
Syosset High School, Syosset, NY
The Number Rotation Puzzle
Liu, Gabrielle
Ravenwood High School, Brentwood, TN
Weight Friction: A Simple Method to Overcome Catastrophic Forgetting and Enable Transfer Learning in Neural Networks
Maheshwari, Eish
Herricks High School, New Hyde Park, NY
Design of a Red Blood Cell-Based Drug-Delivery Platform for Improving Curcumin Pharmacokinetics and Bioavailability via Reengineered Silica Nanoparticles
Mamidala, Sai
Garnet Valley High School, Glen Mills, PA
Electrochemical Oxidation of Formate on a PdNi/C Nanoparticle Catalyst for Renewable Energy Conversion and Storage
Maniar, Natasha
The Harker School, San Jose, CA
MapAF: Deep Learning to Improve Therapy of Complex Human Heart Rhythm Abnormalities
Milford, Braden
Cascia Hall Preparatory School, Tulsa, OK
Developing a Novel Heavy Metal Bioremediation System Utilizing Immobilized Mixed Alage Partnered with Heavy Metal Resistant Microbial Isolates Collected from Contaminated Superfund Mine Sites and Identified with a 16S Ribosomal Subunit Analysis
Montgomery, Emma
Ossining High School, Ossining, NY
Improved Base Editors and a Novel Sensor Assay Advance Gene Editing Technology
Perez, Ahmad
Brentwood High School – Sonderling Center, Brentwood, NY
Assessing Marsh Degradation in Two Long Island Salt Marshes and a Method for Restoration
Perlman, Brent
Byram Hills High School, Armonk, NY
Human photosynthesis: Functional chloroplast sequestration in human mesenchymal stem cells
Qian, Kevin
Montgomery Blair High School, Silver Spring, MD
Heisenberg-Scaling Measurement Protocol for Analytic Functions with Quantum Sensor Networks
Roy, Ronak
Canyon Crest Academy, San Diego, CA
Smartphone-Controlled Portable Phoropter Powered by Variable Focal Length Liquid Lens
Saxena, Eshika
Interlake High School, Bellevue, WA
HemaCam: A Computer Vision-Enhanced Mobile Phone Imaging System for Automated Screening of Hematological Diseases with Convolutional Neural Networks
Sayana, Ruhi
The Harker School, San Jose, CA
Precision Care for Leukemia: Discovery of Novel Therapeutics for High-Risk ALL via Epigenetic and Computational Transcriptome Profiling
Schäffer, Daniel
Montgomery Blair High School, Silver Spring, MD
Evolutionary Origins of Animal ER Calcium Signaling and a Proposed Role for the Channelopathy Protein Wolframin
Schiavo, Justin
Roslyn High School, Roslyn Heights, NY
The Effect of the Aerospike Nozzle on the Hybrid Rocket Engine
Seevers, Rachel
Paul Laurence Dunbar High School, Lexington, KY
The Virtual Winglet: A Novel Approach to Boundary Layer Manipulation and Wingtip Vortex Suppression
Singh, Aditi
Horace Greeley High School, Chappaqua, NY
Descriptive and normative accounts of color localization performance in visual short-term memory
Singh, Amol
Lynbrook High School, San Jose, CA
STAC-STIC: Novel Computational Pipeline to Generate Digital Super-Resolution Static Representations of Pathology Slides
Situ, Julia
Canyon Crest Academy, San Diego, CA
Identification and Functional Characterization of Circular RNAs in Drosophila Innate Immunity
Subramanian, Madhav
Jericho Senior High School, Jericho, NY
ETM* is indispensable to endothelial behaviour during tumor angiogenesis
Wang, William
Oklahoma School of Science & Mathematics, Oklahoma City, OK
Red photoluminescent Eu3+-doped Y2O3 nanospheres and nanosheets as photon down-converters for LED-phosphor applications: Synthesis and characterization
Weiss, Zoe
Lakeside High School, Atlanta, GA
New Cell Type Detection via a Universal Single-Cell Gene Expression Algorithm
Weissman, Samuel
Harriton High School of Lower Merion, Rosemont, PA
Massive Longitudinal HIV Sequencing in Two Subjects on Antiretroviral Therapy Reveals Opposing Selection Pressures on the Treatment Resistant Reservoir and Suggests New Drug Targets
Xu, Frank
Brookline High School, Brookline, MA
A unique metalloproteinase complex: ADAM10-MMP14
Yang, Madeleine
Detroit Country Day School, Beverly Hills, MI
Enabling M2-incorporated Influenza Virus-like Particles (VLPs) as a Potential Universal Influenza Vaccine