Teacher Appreciation Week: supporting students to reach new heights in STEM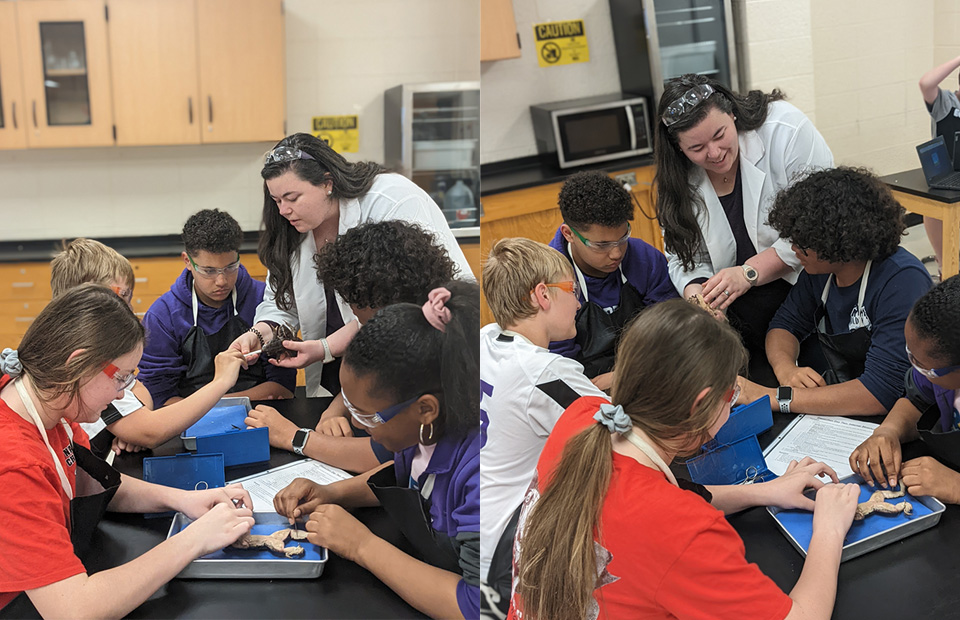 The Coronavirus pandemic brought new challenges to everyone, especially teachers as they shifted to distance and hybrid learning, faced budget cuts and navigated a new "normal." Ahead of National Teacher Appreciation Week, which is the first week of May in the U.S., President Biden issued a proclamation in support of educators, stating, "Our Nation's teachers are selfless, dedicated, and caring individuals who devote themselves to the well-being and progress of our students." As the week wraps up, the Society for Science wanted to highlight a teacher who is doing just that, and going above and beyond for her students, despite any obstacle that may arise.
ScottiAnn Benton, a 7th grade biology teacher in Jasper County, Georgia, is a Society for Science Lead Advocate and says, "Adults can often mislabel students as lazy or lacking motivation. So many of our underserved students are working as hard as they can, overcoming unknown obstacles at school and at home." "When they are given even the smallest amount of support to do something for themselves, they not only rise to the occasion, but are empowered by the experience."
In her seventh year of teaching, ScottiAnn wears many hats. Inspired by her mentor teacher and fellow advocate, Elizabeth Proctor, she saw firsthand the impact advocacy and the Society for Science were having on students and the community. For ScottiAnn, joining the Advocate Program was a life-changing experience. As a Lead Advocate, she works to get underserved students involved in science competitions and independent research. The program provides her with training, stipends and year-round support so she can provide her students with exposure to the world around them. Advocates receive training and support from Society staff and a paid trip to Washington, D.C., to meet at a weekend-long convention.
Because of the pandemic, ScottiAnn's "Science Fair Academy," which is an independent research course, and other after school programs were eliminated due to safety precautions. Determined to expand student participation in science competitions, she pivoted to the students in her Gifted Biology course. "One of my keys to recruitment has always been, 'I have to compete,'" ScottiAnn explains. "Ultimately, independent research must appeal to these students the way a club or sport may appeal to other students."
In addition to expanding student participation in science competitions, ScottiAnn supports collaboration between her students and those in Elizabeth's biotechnology class at Jasper County High School. This allows her students to work with biotech students in the lab and gives them priority during freshman class registration. Since ScottiAnn implemented this collaboration for her Science Fair Academy students, the biotech program is in high demand and has grown from one to three classes, totaling 90 students in the program. "The underlying goal is always to impact and support as many students as possible," ScottiAnn says. "As simple as it sounds, research competitions provide Jasper County students with exposure to the world around them."
With the work she is doing in the Advocate Program, ScottiAnn says more parents have noticed her work and have been seeking her out to be their child's teacher. "They have older children who were not involved in independent research, and they want to make certain their younger students are plugged in," she explains. "I know I would be supporting these students regardless of the Advocate Program, but the Society for Science made my program an investment."
"The blessings I have received from being a Lead Advocate can't be put into words," says ScottiAnn. "Being able to connect with individuals from across our great nation who share my passions and level of commitment has been a critical support piece in my life."
For anyone who is interested in becoming an Advocate, but is feeling hesitant, ScottiAnn understands it can seem overwhelming. "If you are apprehensive about joining this program it is most likely because you feel like you couldn't possibly juggle one more thing. I want to tell you that as an Advocate for Society for Science, you won't be adding something else to the mix," she explains. "Instead, that juggling act will begin to feel a whole lot easier. Now, there will be an entire cohort of people supporting you, who are ready to jump in when you need a hand!"
Here at the Society, we're proud to partner with passionate educators like ScottiAnn and all of her fellow Advocates as they support the next generation of diverse STEM students, leaders and teachers.