'STEM is the great equalizer'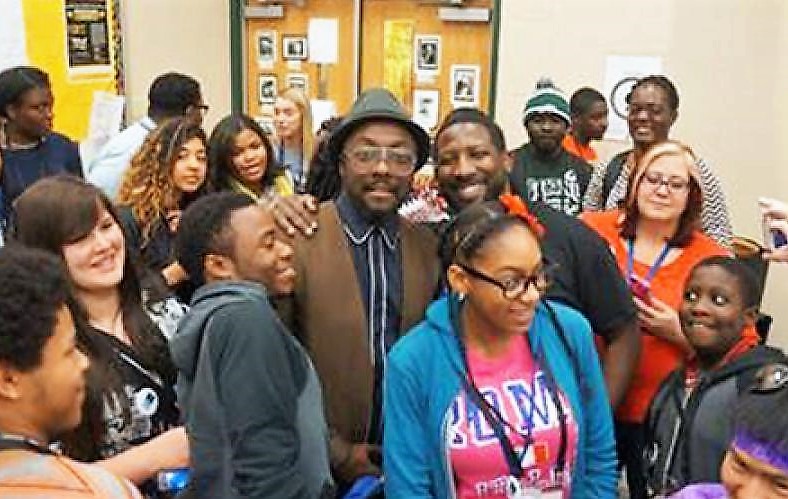 When your town makes national headlines for a tragic event, it can be difficult to stay positive. Nevertheless, Albert Harrold, a science teacher at McCluer South-Berkeley High School in Ferguson, Missouri, is encouraging his students to dwell on the positives and focus on what they can do to make the world a better place.
Albert believes this is possible with STEM. Traditionally, the perception at McCluer High School has been that for students to be successful, they need to play a professional sport, or win the lottery, Albert said. Instead, he wants to show his students that there are many paths to success, and that STEM is one of them.
With a desire to bring fresh ideas to the classroom, Albert applied to attend the Research Teachers Conference in Washington, D.C., sponsored by Regeneron. He was selected to attend the conference, and returned home to Ferguson completely reinvigorated to continue inspiring his students with STEM.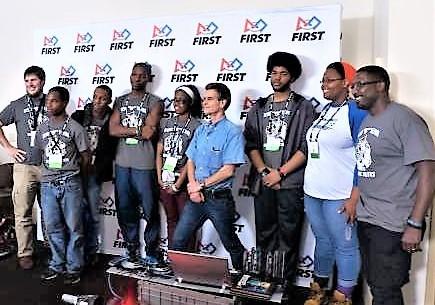 Albert was born and raised in Ferguson and teaches physical science and physical systems. He formerly coached the school's wrestling team and now coaches the robotics team. He is passionate about helping his students rise above obstacles, using science to enable them to compete with the rest of the world.
After the August 2014 shooting of unarmed teenager Michael Brown, Ferguson was plagued with violent protests and riots. Albert felt personally affected by the events.
"The mayor and I wrestled on the same team. When the unrest happened, it hit really close to home. Michael Brown could have been one of the wrestlers on my team," he said. "In light of the tragedy, I want to focus and empower our youth to let them know that they can be the change in the world."
After the shooting, will.i.am, an American musician (founder of the hip-hop group The Black Eyed Peas), entrepreneur, actor, and proponent for youth STEM education and access, announced that he would help fund FIRST Robotics teams at schools in Ferguson and sponsor Albert's team. The interest level was very high, but Albert says it can still be difficult attracting new students to join.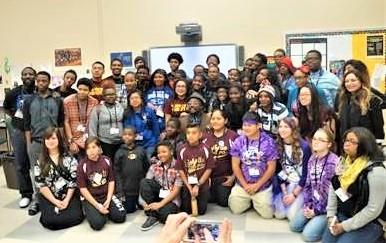 "I'm still competing with the hoop dreams and the NFL," Albert said. "I want to show my students there is more than just sports. With STEM, you can increase your odds. Even in the classroom, I am always trying to dispel these myths that they are all going to go to the NBA."
According to Albert, many of the kids that have participated in the robotics team have gone on to pursue STEM careers and are doing well, majoring in things like computer science. He is proud of the meaningful connections students have made with mentors through the robotics club, who have encouraged the pursuit of STEM fields.
---
Sign up to be notified when when the lottery opens for the 2018 Researh Teachers Conference.
---
"Not every student in my class is an athlete, but we need to offer every student something they can pursue that will make them successful," Albert said. In 1848, pioneering American educator Horace Mann stated that, "Education then, beyond all other devices of human origin, is a great equalizer of the conditions of men — the balance wheel of the social machinery." Similarly, Albert believes that, "STEM is the great equalizer."
"After you have taught at a place for so long, you get into a certain routine, doing the same activities. I was looking for something fresh — something new to bring to my classroom, something to inspire the kids. I wanted an opportunity to change their lives for the better," Albert said. "The Research Teachers Conference was an awesome opportunity to get some fresh ideas. I was ecstatic that I was selected and was so happy to experience it."
Not every student in my class is an athlete, but we need to offer every student something they can pursue that will make them successful.
Albert is especially looking forward to guiding his students in research projects, working toward a goal of helping them apply for the Regeneron Science Talent Search.
"I can't wait to get those first kids to compete and submit a research project, and to see their growth in it," he said.
Albert says he used to want to be a doctor, but thinks that being a teacher is the next best thing.
"You can help people think differently and become better people. It's not just about science, it's about teaching the students to be good people and giving them options," he said. "There is so much potential in this community, we just have to unlock it. I am one of those catalysts to unlock that potential."
It's not just about science, it's about teaching the students to be good people and giving them options.
He has unlocked potential in students like Melvin Gregg, whose lives he changed for the better because of STEM and robotics.
"Melvin had me in tears at graduation. When he graduated, Melvin said, 'Thank you so much for starting the robotics team. I don't know what I would have done. Thank you so much for providing that opportunity.' That right there stuck with me. It still sticks with me," Albert said.