Society remembers Robert Fri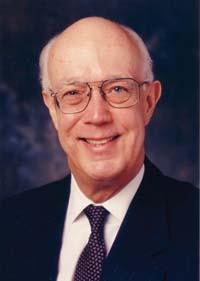 Society for Science & the Public joins the scientific community in mourning the recent passing of Robert Fri, a member of the Society Board of Trustees from 1989-2010. In his more than 20-year tenure on the Board, he was a tireless force in supporting the Society through many changes, including exponential growth of our educational competitions; the launch of Science News for Students, a free online publication for students, educators, and parents; dramatic changes in the publishing landscape, and much more.
Most recently, as the emeritus director of the Smithsonian's National Museum of Natural History, he helped secure the use of Q?rius, an interactive and experimental learning space at the Museum, for the Broadcom MASTERS Science and Engineering Project Showcase.
"Bob was a true leader of the Society, serving for 22 years as a Trustee," said Maya Ajmera. "He believed in sharing the beauty and importance of science with the general public, and worked toward that goal endlessly. Even after retiring from the Board, he remained devoted to the Society's mission and served as a valuable resource. The Society misses him greatly."
In addition to his role on Society's Board of Trustees, Fri also served as deputy administrator of both the Environmental Protection Agency and the Energy Research and Development Administration, director of Transco Energy Company and the American Electric Power Company, and president of Resources for the Future.
Related Links:
Dudley Herschbach and Robert Fri Recognized for Longtime Board Leadership