Society provides grants to innovative STEM organizations, science research teachers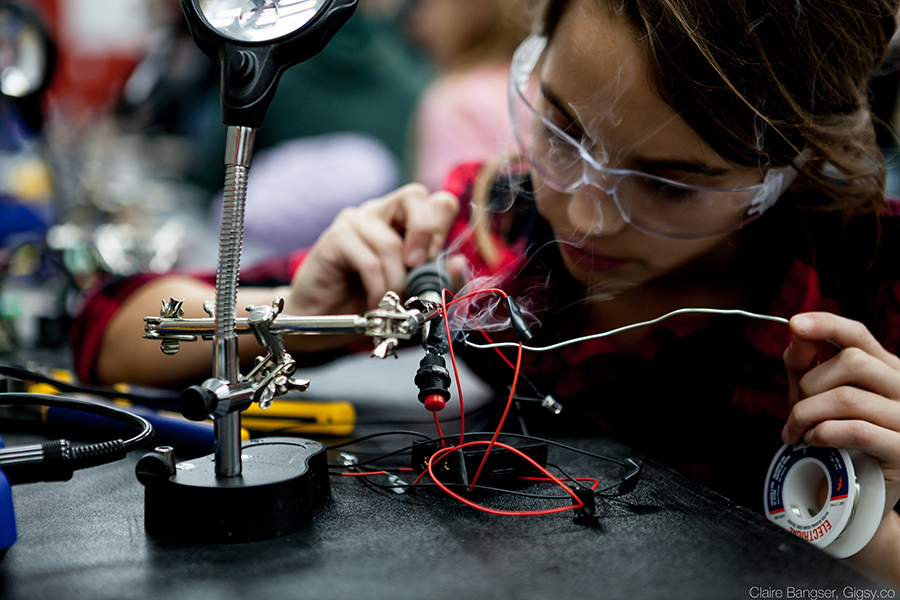 The Society for Science & the Public is committed to encouraging all young people into STEM fields and careers. As a part of this pursuit, the Society is providing $120,000 in grants to five innovative organizations supporting community-based STEM projects and 23 science research programs to purchase much-needed equipment for teachers across the country. In total, $20,000 will be distributed to the nonprofit organizations, while $100,000 will go to teachers.
Through the STEM Action & Research Grant Program, the Society aims to fund cutting-edge, mission-driven organizations and support teachers who are leading students in authentic STEM research projects.
"It is more important than ever that we recognize and support grassroots organizations using creative approaches to extend and enhance STEM education for young people. Likewise, I'm thrilled that the Society for Science & the Public is able to provide exemplary teachers with the tools they need to engage their students in scientific research," said Maya Ajmera, President and CEO of the Society for Science & the Public and Publisher of Science News.
Read more about the organizations and teachers the Society is supporting through these grants.
---
CODeLLA
CODeLLA (Miami, Florida) will receive $5,000 from the Society to support their mission to inspire Hispanic middle school girls to enter STEM fields and provide them with pathways and skill sets to meaningfully engage in a 21st century global economy. The grant will fund podcasting equipment CODeLLA will use to produce weekly STEM news podcasts in Spanish and English by and for the girls and their parents.
CODeLLA introduces girls to innovators and other role models and teaches them how to code, how to build a business, and how to produce events and conferences. The organization provides weekly after-school coding clubs and an eight-week summer immersive coding, digital literacy, and entrepreneurship camp for middle school girls.
---
Electric Girls
Electric Girls (New Orleans, Louisiana) will receive $2,500 from the Society to support the group's mission to transform girls into technology leaders during summer camps, after school programs, in-school programs, one-day workshops, and continuous weekend programs. The funding will be used to purchase materials and pay instructors to teach circuit building at four after-school sites in New Orleans during Fall 2017.
"This grant is huge for us," said an Electric Girls spokesperson. "It gives us the opportunity to bring STEM programming to girls who need it most in New Orleans."
Electric Girls teaches girls leadership, electronics, and computer programming skills, and offers space, guidance, and resources to apply these skills. The organization runs summer camps, after-school programs, in-school programs, one-day workshops, and continuous weekend programs for girls between the ages of 5-16. The lessons involve building simple series and parallel circuits, learning to solder and how to use power tools, and programming with Scratch or microcontrollers like the Arduino and Raspberry Pi.
---
---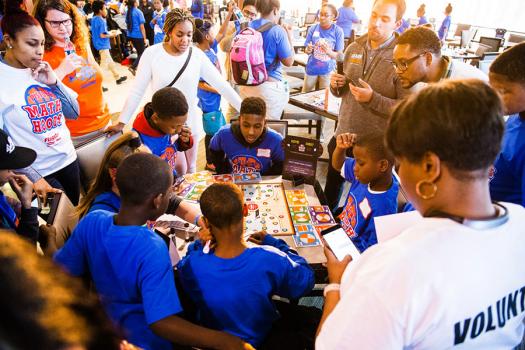 Learn Fresh
Learn Fresh (Denver, Colorado) will receive $5,000 to support its mission of improving student engagement and achievement, particularly low-income students of color, through innovative, fun, and effective educational tools. Learn Fresh's primary program is NBA Math Hoops, a basketball board game and supplemental math curriculum that uses real statistics for basketball players. The funding will support a pilot project that would adapt the NBA Math Hoops board game for football with a game and program called "First and 10." The program is being developed with the help of the Denver Broncos.
"Learn Fresh is excited to partner with Society for Science & the Public to implement an exciting new math education project called First and 10 in Denver, Colorado," said a Learn Fresh spokesperson. "We look forward to working with the Society to bring First and 10 from development to a city-wide program that serves Denver students."
---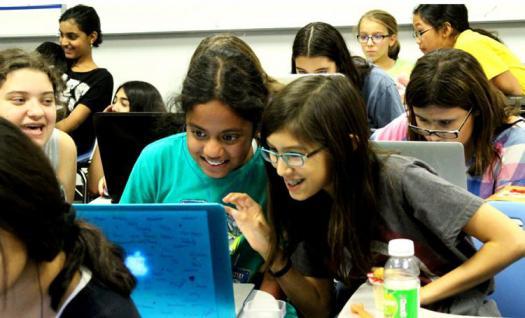 LITAS For Girls
LITAS (Learning Information Technology, Apps, and Software) For Girls (Scottsdale, Arizona) will receive $2,500 to support its mission to guide and inspire middle and high school girls to pursue computer science and STEM careers through incubators that encourage the girls to code with purpose. The funding will support LITAS summer incubators, chapters, and technology showcase. LITAS is led by Anvita Gupta, a 2015 alumna of the Science Talent Search and 2013 alumna of the Intel International Science and Engineering Fair, programs founded and produced by the Society. This is LITAS' second grant.
LITAS has several chapters led by alumni in Phoenix, Arizona, San Jose, California, and Panchkula, India. The week-long summer incubator program reaches students from underprivileged areas and teaches a mix of introductory web development, app programming, and scripting. The students brainstorm projects or products, design a website for it, and then launch. Students have designed a speech therapy app, a website to link battered women with jobs, and a product to reduce carbon dioxide emissions.
"The Society's Action Grant would help us provide students from Homeward Bound, a domestic abuse shelter in Arizona, with more resources, such as transportation, free lunches, and laptops to rent," said Anvita Gupta, LITAS For Girls founder and director.
---
ProjectCSGIRLS
ProjectCSGirls (Potomac Falls, Virginia) will receive $5,000 from the Society to support its mission to close the gender gap in computer science and technology through a national computer science competition for middle school girls. The funding supported a national gala that took place in coordination with the 2017 competition held earlier this month. The organization is headed by Pooja Chandrashekar, a 2015 alumna of the Science Talent Search, and this is the third grant ProjectCSGirls has received from the Society.
The ProjectCSGirls Competition for Middle School Girls challenges participants in 6th-8th grade to build something using computer science and technology that can help solve an imminent social problem under one of three themes: global health, a safer world, and intelligent technology. The competition looks for projects that can change and disrupt the present in a positive way. All finalists are invited to Washington, D.C. for a national gala to participate in workshops, listen to guest speakers, tour tech companies, participate in a formal awards ceremony, and showcase their projects to the public.
---
STEM Research Grants
The STEM Research Grants provide one-time grants to educators to help fund equipment or other experimental materials needed to complete research projects, or travel necessary to bring students to locations where they can complete their research.
The following teachers received STEM Research Grants to fund equipment such as robotics kits, DNA research equipment, microscopes, electrophoresis classroom kits, field biology collection kits, general laboratory supplies like petri dishes, sensors and pipettes as well as transportation to research facilities.
Judith Barrios, Union City High School (Union, New Jersey) – $5,000
Laurel Bingman, YES Prep Northbrook High School (Houston, Texas) – $5,000
April Blaze, Haines City High School (Haines City, Florida) – $5,000
Scott Bolen, Rockdale Magnet School for Science and Technology (Conyers, Georgia) – $3,500
Cristobal Carambo, Philadelphia High School for Girls (Philadelphia, Pennsylvania) – $4,000
Antonio Gamboa, Garey High School (Pomona, California) – $5,000
Tahnee Harrell, Miramar High School (Miramar, Florida) – $3,500
Loree Harvey, Monte Vista Senior High School (Monte Vista, Colorado) – $5,000
Joel Kuper, Greybull High School (Greybull, Wyoming) – $4,000
Lauren Levites, Lindblom Math and Science Academy (Chicago, Illinois) – $5,000
Shawn Lowe, TC Williams High School (Alexandria, Virginia) – $4,000
Janette Lugo-Garay, Sonifel Private School (Fajardo, Puerto Rico) – $5,000
Jesusa Merioles, International Community High School (Bronx, New York) – $2,500
Pradip Misra, Bagdad High School (Bagdad, Arizona) – $2,500
Andre Pineda, Alchesay High School (Whiteriver, Arizona) – $5,000
Sherry Richardson, McKinley Technology High School (Washington, D.C.) – $5,000
Linda Sciaroni, Marco Antonio Firebaugh High (Lynwood, California) – $5,000
Sonia Solis, Kofa High School (Yuma, Arizona) – $5,000
Susan Swope, Red Mountain Middle School (Deming, New Mexico) – $5,000
Laura Tenorio, Taos Middle and Taos High School (Taos, New Mexico) – $2,000
Julie Throne, Cedar Shoals High School (Athens, Georgia) – $5,000
Peggy Veatch, Eldon High School (Eldon, Missouri) – $4,000
Michelle Wyatt, Spring Valley High School (Columbia, South Carolina) – $5,000