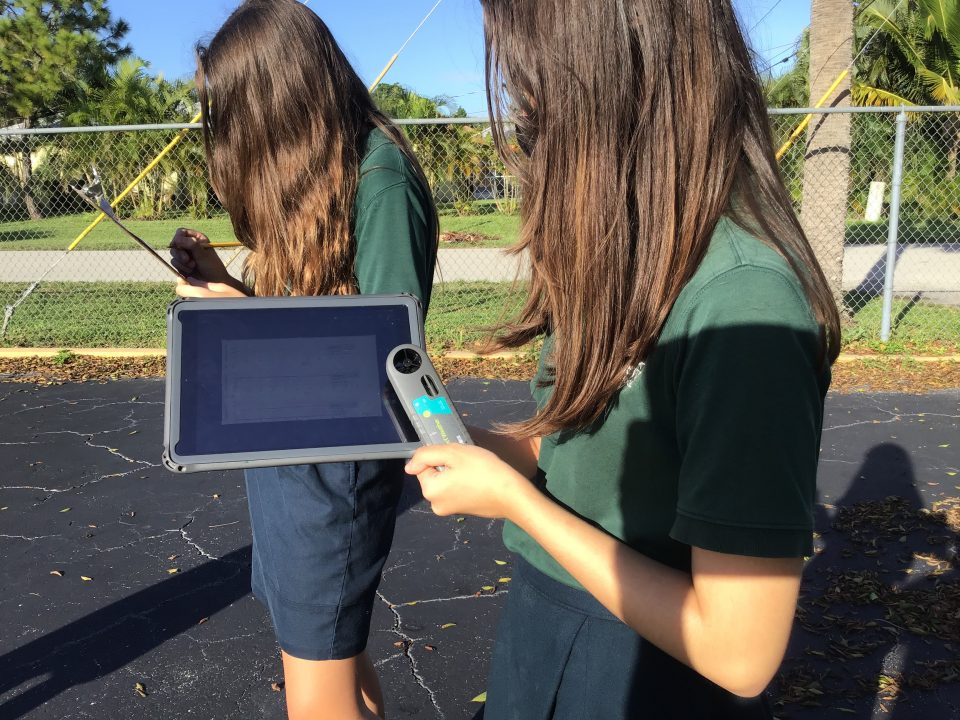 Here at the Society for Science, we have an endless appreciation for teachers. They go above and beyond for their students, and that point has never been more apparent than during this past year, with the COVID-19 pandemic disrupting education worldwide. For Teacher Appreciation Week 2021, we're thrilled to be able to share how one science teacher at Saint Andrew Catholic School in Cape Coral, Florida was able to better support his students' scientific pursuits thanks to a $2,000 STEM Research Grant he received in 2020.
James Less taught high school science in Ohio for seven years prior to moving to Florida in 2018. Now as a middle school science teacher, one of his main goals is to organize and implement a successful annual, student-based science fair. So far, he has tripled the number of science fair judges at his school, providing students with more opportunities to present and receive feedback. Before James was a STEM Research Grant recipient, he only had one Vernier LabQuest data logger at his disposal. The battery for it no longer held a charge, since James had obtained it nearly a decade ago. It was not functional for remote field investigations and presented many logistical challenges when multiple students needed to collect data for their science experiments at the same time.
With the STEM Research Grant, James purchased a set of eight Vernier STREAM devices, each with two sets of probes—pH and temperature. "There is great statewide interest in water quality issues in southwest Florida," he explained. "The equipment put our students on the forefront of several local initiatives to undertake field studies that complement those of local colleges and universities."
James' students can now undertake more advanced and timely STEM research projects with the additional sensors and probes. They have been able to do things like:
Investigate water quality of a local canal before and after Hurricane Sally
Collect weather data as part of the Global Learning and Observations to Benefit the Environment program' Urban Heat Island Effect-Surface Temperature field campaign
Analyze the pH of different substances.
"Even with the challenges posed by the pandemic this past year, my students demonstrated great fortitude in conducting their research and participating in the Thomas Alva Edison Regional Science and Engineering Fair," he told the Society. James' school has primarily operated in person since the public health emergency began, with the option for students to choose distance learning as well. In either case, the equipment was available to all his students who relied on outdoor data collection for their research projects. "Not only were my students successful with the affiliated regional science competition, but six students were nominated for the prestigious, national Broadcom MASTERS competition."
One particular student project stood out to James. "An eighth-grade student used the Vernier STREAM device with a Vernier GoDirect weather meter, camera, iPad and kite for a unique and ingenious science research project," said James. "She investigated the change in meteorological conditions—temperature, relative humidity and barometric pressure—from ground level to various altitudes. She also connected a camera to the kite to take aerial photographs. At our local fair, she received special awards and recognition from the National Aeronautics and Space Administration and the United States Environmental Protection Agency!"
For James' students, we know their accomplishments thus far are just the start of their research journeys and the Society is proud to be able to support such promising young scientists with the STEM Research Grant program.