Society for Science celebrates 100 years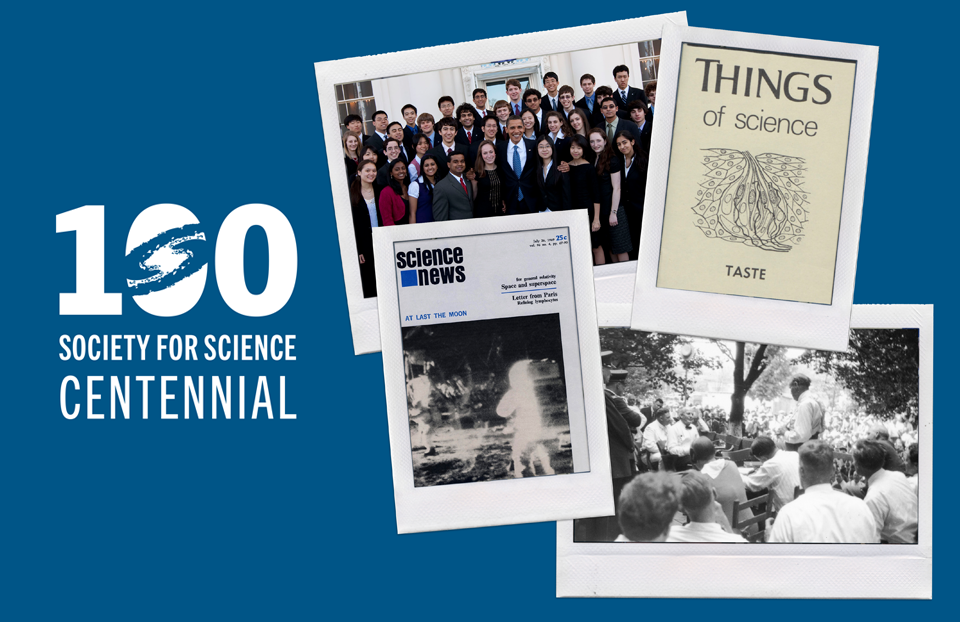 Society for Science Launches Into its Centennial With a New Website
One hundred years ago Society for Science, then known as Science Service, produced its first edition of Science News Bulletin, the organization's journalistic debut. This weekly collection of science news stories, published in April 1921, furnished subscribing newspapers with news articles that editors could print in their own publications.
During the coming year, Society for Science will be celebrating its centennial by sharing stories of its history. Through a new online timeline, 100 Years of Impact, the public will have an opportunity to learn about the Society's role in covering key scientific moments and discoveries, encouraging science literacy and identifying the next generation of leaders in science and engineering.
Head to the new website where you will be able to view documents, photographs, audio and video clips, including:
See the very first Science News Bulletin from April 2, 1921.
Learn about Science Service's role in the historic Scopes Trial in 1927.
Listen to an "Adventures in Science" broadcast from 1958 discussing applying science to disease outbreaks, including progress in vaccinations.
Read Science News reporting on the moon landing in 1969.
Watch President George H.W. Bush speak at the Science Talent Search (STS) Gala in 1989.
Learn about the transformative $100 million gift the Society received in 2016 from Regeneron, which was founded by Leonard Schleifer and George Yancopoulos, alumni of the Society's Science Talent Search (STS) competition.
Watch a video slideshow from virtual ISEF 2020 thanking the thousands of volunteers that ensure the success of the International Science and Engineering Fair (ISEF) each year.
"Society for Science has had a tremendous history, playing an important role in educating the public about scientific discoveries as well as identifying future leaders in science, technology, engineering and math," said Maya Ajmera, President and CEO of the Society for Science and Publisher of Science News. "As we developed the timeline, we were blown away by many of the things we learned and are able to share. I encourage everyone to take a moment to learn about our storied history and share it with scientists and science enthusiasts."
As the Society's Centennial year progresses, we will continue to add elements to the 100 Years of Impact site. In addition, Science News will launch a new Century of Science website that explores the major advances of science and will convene a Science News Now virtual conference in November. "One hundred years ago, our founders recognized that public access to accurate, evidence-based reporting on science was essential to society," said Nancy Shute, Editor in Chief of Science News. "Today, science journalism is more essential than ever, and we remain true to our founding mission."