Society Fellow Julie Olson Uses Science Fair Projects to Teach Skills for Multiple Classes
Julie Olson, a 2011 Society Fellow, teaches Advanced Biology and Environmental Science at Mitchell Senior High School in Mitchell, South Dakota. In addition to her teaching schedule, she now offers a summer research program for middle school students, a voluntary program for high school students, and a credit recovery program for students at an alternative school.
---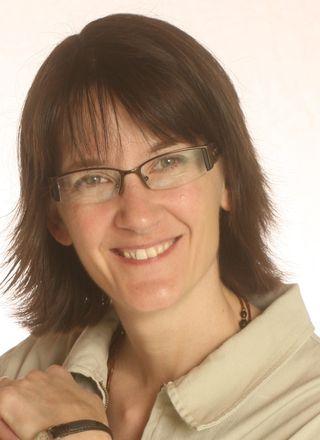 What is your background in science and research, including what first drew you to science?
I have always been interested in science, particularly medicine. I was the girl who wasn't afraid of the "creepy crawlies." I even got a chemistry set for Christmas. One particular instance, when I was about 8, I put baking soda and vinegar into a sealed film canister. It blew open right in my face, and of course it stung my eyes. I didn't tell my mom, but I was more careful after that. I don't remember any formal science education that sparked my interest until I got to high school. There we really got to DO science. Science fair wasn't available, but we did little research projects as part of the class. My first formal research project was when I was a graduate student. The research project was part of a national fisheries project looking at the effects of selenium (due to stream bed mining) on Chinook salmon. My daughter went on to compete as a finalist at the Intel International Science and Engineering Fair (Intel ISEF) for two years in high school.
What made you decide to apply to be a Society Fellow?
I had been doing research with students on a limited basis and felt that my students were at a disadvantage when competing at Intel ISEF due to a lack of high tech equipment and qualified mentors. I had also been looking for ideas and materials to begin a Research Techniques class and thought the Society Fellowship would help fulfill both of those needs.
Can you tell us a little about the program you have implemented and who it affects?
My research program is on an entirely volunteer basis – even for me. I put out an announcement for all interested high school students. We brainstorm ideas and then they start the background research and filling out paperwork related to the science fair.
The summer middle school program, a 3 day (3 hours a day) class for middle school science fair project development, is advertised by the Parks and Recreation program, who also handles online sign-ups. I have procured funding from the NASA Summer of Innovation to teach the students some of the research design process. We engage in activities and end the last session by determining a science fair project. They get to take home materials for their projects too.
In your most recent progress report, you mentioned that you had recruited four students from the alternative school for a credit recovery program. Can you tell us about that?
I work with several students that are also attending our alternative school program. Many of them missed enough of a speech, science, English, or math class that they were unable to receive full credit. A science fair project, when administered correctly, can satisfy many of the missing requirements. The English teacher helps them research and write up their project and I help them pick a project and carry it out. The students are motivated to select projects based on their interests and required to give mini speeches about different portions of their projects throughout the year until fair time.
How has being a Society Fellow impacted your ability to develop a research program?
The resources provided by the Society Fellowship have definitely been helpful. Being a Society Fellow also helped me gain the confidence to ask others to serve as mentors, provide materials, write additional grants, and more. The middle school program has been a huge success and all of the participants from last year are also coming back this year. I believe the alternative school program will be an even bigger success. I would really like to see a project from there qualify for Intel ISEF! I plan to expand the research programming and offer it through the new Customized Learning center the school district is implementing starting next year. The district definitely sees many positives to the program.
What advice would you have for other individuals attempting to increase interest in science in their communities and nurture students through the research process?
I would say to start off small. Don't be afraid to ask for mentors, materials, and time. It may take a few years to feel comfortable. Start with easy items and projects such as those using meal worms, radish seeds, and pill bugs. The kids will take it from there. Encourage students to move forward with their ideas.
Why do you think it's important for students to participate in scientific research? Do you have any advice for young students interested in pursuing science?
Scientific research is an all-encompassing activity. It includes science, math, English, engineering, public speaking, and art. It really teaches problem solving skills and critical thinking.
For young students interested in science, my advice is to do your first project on something you are really interested in. It is okay to start with a kit and give it your own "twist." Don't be afraid to do something the other kids are not doing. It is okay to replicate an experiment someone else has done before to see if it works out the same way. This is a good way to learn the scientific method. After you are done, put your own twist on it. Scientists are always proving each other right (or sometimes wrong). Part of science is the ability to replicate results.
What are your future plans?
My future plans are to keep the program growing and to incorporate a formal research course as part of the curriculum at my high school. On a personal note, I am pursuing a Specialists degree in Curriculum and Instruction with a Science emphasis.