Society announces 50 Advocates who will mentor underserved students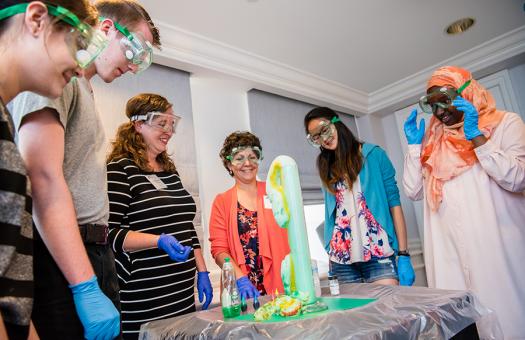 The Society for Science & the Public is pleased to announce this year's 50 Advocates who will actively work to find underrepresented students opportunities to participate and compete in science research competitions, inspiring them to engage in STEM fields.  
Through the Society's Advocate Grant Program, educators and scientists mentor and expand opportunities for underrepresented and low-income students who have the potential to excel in STEM fields with additional support.
Each Advocate will mentor a cohort of at least three underrepresented students and help them navigate the sometimes-complicated process involved in entering science research competitions, supporting the students as they complete science research projects and apply to compete in science competitions.
---
---
"By building an awareness of science research opportunities and science competitions, the Society's Advocates are setting students up to realize their full potential in STEM fields," said Maya Ajmera, President and CEO of the Society for Science & the Public and Publisher of Science News. "The program opens the door for all students, regardless of background, to have the opportunity to gain critical exposure to build a career in science. The Advocate Grant Program is making way for future leaders."
This year's Advocates hail from 28 states, Washington D.C. and Puerto Rico. They include seven middle school teachers, five teachers who work with middle and high school students, 30 high school teachers, six university professors and two museum educators. Now in its fourth year, the program is continuing to grow and reach more students. In 2017, the Society named 45 Advocates. The program named 31 in 2016, up from nine during its pilot year in 2015.  The Society received nearly 250 applications from 46 states as well as Washington, D.C. and Puerto Rico.
---
View the full list of Advocates.
---
By informing students about science competitions, helping them to navigate the application process, and imparting a thirst for scientific research, Advocates are implementing a STEM pipeline for students who may not have one otherwise.  Students who compete in science competitions come away with critical skills, including the ability to write a research paper and communicate their work to peers and judges.
The Advocate Grant Program is funded by Arconic Foundation, Jack Kent Cooke Foundation, and Regeneron.