Science on the move with BioBus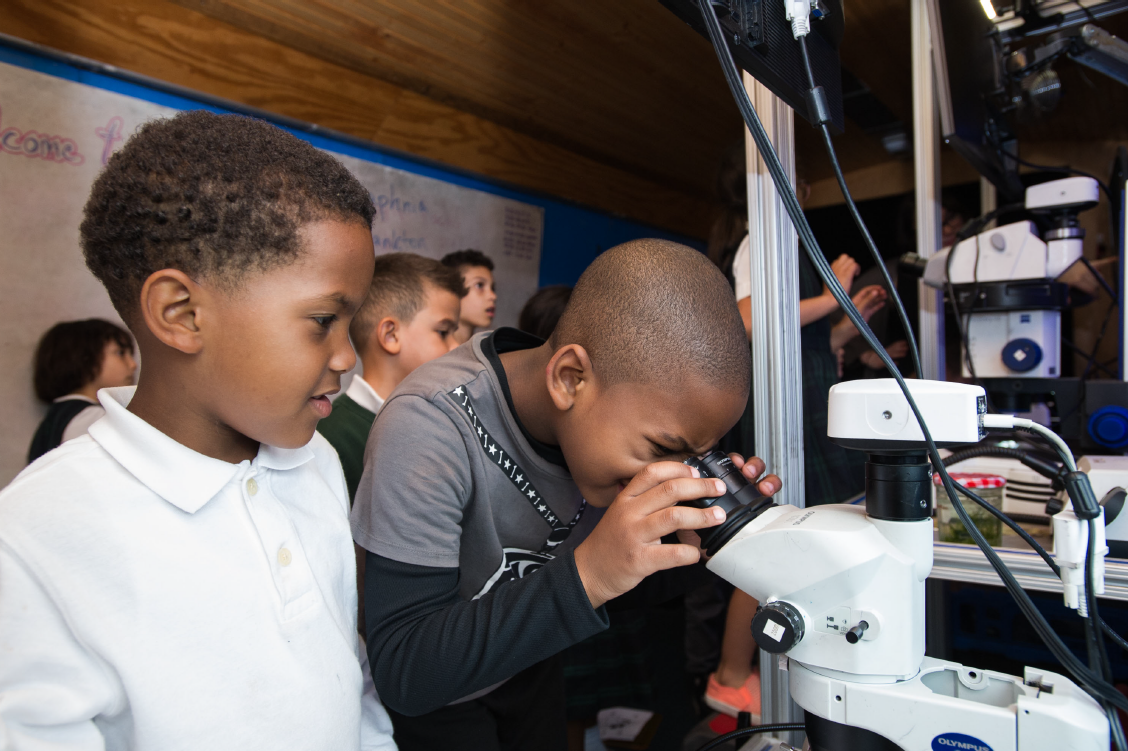 Sometimes, kids just need a chance to get out of the classroom. Luckily, BioBus offers a fun, interactive way to teach students about science in a new environment. After all, learning about science isn't just confined to the classroom—it happens in the world around us.
With BioBus, science can travel anywhere, complete with a $75,000 microscope and a staff of professional scientists. That's great news for the students of New York. BioBus focuses on bringing science to students all over the city, working in communities that are lower-income or don't have access to opportunities in STEM.
Thanks to a STEM Action Grant from the Society for Science & the Public in 2017, which provides funds to organizations that are bringing STEM to their communities in innovative ways, hundreds of students have the opportunity to take part in the BioBus experience. Using research-grade microscopes and learning from masters and Ph.D. scientists, students get a glimpse into the life of a scientist.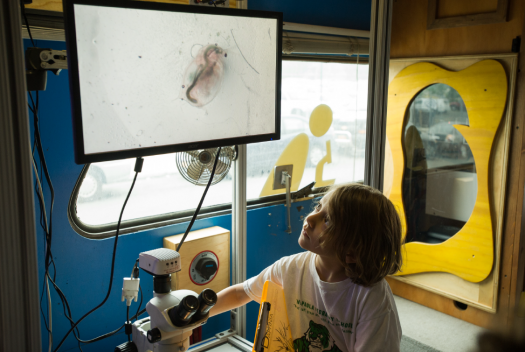 "A big part of deciding to pursue a career in science is being able to imagine yourself as a scientist. You can't do that if you have never met one or if you don't know what the job is about," said Sasha Chait, Director of Development at BioBus.
BioBus parks in front of schools, and approximately 150 students in grades K-12 take turns hopping on the bus throughout the day, participating in labs, working together to make scientific discoveries and engaging in group discussions. The BioBus mobile lab is staffed with scientists of all backgrounds who interact with students. The lesson depends on the grade, but all are developed by staff scientists.
Mollie Thurman, lead scientist, and driver at BioBus enjoys connecting students with the world around them. A recent lesson connected students to the area around their school, showing them that science is everywhere. The students went outside to collect water from puddles that had formed after a rainstorm, and then looked at the samples through a microscope.
"One of the students said, 'I'll never look at life the same way.' They were finding all these microorganisms. That is pretty typical—that kind of total surprise at what can be found on the sidewalk—a place we don't think of as being particularly diverse," Mollie said.
A big part of deciding to pursue a career in science is being able to imagine yourself as a scientist. You can't do that if you have never met one or if you don't know what the job is about.
In addition to the mobile lab, BioBus operates a community lab at Columbia University's Zuckerman Institute, allowing them to reach more students in Harlem, Washington Heights, and the Bronx and connecting high schoolers with a professional science network.
Students love learning about science on the BioBus. After learning about cells, one eighth-grade student said, "This is the best day. I want to ask my dad about going to the base [BioBus community lab]. I'm so smart! Yeah, maybe I could be a scientist!"
After students return to the classroom following a day of activities on the BioBus, teachers report that they see a difference in the students.
"Teachers tell us that students have an easier time interacting with the content. That is my favorite thing to hear," Sasha said.
Partnering with the Society for Science & the Public felt like a good match for BioBus, Sasha explained.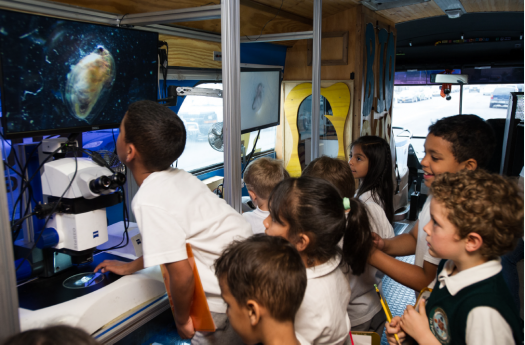 "Your goals are aligned with what we are doing—giving kids a chance to experience science and turn their initial excitement of science into careers," Sasha said. "They are getting a chance to have an experience that they aren't getting anywhere else. It felt like a really good match in terms of bringing that opportunity to kids."
In the past nine years, BioBus has reached over 200,000 students and 500 schools. With a second bus just launched a few months ago, more students will now get to experience the joy of science.