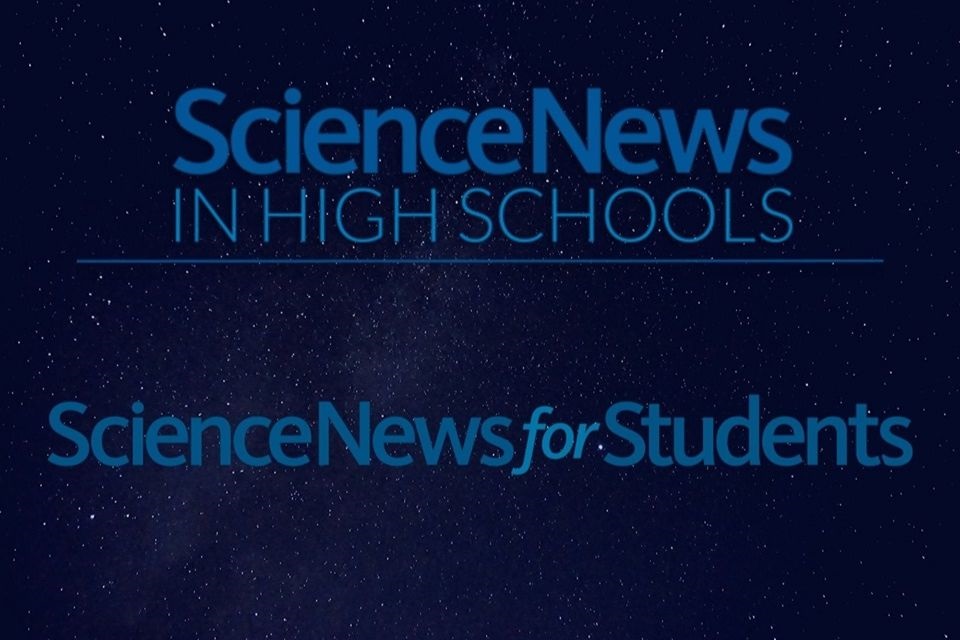 Science News for Students and Science News in High Schools offer free STEM resources for 5th through 12th grades
As schools close worldwide and learning is disrupted by the COVID-19 pandemic, Science News, published by the Society for Science & the Public, wants to ensure that students, parents and educators have what they need for continued learning outside the classroom. Science News for Students and the Science News in High Schools Digital Library offer a variety of free, age-appropriate STEM resources for students from 5th through 12th grades, suitable for learning from home.
"We have been a leader in science journalism since 1921, and in response to this widespread pandemic, we want to empower families and educators by making our award-winning content more widely available," said Maya Ajmera, President and CEO of the Society for Science & the Public and Publisher of Science News. "Using Science News for Students and Science News in High Schools, parents and teachers can keep students engaged and learning during this global crisis."
Science News for Students has free, up-to-date resources for 5th through 12th-graders. Check out our guide for kids and parents. Helpful resources for at-home learning include:
Collection of coronavirus stories. Pieces that might be particularly useful in explaining the coronavirus to children include an Explainer, a Scientists Say and answers to questions on the coronavirus. Check out this new article about how kids can cope with the pandemic.
Experiments from Home. Using real scientific research projects as a guide, Science News for Students shows kids how to apply the scientific method to make their own experiments at home.
Explainers. Wonder how scientists read brain activity, or how the greenhouse effect works? Use this series of articles to explore core science concepts that underlie science news and research.
Discussion Questions. Some articles come with questions that students can answer before, during and after reading to enhance comprehension.
Let's learn about. This brand-new series mixes STEM learning and fun. Each lesson is based on a specific theme (first up is dinosaur extinction!). Stories are paired with relevant educational resources, a new word find puzzle and more.
Science News in High Schools Digital Library has more than 200 original STEM-related exercises, connected to Science News articles covering STEM subjects from public health and climate change to astronomy and neuroscience. These resources can be used to engage students with core high school concepts or to build virtual lessons. All materials are tagged with Next Generation Science Standards.
Coronavirus Collection. These recent exercises are related to COVID-19, pandemics or public health more generally, and each exercise is paired to a related Science News article.
Comprehension questions and Discussion prompts. Ask students to read an article and answer the related questions to check their understanding, or engage them in a conversation that makes connections to current events and across fields of science.
Activities. Experiments, along with exercises on data analysis, diagramming and designing research projects, put students at the center of their learning. Use these activities at home or to increase virtual collaboration among students.
Student worksheets and answer keys. Downloadable worksheets are easy to print, and answer keys make it simple to check the work.
Science News Media Group, the media arm of the Society for Science & the Public, has been the lead publisher of science journalism since 1921—informing, educating and inspiring people globally for the last 100 years.