Regeneron Science Talent Search 2019 finalists showcase their projects at National Geographic Society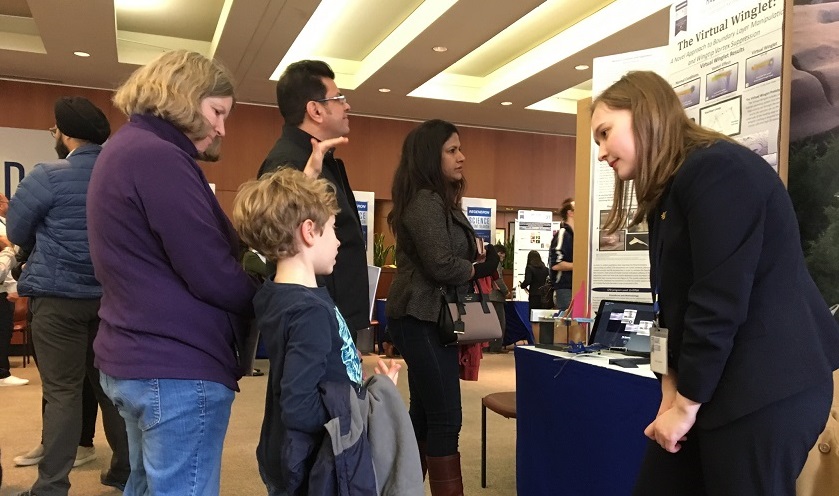 On March 10, finalists in this year's Regeneron Science Talent Search displayed their research projects at the National Geographic Society. Educators, alumni of the Society's competitions, as well as families in the DMV area had the opportunity to learn about all types of STEM fields. The projects ranged from a more effective flu vaccine to removing carcinogens from water and soil supplies. We had the opportunity to talk to a few of them.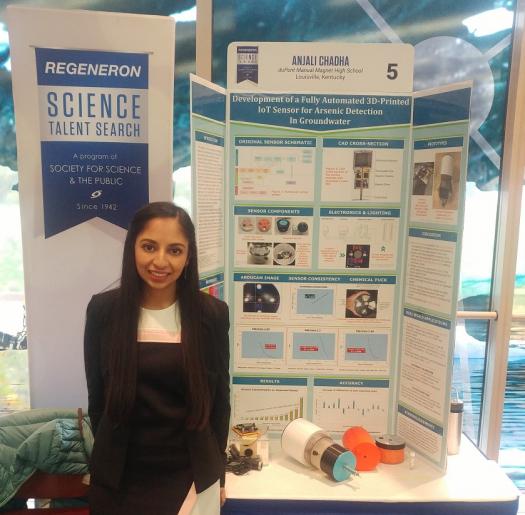 Anjali Chadha, 17, of duPont Manual High School in Louisville, Kentucky, had a project that explores ways to remove arsenic in groundwater. She built a device that can monitor levels of arsenic in water over time and across bodies of water. Being from Kentucky, a big coal mining state, she has experienced the problems that come along with arsenic deposits and arsenic contamination. "I've noticed in my state there is a lack of funding and a lack of up-to-date technology. They were really in need of some help, so I wanted to find a better solution than what already exists."
Ahmad Perez, 17, of Brentwood High School focused his research on protecting valuable salt marshes from the ravages of storms and other inclement weather patterns. Salt marshes, the coastal grasslands flooded by seawaters, can often serve to protect shorelines from erosion. This type of damage is both costly and detrimental to surrounding ecosystems. Ahmad has found that when biopolymers, such as Xanthan and Guar Gum, are applied to salt marshes, they can prevent erosion. Ahmad is most proud to represent his city of Brentwood, New York, which has not seen a scholar in seven years and has never had a finalist. Though his community has been riddled with gang violence, Ahmad hopes that he can be an example of how hard work and STEM education can pay off. He hopes that his fellow classmates become STS finalists like he has.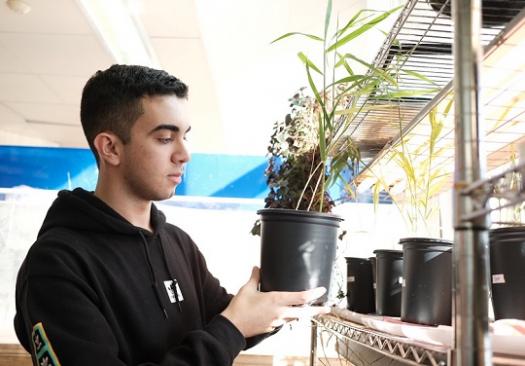 Justin Schiavo, 18, of Roslyn High School in Roslyn, New York, an aspiring rocket scientist, wanted to make space travel more accessible to the general public. Through his project, he created a hybrid rocket engine which can be constructed through materials you can find in a hardware store. This hybrid engine doesn't produce much thrust, so Justin experimented with different types of nozzles in an effort to increase the thrust. "When it comes to science, it can be applied to almost any conversation," said Justin. "I think of science as a way to not only expand our knowledge but also to bring people together."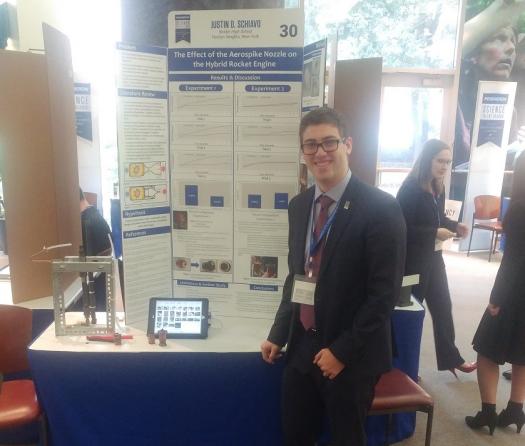 Rachel Seevers, 17, of Paul Laurence Dunbar High School in Lexington, Kentucky, set out to design a "virtual winglet" which is a targeted, high lift device which can improve the efficiency and safety of a commercial aircraft. Her design will reduce the drag and carbon emissions of an aircraft while, at the same time, increasing the lift making for a safer and more fuel-efficient flight. She hopes to apply her invention to military fighter jets as her virtual winglet can be toggled on or off when a fighter pilot must choose between maneuverability or stability. Her design is an alternative to a physical winglet, which cannot be maneuvered. Rachel recently shared her research at the National Symposium for the Society of Experimental Test Pilots. "I was invited, as a high school student to present my research in front of hundreds of pilots in the air force and the navy and in front of the people who my work could directly impact," said Rachel.
These are just some of the exciting projects this year. Be sure to tune into the Facebook Live of the Gala on March 12 at the National Building Museum where we'll learn who the winners are this year!