Peter Zhou Reports on Trip to LIYSF as Intel ISEF Award Winner
Peter Zhou of Jericho, New York won an opportunity to represent the Intel International Science and Engineering Fair (Intel ISEF) at the London International Youth Science Forum (LIYSF) held this August. In addition, Peter also won a 2nd Place Grand Award in Medicine and Health Science at the Intel ISEF 2012.The London International Youth Science Forum is a two-week program held annually for 300 young scientists from more than 50 countries. Below Peter describes his experience at both LIYSF and Intel ISEF.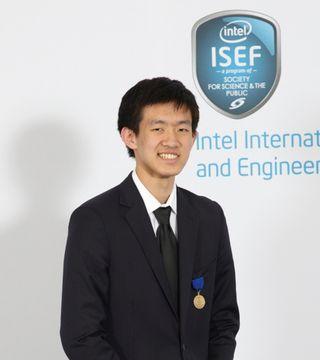 What was your experience being an Intel ISEF finalist like?
I am extremely grateful for having been an Intel ISEF finalist and was amazed at the scale of the event from the moment I stepped into the convention center. From the opening ceremony to the Grand Award announcements and all the activities in between, Intel ISEF offered an exceptionally hospitable environment. Through daily interactions, I met aspiring scientists from across the world and found inspiration in the universal nature of science. Looking back, the many dynamic aspects of Intel ISEF collectively formed what was perhaps the greatest week of my life.
Can you provide a short description of your research project and how you initially became interested in this topic?
My father being a physician, I have always possessed an ingrained interest in science and, in particular, medicine. However, after a family friend and a relative were both diagnosed with sepsis, I found a target for my ambitions and studies. Having read numerous scientific articles and journals, I quickly became convinced that histones held the key to fully understanding sepsis, and soon, I witnessed my curious interest evolve into a keen passion.
Driven by my newfound sense of commitment, I conducted a research project with the goal of addressing extracellular histones and their effect on a lipopolysaccharide (LPS)-derived in vitro model for sepsis and inflammation. Through a number of techniques, I evaluated the histone-to-LPS relationship and investigated the molecular mechanisms responsible for the histone-mediated hyper-inflammatory responses commonly exhibited in septic patients. Ultimately, I discovered that extracellular histones, especially H2A and H2B, interact synergistically with the endotoxin LPS to create a cytokine storm; I also identified several signaling pathways and proteins that play a critical role during such an inflammatory response.
How did you feel when you found out you won the trip to LIYSF?
The announcement of my name for the award came as a very pleasant surprise to me. At the time, I didn't know much about LIYSF or what to expect from the trip, but that didn't seem to matter as all I could think of was how unbelievably fortunate I was to be the one that was selected to win such a spectacular award and travel to London as the Intel ISEF representative for the science forum. I was absolutely thrilled when I realized that I had won.
Can you tell us about your experience at the London International Youth Science Forum (LIYSF)?
LIYSF invites the top science students from around the world to attend every summer. It is a truly unforgettable program where surprising disc overies are made and lasting friendships are formed. Whether they examine optics or medicine, particle physics or bubbles, the distinguished scientific leaders gave engaging and unique lectures that allowed me to uncover newfound passions across various disciplines. In no other program can such a gathering of people from all countries who so strongly share a common love for science be found. The most rewarding experience of all was to watch the synergistic interactions of so many brilliant minds, individuals, and aspirations every day. The forum has thoroughly inspired me and will undoubtedly continue to serve as a compelling influence on my life.
What was the most memorable part of your trip?
My favorite aspect of the trip was the opportunity to meet new students from countries all over the world. I soon discovered that each LIYSF participant was a highly motivated and phenomenal scientist with a distinct story to share. LIYSF stressed the importance of camaraderie from the opening day, and it amazes me when I reflect on how many good friends I made during the short span of two weeks. While the end of the program was indeed sad, I took solace in the fact that, although the different countries may be physically distant and separated, the memories amongst the participants will always remain connected.
How do you think participating in the Intel ISEF and attending LIYSF will impact your future plans and/or research?
I firmly believe that being a part of Intel ISEF and attending LIYSF has redefined and expanded my appreciation of not only the scientific community, but the international community as well. As a result, my love for science has been reaffirmed and curiosity has grown substantially. Both ISEF and LIYSF have shown me the awe-inspiring implications of scientific advancements in a range of disciplines and endowed me with an incredible impetus to learn and explore more than ever before. In the future, I plan on taking the insights I gained from such experiences and use them with the hope that I can achieve my goal of becoming a seasoned researcher.
Do you have any advice for other young students interested in science?
Continue to study and learn about all types of science and identify a field that grabs your attention. After you find your niche, your interest will blossom into a potentially life-long passion. The key idea to remember is that, while many people inevitably stress over science symposiums and competitions, what matters most is your development into a scientist. Mistakes are a regular component of the scientific process and you should always try to make the most of what you have. In the end, you will find that the scientific community is both amazingly diverse and incredibly accepting; if you choose science, you will not be disappointed.
Final thoughts?
I feel unbelievably fortunate to have been involved in the Intel ISEF and the 54th LIYSF. Both opportunities were adventures that epitomized the cooperative nature of science and have already proven to be remarkably influential experiences that I will continue to cherish.