More efficient solar technology crystals, and other incredible scientific research from high school scientists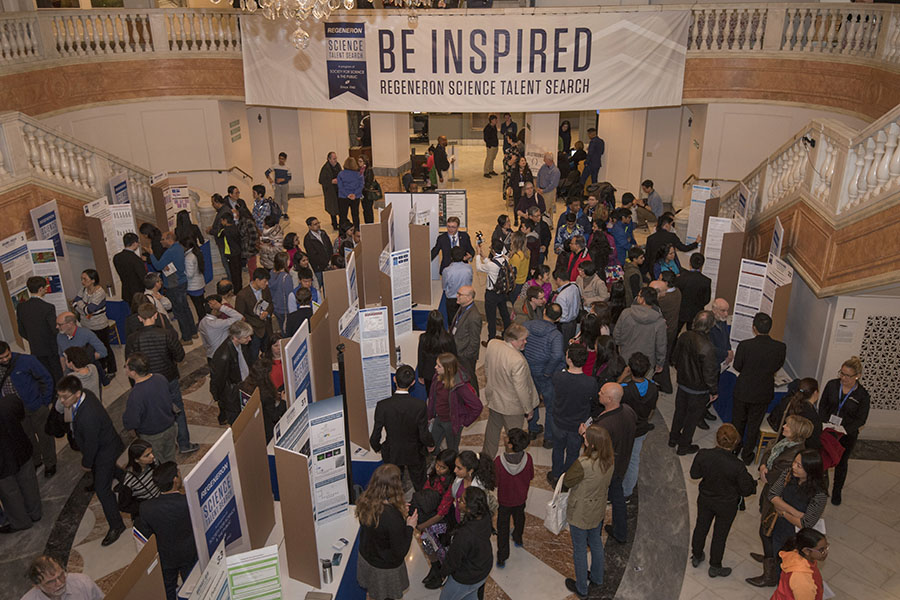 One high school student is working hard to understand a crystal that could greatly reduce the cost of solar technology like solar panels.
Current solar cells are made from silicon, which requires a high purity to be efficient. This makes solar technology more expensive. Skyler Jones, from Ossining, New York, studied perovskite crystals, a different semiconductor material for solar technology, which could replace silicon and lower the technology's cost.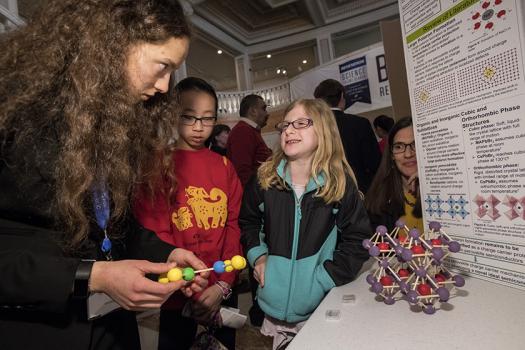 Skyler is one of 40 young scientists who gathered in Washington, D.C. to showcase their scientific research to judges and the public duringRegeneron STS. Inside the National Museum for Women in the Arts on March 11, they set up their posters and described their projects.
Skyler identified key aspects of the crystal using laser spectroscopy. She wants to be involved in the chemistry behind future solar technology, instead of engineering the panels. "I like the more fundamental side of this research," she said.
"Perovskite crystals can be almost as efficient with a much lower purity than silicon requires," Skyler said. "They don't need a high structural purity. So you can have a really impure, defect-heavy crystal — which is cheap and easy to produce — that is an effective semiconductor." Fossil fuels are a finite resource, so we can't keep using them forever," Skyler explained. "Solar is our best option, not that we shouldn't invest in multiple forms of alternative energy." Solar technology can be more easily integrated with current infrastructure, she said.
Her advice for getting into science? "Pursue whatever interests you," Skyler said. "Don't look for what seems like it's going to make you the most money. Look for the research questions that are captivating, so that studying it doesn't feel like work."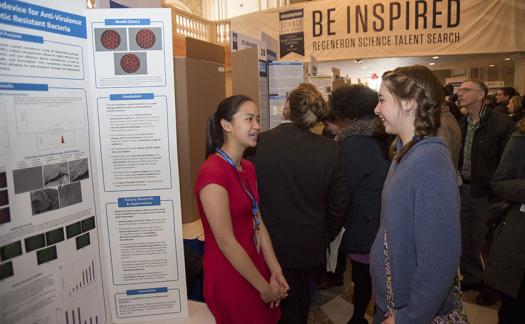 Maggie Chen, from San Diego, California, is working on a more effective bacterial treatment. At least two million people each year in the U.S. become infected with bacteria that are resistant to antibiotics, and at least 23,000 die from these infections, according to the CDC. After her grandmother had a stroke and then developed a bacterial infection in the hospital, Maggie became interested in bacteria research.
Using nanoparticles in 3D-printed hydrogel to absorb toxins, her treatment allows the body's immune system to recover. Maggie's nanodevice can be printed in half a second, for a fraction of the cost of current technology. She's researched bacterial treatments for over four years, creating over 200 prototypes.
Antibiotics typically work by killing many healthy cells, as well as bacterial cells. But Maggie's treatment is unique and more effective, not to mention patient-personalized. "This won't harm the body, instead it will encourage the immune system to recover," she explained. It's also accessible for rural areas and people in poverty.
Maggie also serves as the editor-in-chief of her high school's science magazine, Catalyst. "This magazine is important because it really communicates science in a way that's accessible to the general public," she said. "Many people think of science as some convoluted concept. But in our articles we talk about the makeup of makeup, slime, and how chemistry affects baking."
View the public exhibition of projects on our Facebook Live below.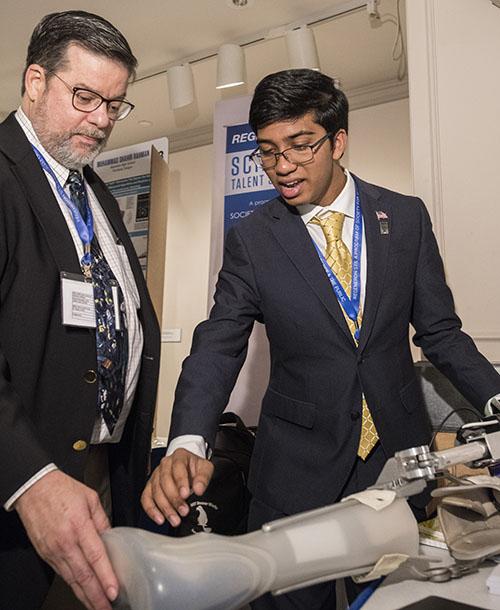 Syamantak Payra's science mentor has chronic back pain, a common ailment in America and worldwide. He experienced childhood polio, lost muscle function in one of his legs, and uses a locked-leg orthopedic brace, which helps him walk but limits his movement. So Syamantak, one of the 40 finalists of the Regeneron Science Talent Search 2018, designed an electronically-aided bionic leg brace that can significantly improve someone's gait and functionality.
This could improve prosthetics and orthopedic devices, and help many disabled people, amputees, and veterans, Syamantak believes.
Syamantak's retrofitted system works with someone's current brace, significantly lowering the cost of creating a new orthotic. It hooks up to a smartphone/smartwatch that a user can control through an app or voice control. The system learns people's gaits and helps restore some of the original functionality of their leg.
Syamantak combined several disciplines for his bionic brace: mechanical and electrical engineering, computer science, and statistics. He learned four coding languages, used statistics to analyze walking gait, and created hardware for prototypes.
His advice for others entering STEM? "Ask people what problems they face. We can use technology to help solve them."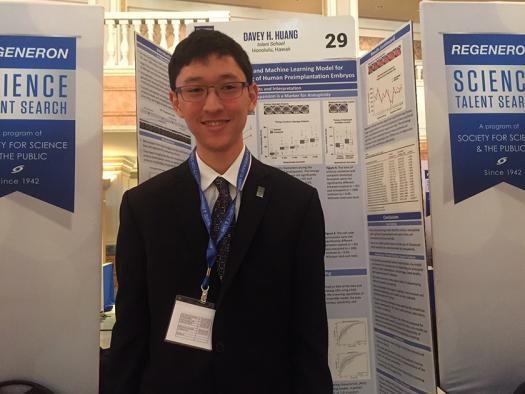 Davey Huang, from Honolulu, Hawaii, developed non-invasive software that visually detects birth abnormalities during early development of in vitro fertilization (IVF). He analyzed videos to identify biomarkers for abnormality, which can cause Down's syndrome and other genetic illnesses. This could help doctors know if an embryo is abnormal before implanting, since about 60 percent of embryos are genetically abnormal, he said.
Davey himself exists because of IVF, so this project is deeply personal. "I've always been interested in learning more about the procedure and improving it so more people can access it," he said. He hopes his technique can help lower the cost of IVF.
Davey's advice for entering STEM is to reach out to others interested in science. "Having that community will help you grow your interest and find something you really enjoy doing," he said.