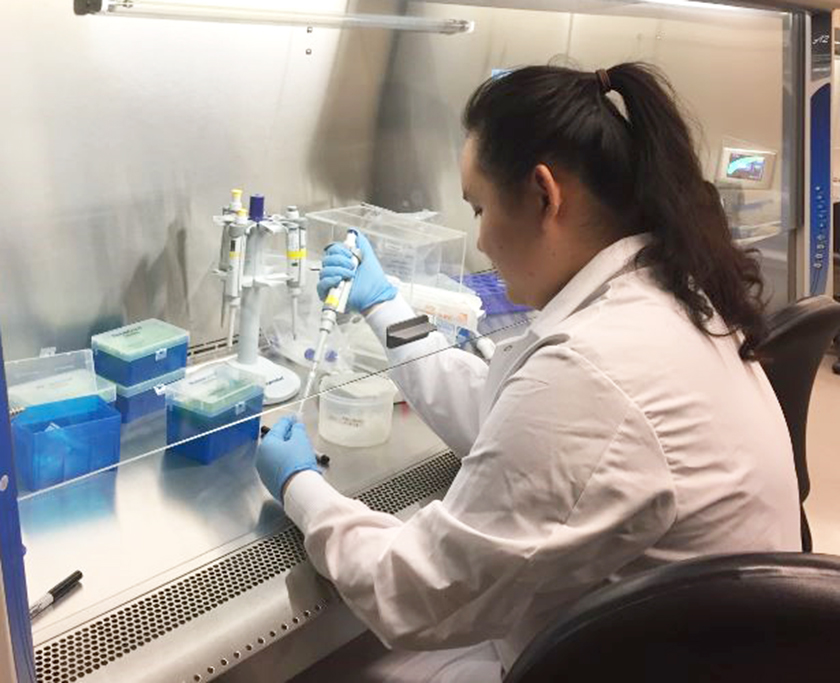 Madeleine Yang, a young scientist from Bloomfield, Michigan, wants to create a universal vaccine. She has been working on incorporating the influenza matrix protein, M2, into virus-like particles, which could help develop a universal vaccine.
Her efforts have not gone unnoticed. Through a program called the Community Innovation Awards, part of the Society's STEM Action Grants, the Society recognizes and rewards amazing young scientists who are making a difference in their communities. For 2018, the Society has selected seven young scientists from around the world for the award — and Madeleine was one of them.
Madeleine Yang (Bloomfield, Michigan, U.S.)
"Influenza virus infections are a major public health concern, causing 250,000-300,000 deaths and 3-5 million cases of severe illness annually, worldwide," Madeleine explained, citing CDC research. In the last 15 years, the U.S. has reported the efficacy of the seasonal influenza vaccines to be underwhelming. "Less than 50 percent in all but four years and even as low as 19 percent during the 2014-2015 season," she said.
One reason for the flu vaccine's inefficacy is the traditional egg-based platform, which has a six to nine month production time. "During that time, virus mutations lead to vaccine inefficiency," Madeleine explained. "The need for hundreds of millions of chicken eggs make the method unequipped to handle pandemics, as was the case with the 2009-2010 H1N1 swine flu outbreak."
Science competitions have been one of the best experiences of my life.
Madeleine's alternative can be produced in a shorter timeframe (about three months), and on a larger scale. "M2-incorporated virus-like particle vaccines show promise for future universal vaccine production," she said.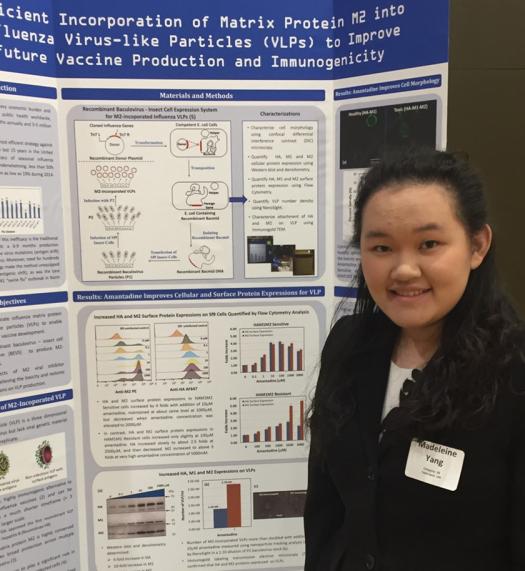 Madeleine's passion for biology and human physiology became clearer when her mother was diagnosed with breast cancer in 2015. "When my mom was going through surgeries and treatments, I read literature and scoured the internet for the latest research," Madeleine said. "I contacted several professors at the University of Michigan-Ann Arbor who conduct cancer research, and have worked at the Fei Wen Protein-Assembly Engineering Lab for three years now."
Being recognized by the Society through the Community Innovation Award "… is an important impetus for me to continue my effort to become a technology leader who can translate basic research into real-world solutions to help solve global health problems," Madeleine said.
She encourages students to pursue STEM and participate in science competitions. "Science competitions have been one of the best experiences of my life," she said. "Not only will you gain creativity and problem-solving skills, but you will also develop a strong work ethic, perseverance, and ingenuity. I have met amazing students, faculty, and scientists at my local and state fairs and at Intel ISEF. I always feel encouraged to aim higher after these events."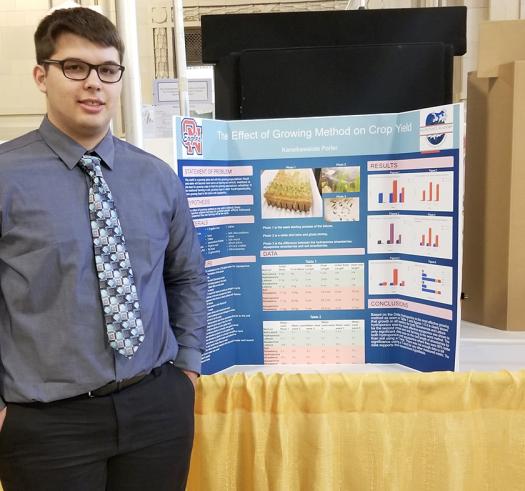 Kaneikawaiola Porter (Olathe, Kansas, U.S.)
Another Community Innovation Award winner wants to solve the world's food shortage problem. Kaneikawaiola Porter, from Olathe, Kansas, researched the most effective growing methods for crops, focusing on the use of space and how that can impact crop growth rate and development.
Kaneikawaiola analyzed three growing techniques on two plants — traditional farming in soil, hydroponics (growing plants in water), and aquaponics (growing plants in water with fish). He wanted to see if either could provide an alternative to traditional farming methods, and solve food shortages in urban areas and those without ideal growing conditions. "I found that in all categories, hydroponics was the best method," he said.
Kaneikawaiola's work has received the Society's Community Innovation Award. "The award validates that my solution is one step closer to solving food shortage issues throughout the world," Kaneikawaiola said. "I wanted my project to attempt to resolve a real-world problem."
The Community Innovation Award validates that my solution is one step closer to solving food shortage issues throughout the world.
His advice to other young people interested in STEM: "Keep an open mind to new subjects — you never know where you will discover your passion," he said.
Check back for more blog posts from other Community Innovation Award winners from this year. Learn about the other Community Innovation Award winners