Lillie Bryant, Society Fellow, Hosts Science Summer Camp
Lillie Bryant, Society 2012 Fellow, teaches at Reed Resource Center School in Shuqualak, Mississippi. In addition to her research program at the high school level, Lillie also recently hosted a science summer camp for younger students.
---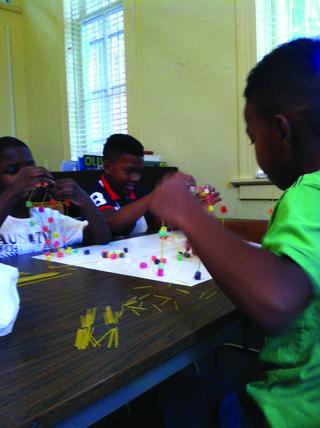 What made you decide to apply to be a Society Fellow?
As I advanced in my teaching career, I wanted to become more empowered as a professional educator. The Society Fellowship was a way to have an independent research program, aside from being a regular classroom teacher. This new independence would give me greater flexibility to design my own instruction and to chart my future.
What is your background in science and research, including what first drew you to science?
I was first drawn to science by the excitement that my teachers showed for it during my years attending high school and community college. I rediscovered the science fair in my fourth year as a teacher.
Can you describe what your experience as a Society Fellow has been like? How has being a Fellow impacted your ability to develop a research program?
My experience as a Society Fellow has brought greater recognition and respect to me as a teacher. Being a Society Fellow and having a budget to work with has also made others more inclined to invest in my research program.
Can you describe the progress you have made at your school and in your community?
The progress I have made can be summed up in three categories: personal, professional and emotional. I feel I have made great progress in understanding and realizing a dream of mine. I also feel I have improved our brand here in Noxubee County; people now see me as an expert in this field of endeavor. Delivering high quality instruction has given my career a new momentum, and I describe this as the emotional boost. My students have participated in science fairs at the school, regional, and state levels. And one of my students attended the Intel International Science and Engineering Fair (Intel ISEF) 2013 as a student observer.
You recently hosted a summer science camp for elementary students. Can you tell us about that?
One of the goals of a Society Fellow is to build a unique program based on the community's needs. To support that ideal, I needed to reach additional students. Individuals who had heard about my high school research program wanted to know how their elementary school students could participate. The science camp was a natural product of my own outreach program and focused on Newton's Three Laws of Motion. One week of the camp was for students in grades K-6 and the other was for 7th and 8th grade students. There was no charge for the camp and three of my high school students; Alexandria Feaster, Lakendra Orr, and Johnathan Orr assisted me and acted as facilitators. Ten students participated over the two weeks of the camp and I also did a parent evaluation of the program.
What advice would you have for individuals attempting to increase interest in science in their communities and nurture students through the research process? What are the elements involved in creating a strong and sustainable research program?
My advice is not new; an individual just needs to follow their dream. Mine was developing a program for student scientific research. Being excited about your work gets you out of bed in the morning and confirms that you can be effective. Imagine what you want to do, and execute it; not just once but every day. A strong and sustainable research program needs ideas, information, a cadre of students at every level, administrative support, money, and excitement and dedication for the program.
Why do you think it's important for students to participate in scientific research?
It is important for students to know that they are stakeholders in the process. They need to know that their ideas matter, and that their ideas can be used to change the world. My advice for young student researchers is to find an idea you love and then fully develop that idea.
What are your future plans?
I plan to use the work that I have done in connection with being a Society Fellow to launch a new business. This business will be a non-profit organization the helps people use research to change their communities. I also intend to host the summer camp again next year. All of the parents had postitive feedback and I would like to include more participants and possibly invite visiting facilitators.