How to let students take the lead in their research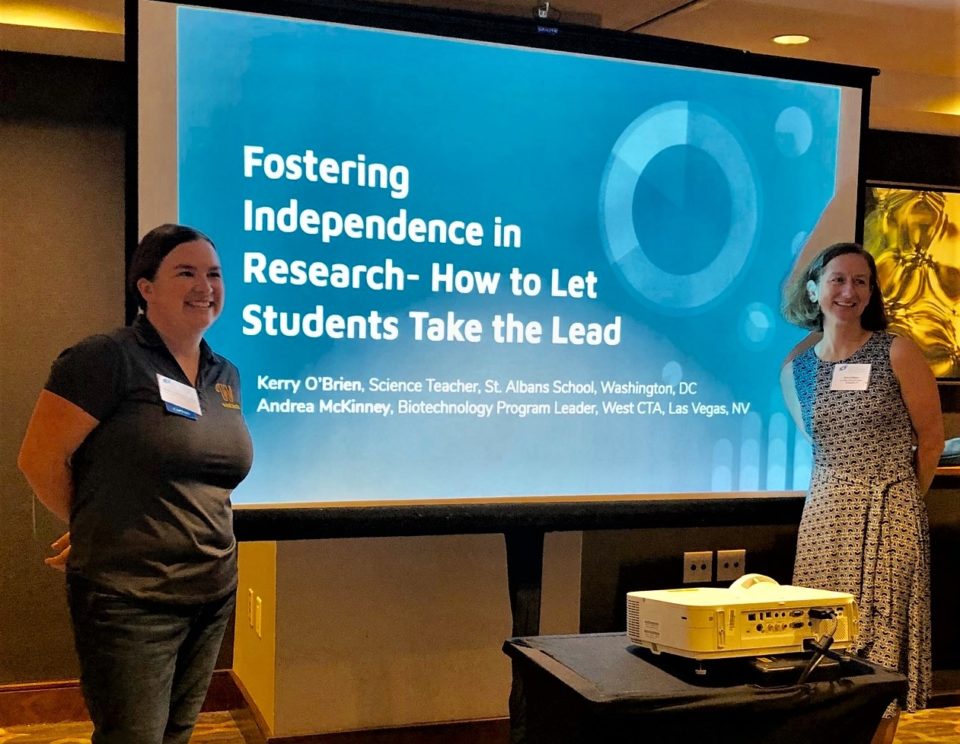 Independence in conducting science research can have many benefits for students. Besides leading to a sense of ownership, having a greater voice in their projects gives students the opportunity to develop critical thinking and problem-solving skills needed in the real world. So, how can teachers best foster autonomy in their own classrooms? During the Society's 2019 High School Research Teachers Conference, Kerry O'Brien, a biology teacher at St. Albans School in Washington, D.C., and Andrea Jydstrup-McKinney, a biotech program leader at West Career & Technical Academy in Las Vegas, Nevada, co-led a session to share strategies to help educators guide students while also giving them research independence.
"As a teacher, it's about learning where to step in and where to let them run a little bit, differentiating involvement for each student," Kerry elaborated further.
To kick things off, Kerry and Andrea took a poll: "What aspect of student independence do you find most challenging?" The results were split among two choices—coming up with a project idea (58%) or figuring out how to best carry out experiments (42%). This guided a subsequent discussion about specific steps teachers can take to address those obstacles.
First, educators can survey what equipment is available in their classrooms, letting that dictate what topics would be feasible to explore. "You can also provide them with examples of model organisms they can work with," added Kerry. Other ways to foster student independence that the group came up with included answering questions with questions, showing students the relevance research has to their lives and setting up a calendar of deadlines for the year.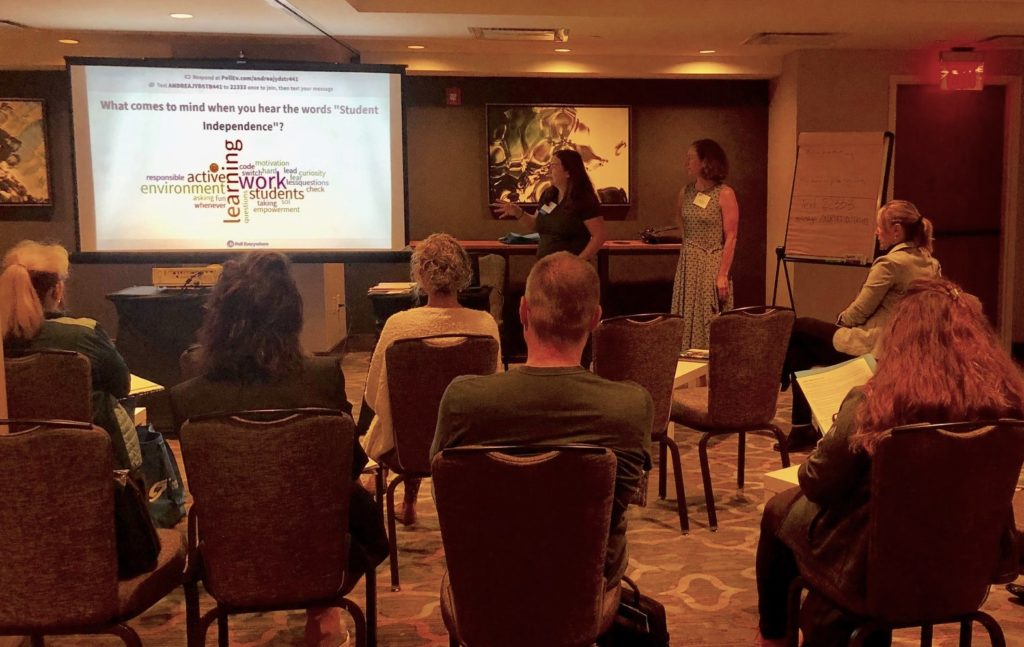 The next session, "Walk and Talk," gave teachers a chance to interact in groups. Educators had varying comfort levels with student independence in research projects and they were encouraged to share their experiences with one another. The main themes discussed were:
Getting administration buy-in—Expressing your needs to school administration is critical to pushing STEM projects forward in your classroom, such as a need for new supplies or equipment to expand research opportunities. "Communication is key. Communicate expectations and follow-up on those expectations," said one of the attendees.
Sequencing instruction—Independence requires scaffolding. It's unreasonable to expect students to know what to do immediately. Educators can help them brainstorm by setting up decision matrices and assisting with implementation of those ideas.
Keeping students engaged—Teachers can give out swag or awards throughout the school year, rewarding student efforts. Students can also be encouraged to start a journal club to study scientific concepts through recent studies on days when experiments are running. "The idea is to give them something to do," so that students can stay on task, said Kerry.
Allowing students to recover from mistakes—"Sometimes experiments fail and it's not your job to make sure everything is a success. It's an unrealistic expectation that science always works the first time," reiterated Andrea. Students might fail, but being able to recover from it is an important part of the learning process. If time allows and it's not dangerous or expensive, failing can set students on a path towards greater resilience.
"I think students really like independence, it's something they get to brag about to their friends— 'I have an independent project I'm working on' or 'my teacher trusts me'," Kerry reflected. With the focus of the Society's Research Teachers Conferences on facilitating the exchange of best practices between teachers, attendees of this breakout session not only learned from Kerry and Andrea, but also contributed their own wisdom. While teachers may find themselves in different circumstances when it comes to guiding student independence in research, all the strategies that were brought up can be tweaked accordingly.