Five SXSW EDU sessions you won't want to miss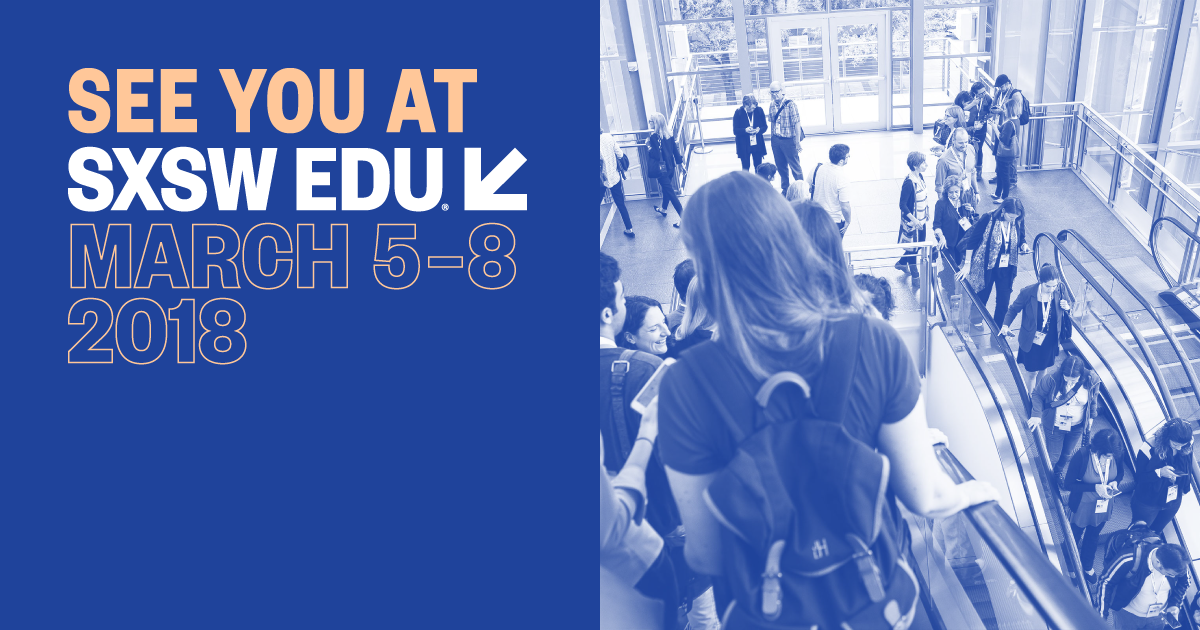 We're so excited to head to the SXSW EDU Festival in Austin, Texas next week! The annual festival takes place this year from March 5 to 8 and features hundreds of sessions and speakers exploring learning and education. We'll be discussing the importance of STEM competitions on our panel, Why Science Fairs May be Humanity's Best Hope.
If you're planning on being at the SXSW EDU Festival, you won't want to miss these our list of five must see sessions! Of course, we couldn't help but add our panel to the list of panels you'll want to see.
---
Not "Random Acts of STEM:" Planned Career Success 
Parminder Jassal of the Institute for the Future, Gerald Solomon of STEM Learning Ecosytems, and Gregory Washington of Henry Samueli School of Engineering at UC Irvine will discuss how partners from diverse backgrounds and practices are working together to establish rigorous, engaging education pathways to equip students for careers (and life). They will share examples to demonstrate that any community, regardless of size or challenge, can build a successful STEM ecosystem, to reframe how students learn, how teachers teach, and how workforce pipelines with STEM-skilled individuals can be built and sustained.​
March 5, 2:30-3:00 p.m.
How to Prepare Kids for Jobs that Don't Exist Yet 
Many jobs today didn't exist 10 years ago. How will we prepare kids for jobs that don't exist yet? Learn how educators and businesses are coming together to prepare students for the future with application-based learning, mentorships and creative problem solving. This panel, featuring Michele Molnar of EdWeek Market Brief, Evin Shutt of 72andSunny, Jacob Victorica of Da Vinci Schools, and Liz Wamai of Facebook, will include learnings, challenges, and insight into how to address the pipeline problem by giving kids access to tools, resources, and people they need for their future.
March 5, 3:30-4:30 p.m.
 
Why Science Fairs May Be Humanity's Best Hope
STEM competitions are superhero training grounds. They foster confidence by helping young people think big about the world's challenges. This panel brings us three youth superheroes who—by participating in the Society for Science & the Public's STEM competitions like the International Science and Engineering Fair & the Science Talent Search—are seeking to solve our most intractable problems. These college students will share how STEM competitions instill confidence in the next generation.  Learn more about our SXSW EDU panel in this blog post! 
March 6, 12:30-1:30 p.m.
This session features Darby Jones of EF Education First and  Hank Nourse of the New York Academy of Sciences, two organizations that have partnered together to create new, immersive, STEM discovery tour itineraries for students in some of the country's most prominent cities. Participants will learn about the innovative experiential learning practices the Academy has implemented, as well as how to use these tools in their own communities to help STEM come alive for their students.
March 6, 2:00-2:30 p.m.
---
Learn more about our SXSW EDU panel!
---
Transcending Language & Learning Barriers in STEM 
Educators across the country have struggled with teaching STEM to students with disabilities (SWD) and English Language Learners (ELL). In some instances, the larger STEM community has labeled these students as "unteachable." In this panel session, join a conversation with . Roberto Altamirano, Darrell Carson and Megan Costigan of Jersey City Public Schools, SWD, ELL & STEM education leaders who have come up with innovative solutions to these challenges. Learn about free and low cost interventions available to teachers who service SWD, ELL, or both.
March 7, 3:30-4:30 p.m.