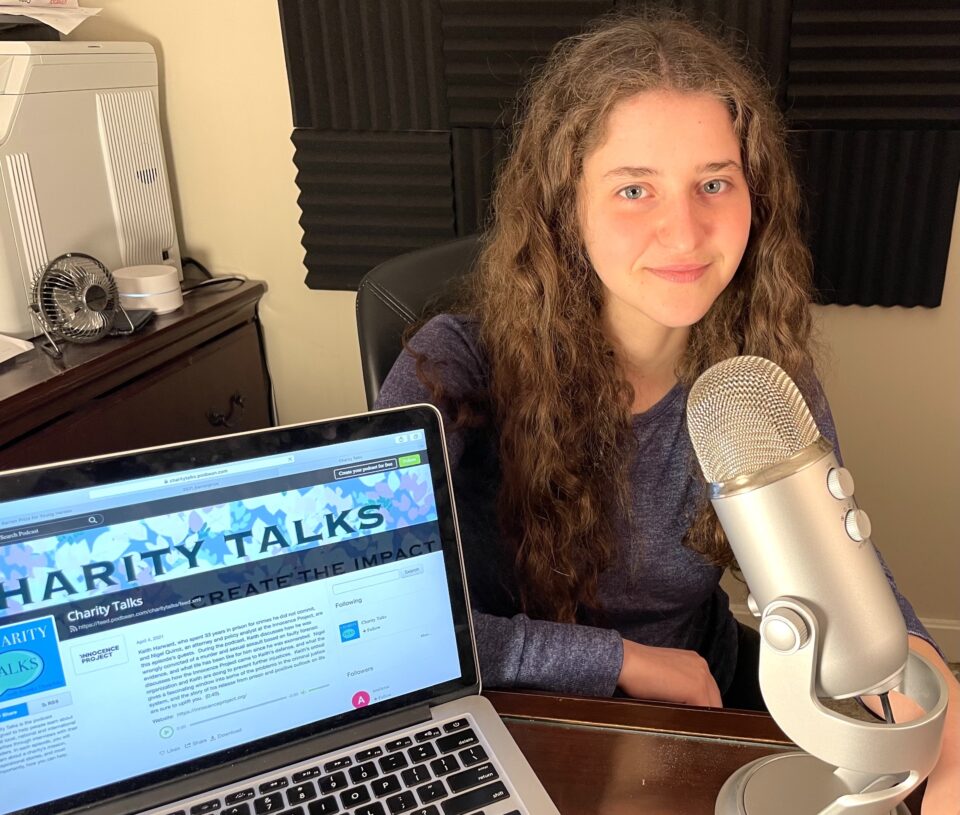 The talents and interests of the 2022 Regeneron Science Talent Search finalists encompass more than science, technology, engineering and mathematics. Whether it's listening to podcasts for inspiration on their next project or starting their own podcast to encourage the next generation of leaders, these finalists are finding spaces for their voices. According to Pew Research Center, podcast listenership has increased substantially over the last decade, with 41% of Americans ages 12 and older having listened to a podcast in the last month. As podcast popularity continues to grow, you may hear some of these finalists on your favorite podcast someday.
Ethan Chiu
Syosset High School (Syosset, New York)
As founder of the nonprofit, Next Generation Diplomacy (NGD), Ethan is working to highlight global issues through podcasting, blogs and social media while providing resources and support to hundreds of the organization's members. "Youth from underrepresented regions like Taiwan and Palestine can share their stories and launch sustainable development initiatives within their own communities outside of the traditional foreign policy framework," Ethan explains. "I was motivated to create NGD after seeing Taiwanese youth shut out of international conferences in which I participated." You can listen to the first NGD podcast here.
Andrew Chu
The Nueva School (San Mateo, California)
Looking for a new science podcast to listen to? Consider adding Andrew's favorite to your list. "I love the Unexplainable podcast, which illuminates the humbling, vast array of scientific questions we still can't answer," says Andrew. A Vox podcast, Unexplainable host Noam Hassenfeld and his guests ponder unanswered questions in science each week.
Brooke Dunefsky
Irvington High School (Irvington, New York)
Brooke may not have known a lot about podcasting when she decided to launch her own, but she didn't let that stop her. "My knowledge of podcasts was… well, I knew they existed. Everything else I would just have to figure out by experimenting," she explains. After learning there were no podcasts focused on helping people learn about nonprofits, Charity Talks was born. "To date, people in 120 countries and all 50 states have listened and have downloaded the podcast over 10,000 times," says Brooke.
Aseel Rawashdeh
L.C. Anderson High School (Austin, Texas)
Aseel credits a podcast about termites for inspiring her Regeneron Science Talent Search project on mosquito larvicide. "I look up to my favorite podcast host and scientist, Columbia Virology Professor, Vincent Racaniello. I started listening to This Week in Microbiology about 3 years ago," she says. "I love the way he explains complex concepts and lab techniques in microbiology in such a digestible way. Additionally, I admire his dedication to science communication and education. I aspire to contribute to the advancement of science education in the same way he has."
Luke Robitaille
Robitaille Homeschool (Euless, Texas)
If you've been looking for a tool to better understand math, consider listening to The Curious Cube. In this podcast, Luke and two other American Mathematics Competitions (AMC) Olympiads give advice to aspiring mathematicians, answer your burning math questions and discuss complex math concepts. One piece of advice Luke has for people interested in pursuing STEM? "Remember that STEM, and math in particular, is for everybody. Remember that math is interesting for its own sake," he says.
Ella Wang
BASIS Chandler (Chandler, Arizona)
Looking for a laugh while you learn about science? Check out Ella's favorite podcast, The Infinite Monkey Cage. In each episode, the hosts take a witty approach at discussing the world through a scientist's eyes, covering topics likes the science of cooking and the night sky.
You can learn more about the 2022 Regeneron Science Talent Search finalists during a Virtual Public Exhibition of Projects event on March 13. The finalists will be available from 2 p.m. to 4 p.m. ET to answer your questions and respond to your comments.